Limit Omaha
$1,500 Buy-in
Entries: 171
Total Prize Money: $256,500
---
1995 Champion: Berry Johnston
1996 Champion: F. D. "Dody" Roach
---
---
The Winners
1. F.D. "Dody" Roach $102,600

Corpus Christi, Texas

2. Men "The Master" Nguyen $51,300

Bell Gardens, California

3. Mitch Look $25,650

Las Vegas, Nevada

4. Jeff Vaughn $16,673

Henderson, Nevada

5. Martin Oliveras $12,825

Madison, New Jersey

6. Clifford Roof $8,978

Clinton, Oklahoma

7. Sven Arntzen $6,412

Annapolis, Maryland

8. Pat Fleming $5,130

Las Vegas, Nevada

9. Fran Pinchot $3,847

Trenton, New Jersey

10. Chris Bjorin $3,078

London, England

11. Pete Dixon $3,078

Lockport, Illinois

12. Chris Tsipraildis $3,078

Syracuse, New York

13. David Chiu $2,565

Lakewood, Colorado

14. Denny Axel $2,565

Las Vegas, Nevada

15. "Oklahoma" Johnny Hale $2,565

Las Vegas, Nevada

16. Roy Flowerday $2,052

Johannesburg, South Africa

17. Humberto Brenes $2,052

Miami Lakes, Florida

18. Jose Rosenkrantz $2,052

Miami, Florida
---
The Showdown
. Binion's Horseshoe, April 25, 1996 - It was a big day for 58-year-old retiree F.D. "Dody" Roach. He got two things he's wanted dearly for a long-time -- a custom designed Binion's gold bracelet and two healthy newborn grandchildren.

. Dody won the bracelet and the 1996 World Series of Poker limit Omaha title after surviving a fiercely competitive heads-up battle with Men "the master" Nguyen. Early on at the final table Dody was quite patient with the few chips he held. He chose his spots carefully and played each hand he selected quite aggressively. The battle took its toll -- in the end Dody said he was "completely exhausted."

. Dody's accomplishment was all the more difficult in that he defeated Men "The Master" Nguyen. Men, a 42-year-old professional poker player, seldom finishes second. Nguyen already holds three World Series of Poker titles in limit Hold'em, Seven-Card Stud and Stud Eight-or-Better along with Hall of Fame titles in those games and limit Omaha.

. Nguyen's play at the final table demonstrated why he is called "The Master." He was always in the hunt, attacking when he was strong and withdrawing when the strength was somewhere else. Men and Dody battled each other for just about an hour before Dody's flopped two-pair stood up over Men's aces.

. Third-place finisher, Mitch Look, is a 37-year-old computer operator for the Binion's Horseshoe race book. This was the first time Mitch, who regularly plays the lower-limit Omaha games, has ever reached the finals of a major tournament.

. All evening Mitch was doing well until he lost a key hand to Dody Roach. Mitch flopped a set and Dody went all-in when he made the nut-flush on the turn. No board-pair on the river allowed Dody to survive. A few hands later Dody flopped three aces and made a flush to leave Mitch with only $5,000 in chips. Mitch survived a couple of all-in hands but was finally eliminated when he was unable to beat Dody's queen-high flush.

. Jeff Vaughn is a 39-year-old professional poker player who spends most of his time in high-limit Omaha high-low games at the Commerce Casino in Southern California. He plays the World Series of Poker every year and this was his first time to reach the finals.

. Doctor-lawyer Martin Oliveras, 53, has been coming to the World Series of Poker for the last three years and this is his first time in the finals.

. Clifford Roof, 42, is an antique furniture dealer and the 1995 Ace-to-Five Lowball champ.

. Sven Arntzen made his second final-table visit in as many nights.

. Four Queen's Summer Poker Classic champion, Pat Fleming, a 47-year-old Las Vegas poker pro, is considered by many of his peers to be one of the best super-satellite players alive.

. Fran Pinchot, who celebrates his 53rd birthday tomorrow, is a retired teacher-basketball coach from Trenton, New Jersey. He regularly plays in Atlantic City and this is his first World Series of Poker finals.
---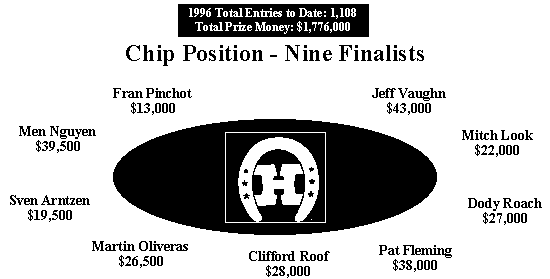 ---
---

©1996, Binion's Horseshoe. Some portions ©1996, ConJelCo. All Rights Reserved.
Next Event. Previous Event
---

---
<!%%DateLastModified> Page last modified: 4-26-96<!%%EndDateLastModified>