Limit Seven-Card Stud
$1,500 Buy-in
Entries: 247
Total Prize Money: $370,500
---
1995 Champion: Walter Farina
1996 Champion: Gary Benson
---
---
The Winners
1. Gary Benson $148,200

Sydney, Australia

2. Billy Cohen $74,100

Las Vegas, Nevada

3. Don Barton $37,050

Pahrump, Nevada

4. Joel Kreps $22,230

Miami Beach, Florida

5. Tom Sigel $18,525

Highland Beach, Florida

6. Sven Arntzen $14,820

Annapolis, Maryland

7. Humberto Brenes $11,115

Miami Lakes, Florida

8. Harry Thomas $7,410

Fort Lauderdale, Florida

9. Andrew Bloch $5,558

Las Vegas, Nevada

10. Shawqi Shunnarah $5,558

Birmingham, Alabama

11. Howard Tolman $5,558

Warwick, Rhode Island

12. Art Youngblood $5,558

Gulfport, Mississippi

13. Mohammed Aslam $3,705

Irving, Texas

14. Scott Alexantos $3,705

Las Vegas, Nevada

15. Robert Oxenberg $3,705

Aspen, Colorado

16. Carolyn Gardner $3,705

Las Vegas, Nevada
---
The Showdown
. Binion's Horseshoe, April 24, 1996 - Australian Gary Benson, working on about four hours' sleep in the last four days, outlasted Las Vegas poker pro Billy Cohen to capture the 1996 Seven-Card Stud title.

. The two battled heads-up for nearly two hours before Gary, a 38-year-old chartered accountant from Sydney, finally defeated Cohen. Benson previously won the Australian Seven-Card Stud championship, but this is his first trip to the World Series of Poker. "I feel fantastic," said Gary. "We spent 13 hours on a plane ride, four days of poker and now this."

. Billy Cohen, 37, who fought hard in the see-saw battle for the title, was making his second visit to the Seven-Card Stud finals at the World Series of Poker. At one time each of the contestants was all in and came back to take the chip lead only to again falter. Finally, Benson managed a pair of kings to Cohen's sevens to win the title and the right to wear the Binion's gold bracelet.

. Pahrump, Nevada, real-estate broker Don Barton, 46, managed to come back from near extinction with five players remaining to hold on for third. Don has done well in a few minor tournaments, however this was his first World Series of Poker finals. Barton shortly held the lead when the three-way battle began before losing back-to-back pots to Cohen.

. Joel Kreps, a 55-year-old doctor who regularly attends the World Series of Poker, finally cracked the finals with his fifth-place finish.

. This was also the first World Series of Poker final-table visit for professional poker player Tom Sigel, 45. Tom had previously finished second at the Binion's Hall of Fame Seven-Card Stud tournament. Sigel never had many chips at the final table, but he nursed his small stack well to finish fifth.

. Sven Arntzen is a 56-year-old inventor and writer who owns his own business and visits the World Series of Poker with several of his friends from Norway every year. He has previously been in the WSOP finals in Seven-Card Stud and Razz.

. Humberto Brenes, a 44-year-old engineer who now makes his home in Miami Lakes, Florida, is a regular in the finals of tournaments everywhere. Humberto has two World Series of Poker titles and three seconds to his credit, along with a victory at Binion's Hall of Fame poker tournament.

. Harry Thomas, 51, a land developer from Florida, won the $5,000 Seven-Card Stud championship in 1985 and has seen the World Series of Poker finals several times.

. Carolyn Gardner's 16th-place finish in this event moved her from 18th to 14th on the women's list of all-time World Series of Poker money winners.

. This battle for the $370,500 prize fund lasted for nearly 15 hours.
---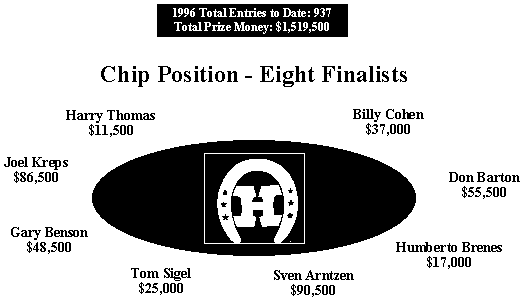 ---

---

©1996, Binion's Horseshoe. Some portions ©1996, ConJelCo. All Rights Reserved.
Next Event. Previous Event.
---

---
<!%%DateLastModified> Page last modified: 4-25-96<!%%EndDateLastModified>