Seven Card Stud High-Low Split Eight-or-Better
$1,500 Buy-in
Entries: 245
Total Prize Money: $367,500
---
1995 Champion: Rod Peate
1996 Champion: "Miami" John Cernuto
---
---
The Winners
1. "Miami" John Cernuto $147,000

Las Vegas, Nevada

2. Lonnie Heimowitz $73,500

Monticello, New York

3. Ron Agar $36,750

Willowdale, Ontario, Canada

4. Larry Colt $22,050

Oviedo, Florida

5. Walter Smiley $18,375

Adelphi, Maryland

6. Dave Crunkleton $14,700

Las Vegas, Nevada

7. Jim Wynne $11,025

Evergreen Park, Illinois

8. Rod Brown $7,350

Naples, Florida

9. Chris Bjorin $5,513

London, England

10. Frank Henderson $5,513

Houston, Texas

11. Ron Moeller $5,512

Pearland, Texas

12. Wally Caldwell $5,512

Columbia, Maryland

13. Nick Liuzza $3,675

Kenner, Louisiana

14. Charles Burris $3,675

Lewisville, Texas

15. Margo Schmidt $3,675

Newport Beach, California

16. Bruce Cohen $3,675

Manhasset, New York
---
The Showdown
. Binion's Horseshoe, April 26, 1996 -- Las Vegas poker pro "Miami" John Cernuto, 52, finally added a World Series of Poker Championship to his long list of tournament victories. Proving that "the third time's a charm," this was Cernuto's third consecutive year to make the final table of the Seven Card Stud High-Low Split Eight-or-Better event. The $147,000 winner's share puts "Miami" John's life-time World Series of Poker earnings over $300,000. He now has 10 in-the-money finishes at Binion's annual gathering of the World's greatest poker players.

. Second-place finisher Lonnie Heimowitz used up the last of his nine lives when he went all in for the 10th time in the three and one-half hour final-table battle. Lonnie is the son of poker great Jay Heimowitz, who is ranked 15th on the all-time World Series of Poker money-winners list with four championships to his credit. A victory here would have made the Heimowitzs the first father-and-son duo to hold World Series of Poker titles.

. Ron Agar, a 50-year-old dentist from Ontario, Canada, has been competing in the World Series of Poker for the past eight years. This is the first time he has made the finals. With four players remaining, Agar had nearly half the chips on the table but then suffered a costly series of defeats to fall in third place.

. Larry Colt, a 48-year-old retired Navy officer who does the majority of his poker playing around central Florida, was in contention throughout most of the contest. His nemesis all evening had been Cernuto, and it seemed as though Colt might have turned that around when he survived three all-in attempts against the eventual champ. However, the fourth time was not to be, and Colt settled for fourth-place money.

. Walter Smiley, a 63-year-old retiree from Adelphi, Maryland, lost a major $150,000 pot to Ron Agar with queens up against aces up. Left with only an ante, Smiley survived once when he made a bicycle, but in the next hand was forced out in fifth place. He won the $5,000 buy-in Seven Card Stud championship in 1976.

. Dave Crunkleton, a 62-year-old retiree who now makes his home in Las Vegas, started at the final table second in chip position. He was unable, however, to mount any kind of an attack and had to take sixth. Crunkleton finished third in the 1991 no-limit Hold'em $10,000 buy-in World Championship of Poker.

. Jim Wynne, a 68-year-old retired Chicago milkman, makes the trek to Binion's championships every year. This is his second World Series of Poker finals, having previously placed fourth in an Omaha High-Low Split Eight-or-Better event.

. This was the first trip to the final table for Rod Brown, who is 61 years old and retired from the shoe business.
---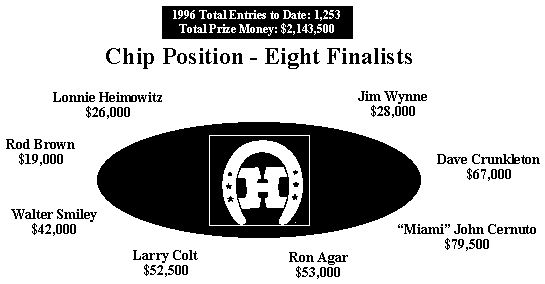 ---

---

©1996, Binion's Horseshoe. Some portions ©1996, ConJelCo. All Rights Reserved.
Next Event. Previous Event
---

---
<!%%DateLastModified> Page last modified: 4-28-96<!%%EndDateLastModified>