Limit Hold'em
$2,000 Buy-in
Entries: 528
Total Prize Money: $1,056,000
---
1996 Champion: David Chiu
---
---
The Winners
1. David Chiu $396,000

Lakewood, Colorado

2. Jaan "David" Shu $200,640

Anaheim, California

3. Steve Kopp $100,320

Las Vegas Nevada

4. Eskimo Clark $68,640

New Orleans, Louisiana

5. Mike Halford $47,520

Las Vegas, Nevada

6. Moxie Ungar $36,960

Lawrenceville, New Jersey

7. Vic Kramer $26,400

Sydney, Australia

8. Art Youngblood $21,120

Gulfport, Mississippi

9. Randy Zandstra $15,840

Ledgewood, New Jersey

10. Stan Singer $12,672

Long Beach, California

11. Don Zewin $12,672

Las Vegas, Nevada

12. Eli Balas $12,672

Las Vegas, Nevada

13. Vahe Rechdouni $10,560

Commerce, California

14. Anthony Hamilton $10,560

Prestatyn, England

15. Hieu "Tony" Ma $10,560

El Monte, California

16. Brenda Jacobus $8,448

Las Vegas, Nevada

17. Carmen Valenti $8,448

Oneida, New York

18. James Richburg $8,448

Henderson, Nevada

19. Thuang "Scotty" Nguyen $5,280

Las Vegas, Nevada

20. Paco Serus $5,280

Las Vegas, Nevada

21. Carl McKelvey $5,280

Victoria, Texas

22. Brad Daugherty $5,280

Las Vegas, Nevada

23. Keith Sexton $5,280

Las Vegas, Nevada

24. Ken Jacobs $5,280

Las Vegas, Nevada

25. Bob Jarrett $5,280

Windlew, B.C., Canada

26. Patrick Walton $5,280

Texas City, Texas

27. Mike Sexton $5,280

Las Vegas, Nevada
---
The Showdown
. Binion's Horseshoe, April 23, 1996 - The first million-dollar plus limit hold'em tournament in the history of the World Series of Poker was captured by David Chiu, a 36-year-old poker dealer from Lakewood, Colorado. David, who deals at the Gilpin Hotel Casino in Black Hawk, Colorado, won $396,000 and the cherished Binion's gold bracelet.

. This was only the third try for Chiu in a World Series of Poker event and David says he likes the people he works with in Colorado and has no plans to stop dealing and try his hand as a professional player. With solid-aggressive final-table play Chiu managed to accumulate chips steadily. After he eliminated Eskimo Clark with pocket aces and followed that with an ace-queen to jettison Steve Kopp, he held a commanding $800,000 to $200,000 chip lead over David Shu.

. Jaan "David" Shu, 40, who runs an import-export business in California took $200,640 home in only his second try in a WSOP event. David plays occasionally in Southern California but says most of his time is occupied by his business. Shu was struggling at the final table until he found big slick in a $390,000 four-way pot. Two jacks on the flop and a third on the turn gave Eskimo, with pocket sixes, a full house. A king on the river turned the tide for David who temporarily held the chip lead.

. Steve Kopp, a 33-year-old Las Vegas poker pro, received $100,320 for third. Steve has visited the World Series of Poker finals previously with a second in the $5,000 limit hold'em championship. Kopp started the finals in second and held his position with solid professional play throughout.

. Paul "Eskimo" Clark, 48, is no stranger to the finals wherever poker tournaments are held. He holds a Binion's bracelet for seven-card stud along with a multitude of victories in other major events. Eskimo was the chip leader when the final table began and played an aggressive game, but was unable to win the key pots.

. Mike Halford is a 41-year-old Las Vegas poker pro praised by many of his peers as one of the best limit hold'em players in town. He was never able to win a key pot at the final table and played well to finish fifth. Mike previously finished fourth in the 1990 WSOP limit hold'em tournament.

. Moxie Ungar, 78, retired from Gallo Wine 15 years ago and is a regular Las Vegas player. This finish is his third in a WSOP finals.

. This tournament represents the first time in history that an event other than the $10,000 buy-in no-limit World Championship of Poker has produced a million-dollar prize fund. Five hundred and twenty-eight players posted $2,000 each to create this new world record.

. The record-breaking event began at 1:30 p.m. Tuesday and a grueling 16 hours later David Chiu claimed the title at 5:30 a.m. Wednesday.
---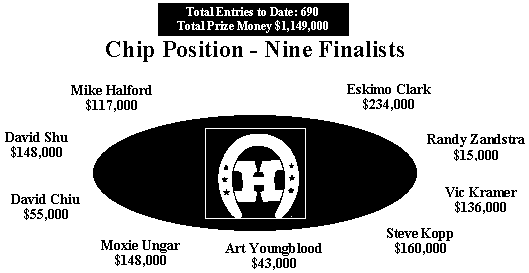 ---

---

©1996, Binion's Horseshoe. Some portions ©1996, ConJelCo. All Rights Reserved.
Next Event. Previous Event
---

---
<!%%DateLastModified> Page last modified: 4-25-96<!%%EndDateLastModified>