Chinese Poker
$1,500 Buy-in
Entries: 62
Total Prize Money: $93,000
---
1995 Winner: John Tsagaris
1996 Champion: Gregory Grivas
---
---
The Winners
1. Gregory Grivas $37,200

Carlsbad, California

2. Charles Burris $21,390

Lewisville, Texas

3. Tom Sheehy $11,160

Homewood, Alabama

4. Bruno Micchiardi $6,510

Torino, Italy

5. Tyler Wong $5,115

Nacogdoches, Texas

5. Dick Djoa $5,115

Amsterdam, Netherlands

7. Jeff Mervis $3,720

Century City, California

8. Thai Thanh $2,790

Silver Springs, Maryland
---
The Showdown
. Binion's Horseshoe, April 22, 1996 - Gregory "the Mad Greek" Grivas let out a loud whoop as he captured the lead-off event for the 27th annual World Series of Poker. Grivas, 35, is the owner of an electronics company in San Diego and does most of his poker playing in the pot-limit Omaha games at the Oceanside Card Club.

. While Greg has seen his share of final-table finishes in events throughout California, this is his first visit to the World Series of Poker finals. For his victory in the $1,500 buy-in Chinese Poker event Greg received $37,200 and the coveted custom-designed, Binion's 14-karat gold bracelet.

. Forty-nine-year old Charles Burris, who is in the oil business in Texas, suggested the World Series of Poker should award a silver bracelet to the runner-up. Although he has captured a number of titles in lowball, seven-card stud and limit hold'em events at several California tournaments, this is his second "bride's maid" finish at the World Series of Poker. Charles was also the runner-up in the 1992 Razz championship.

. "Major" Tom Sheehy, a 49-year-old police detective from Homeward, Alabama learned his Chinese Poker skills in the jungles of Vietnam 30 years ago. This is the first final-table finish for Tom, who along with about 20 of his poker buddies from Alabama, is making only his second visit to the World Series of Poker.

. Bruno Micchiardi, a 54-year-old retiree from Torino, Italy, does the majority of his poker playing at Club Victoria in England. He previously has finished in the money at tournaments there and in France.

. Dick Djoa became the first player from the Netherlands to finish in the money at a World Series of Poker event when he tied Tyler Wong for fifth place.

. The players at the final table were eliminated in accordance with their starting chip position. Tom Sheehy out-lasted Bruno Micchiardi and was himself eliminated shortly thereafter.

. Heads-up play was a see-saw battle between Grivas and Burris that lasted for about an hour-and-a-half. Gregory started with a $53,000 to $43,000 chip advantage. Charles managed to win enough hands to reverse that chip position before Grivas started his rush to the title.

. When the pay-offs went to $3,000 a point, Gregory held about a seven-to-two chip advantage and then proceeded to win several hands in a row to capture the championship.

. A block-buster four-eights in the back was the title clincher for Grivas.
---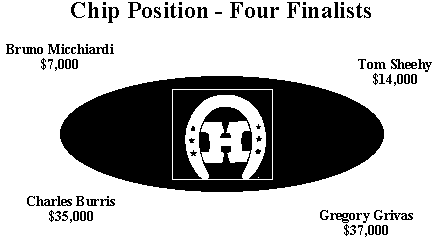 ---

---
Super Satellites build field for World Championship of Poker
Through super-satellites 13 players have now captured seats for the $10,000 buy-in no-limit hold'em World Championship of Poker scheduled to begin May 13, 1996 at Binion's Horseshoe. They are Charlotte Gilbertson, O'Neil Longson, Sven Arntzen, Vafa Kamali, Len Miller, Gorden Harris, Bob Addison, Peter Nathan, Max Stern, Mel Judah, Brent Carter, Leon Klodayan and John Saer.

Super Satellites begin at 7:40 p.m. daily. The buy-in is $220 with $200 re-buys.
---

©1996, Binion's Horseshoe. Some portions ©1996, ConJelCo. All Rights Reserved.
Next Event
---

---
<!%%DateLastModified> Page last modified: 4-23-96<!%%EndDateLastModified>