26th Annual
World Series of Poker
Pot-Limit Omaha
$2,500 Buy-in
Entries: 82
Rebuys: 55
Total Prize Money: $342,500
---

1994 Winner: Huck Seed - $167,000
1995 Champion: HILBERT SHIREY
---
---
The Winners
1. Hilbert Shirey $137,000

Winterhaven, Florida

2. Phil Mazzella 78,775

Lafayette, Louisiana

3. Jay Heimowitz 41,100

Bethel, New York

4. OĠNeil Longson 23,975

Salt Lake City, Utah

5. Steve Zolotow 18,838

Las Vegas, Nevada

6. Jason Lester 15,413

New York, New York

7. Surinder Sunar 11,987

Wolverhampton, England

8. Chau Giang 8,562

Las Vegas, Nevada

9. Brent Carter 6,850

Oak Park, Illinois
---
The Showdown
. Binion's Horseshoe, May 9, 1995 -- Hilbert Shirey, a 47-year-old part-time professional poker player from Winterhaven, Florida, defeated 81 opponents to win top honors in the 18th event of the 26th annual World Series of Poker. For his first-place finish in the $2,500 buy-in pot-limit Omaha competition, Shirey was awarded $137,000 and a custom-designed, 14-karat gold bracelet to commemorate his victory.

. This is the second World Series title for Shirey, who claimed his first WSP title in 1987 when he won a no-limit hold'em event. He also holds titles from the L.A. Poker Classic and the Diamond Jim Brady tournament, and has cashed in several other major competitions. The owner of an auto auction, Shirey has been playing poker for 20 years.

. After several hours of final-table play, Shirey found himself heads-up against his good friend and golfing buddy, Phil Mazzella, who early on had been the chip leader but now was at a 4-to-1 disadvantage. It was all over a few hands later when Mazzella, who held 10H 9S 8H 5D, raised all in before the flop, and Shirey called with KS 6S 6D 2C. The flop came 10C 4S 2H, giving Mazzella the lead with a pair of tens. But running spades fell on the turn and the river, bringing Shirey a king-high flush to win the pot and his second World Series title.

. "Pot-limit Omaha is a tough game, because there are so many ways you can be beat," Shirey said. "Everyone at the final table was a good player and had a chance to win. But I was able to come back after being down, and I feel I played good. I never jeopardized all my chips with the worst hand."

. For his second-place finish in the pot-limit Omaha competition, Mazzella received $78,775. A 49-year-old professional gambler from Lafayette, Louisiana, Mazzella said that he comes to the Horseshoe once a year "to play a couple of tournaments and have some fun." He began playing poker at the age of 22 and lost his motorcycle in a college game.

. Winning third place and $41,100 was Jay Heimowitz, a 57-year-old Budweiser distributor from Bethel, New York. No stranger to the final table, Heimowitz holds four World Series of Poker titles and has cashed in an additional 15 WSP competitions through the years, including placing fifth for $17,925 in the pot-limit Omaha event held May 2. With total World Series earnings of $930,792, Heimowitz moves past T.J. Cloutier into the No. 13 spot on the roster of all-time WSP money winners.

. After losing a huge pot when his queen-high straight proved second-best to Shirey's king-high straight, Heimowitz was short-stacked. A few hands later, he was eliminated from the pot-limit Omaha competition when he raised before the flop with A-K-9-4 and was put all in by Shirey, who reraised with K-Q-Q-3. The flop came Q-4-2, and running jacks on the turn and river gave Shirey queens full to win the pot.
---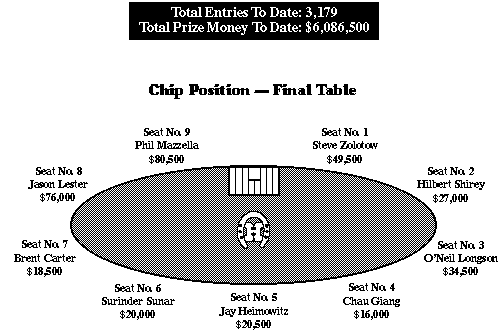 ---
The Final Hand
---

---
ConJelCo is proud to bring coverage of the 1995 World Series of Poker to the Internet community.
---
<!%%Author>World Series of Poker Home Page<!%%EndAuthor> <!%%DateLastModified> Page last modified: 5-11-95<!%%EndDateLastModified>