26th Annual
World Series of Poker
Pot-Limit Texas Hold'em
$2,500 Buy-in
Entries: 163
Total Prize Money: $407,500
---

1994 Winner: T.J. Cloutier - $163,000
1995 Champion: HILBERT SHIREY
---
---
The Winners
1. Hilbert Shirey $163,000

Winterhaven, Florida

2. Tom Jacobs 81,500

Las Vegas, Nevada

3. 40,750

Las Vegas, Nevada

4. Mike Laing 26,488

Las Vegas, Nevadaa

5. Tommy Grimes 20,375

Houston, Texas

6. Chris Bjorin 14,263

London, England

7. Hertzel Zalewski 10,187

Houston, Texas

8. Tony Lantz 8,150

Las Vegas, Nevada

9. Jim Bechtel 6,112

Gilbert, Arizona

10. Dick Carson 4,890

Las Vegas, Nevada

11. Matthias Rohnacher 4,890

Heidelberg, Germany

12. O'Neil Longson 4,890

Salt Lake City, Utah

13. Dino Moustakis 4,075

Danvers, Massachusetts

14. Donn O'Dea 4,075

London, England

15. George Bofysil 4,075

Houston, Texas

16. Jason Lester 3,260

New York, New York

17. Mansour Matloubi 3,260

London, England

18. Peter Eichhardt 3,260

Holbaek, Denmark
---
The Showdown
. Binion's Horseshoe, May 10, 1995 -- Hilbert Shirey, a 47-year-old part-time professional poker player from Winterhaven, Florida, vanquished 162 opponents to capture his second consecutive title in the 26th annual World Series of Poker. For his first-place finish in the $2,500 buy-in pot-limit Texas Hold'em competition, Shirey received $163,000 and a 14-karat gold World Series bracelet, custom designed by Neiman-Marcus.

. Shirey also was awarded a World Series bracelet, plus $137,000, for his victory in the $2,500 buy-in pot-limit Omaha event held May 9. "Winning two tournaments in a row is just unbelievable -- it's like a dream," Shirey said. "I expect to win when I get in a tournament -- everyone does -- but I was so tired from last night that I didn't think I could stay focused. But I did, and I brought it on home."

. Shirey is only the fourth player in the history of the World Series of Poker to win back-to-back competitions. This feat was first accomplished by Sam Mastrogiannis back in 1986 and was achieved again in 1993 by both Ted Forrest and Phil Hellmuth.

. The owner of an auto auction, Shirey now has three WSP titles to his credit, as well as titles from the L.A. Poker Classic and the Diamond Jim Brady tournament. He played his first hand of poker 20 years ago in a home game with his family.

. Although Shirey was slightly outchipped by runner-up Tom Jacobs when heads-up play began, he soon won a key hand that put Jacobs almost down to the felt. Jacobs raised before the flop with Q-10 and Shirey, who held 7-6 suited, called. The flop came 10-9-6, giving Jacobs top pair and Shirey bottom pair and a gut-shot straight draw. When Jacobs moved all in, Shirey called all in. A seven then fell on the turn, and when the river brought a blank, Shirey took the pot and a 5-to-1 chip lead with two pair. It was all over shortly thereafter when Jacobs raised all in before the flop with AH 5D, and Shirey called with JS 10S. The final board showed QS QD 6S 9S 8S, giving Shirey a straight flush to win the pot and his third World Series title.

. For his second-place finish in the pot-limit Hold'em event, Jacobs received $81,500. A 49-year-old businessman from Las Vegas, Jacobs has cashed several times in previous World Series tournaments, including placing second in the 1993 WSP championship competition. He has been playing poker since childhood.

. Finishing in third place for $40,750 was Ed Hill of Las Vegas. A 41-year-old investor, Hill holds titles from the Hall of Fame Poker Classic and the Gold Coast Open. He was eliminated from the pot-limit Hold'em competition when he raised all in before the flop with QC 7C and was called by Shirey, who held A-3 offsuit. The flop came A-8-2 with one club. But the turn and the river brought no help to Hill, and Shirey won the pot with his pair of aces.

. Jim Bechtel, the 1993 World Champion of Poker, placed ninth for $6,112. With total WSP earnings of $1,133,252, Bechtel ranks No. 8 on the roster of all-time World Series money winners.

. Finishing in 17th place and pocketing $3,260 was Mansour Matloubi, the 1990 World Champion of Poker. His latest award brings Matloubi's total World Series earnings to $1,172,570, and he currently holds down the No. 7 spot on the roster of all-time WSP money winners.
---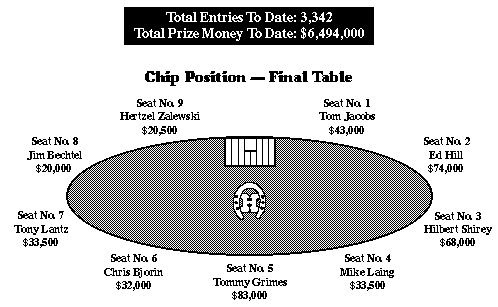 ---
The Final Hand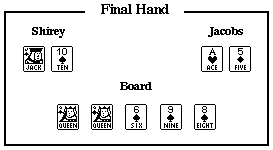 ---

---
ConJelCo is proud to bring coverage of the 1995 World Series of Poker to the Internet community.
---
<!%%Author>World Series of Poker Home Page<!%%EndAuthor> <!%%DateLastModified> Page last modified: 5-12-95<!%%EndDateLastModified>