26th Annual
World Series of Poker
Limit Seven-Card Stud
$2,500 Buy-in
Entries: 140
Total Prize Money: $350,000
---

1994 Winner: Rod Pardey - $132,000
1995 Champion: DANNY ROBISON
---
---
The Winners
1. Danny Robison $140,000

Las Vegas, Nevada

2. John Spadavecchia 70,000

N. Miami Beach, Florida

3. Matthias Holle 35,000

Gundelfingen, Germany

4. Mansour Matloubi 21,000

London, England

5. Kenny Chanthamara 17,500

New Milford, Connecticut

6. Charles Maloney 14,000

Detroit, Michigan

7. Larry Kantor 10,500

Woodland Hills, California

8. Mike Sexton 7,000

Las Vegas, Nevada

9. Mike Ungurean 5,250

Zanesville, Ohio

10. Randy Holland 5,250

Tallahassee, Florida

11. Fred Sigur 5,250

Chalmette, Louisiana

12. Warren Colman 5,250

London, England

13. Jim Mogal 3,500

New York, New York

14. Martin Michaelson 3,500

Voorhesville, New York

15. Alex Brenes 3,500

Miami Lakes, Florida

16. Jan Hansen 3,500

Odense, Denmark
---
The Showdown
. Binion's Horseshoe, May 8, 1995 -- Danny Robison, a 50-year-old professional poker player from Las Vegas, charged past a record field of 140 entrants to capture first place in the 17th event of the 26th annual World Series of Poker. For his victory in the $2,500 buy-in limit Seven-Card Stud competition, Robison was awarded $140,000 and a 14-karat gold bracelet, custom designed by Neiman-Marcus.

. This is the first World Series title for Robison, who also holds a title from the Super Bowl of Poker and has cashed in several other major competitions. A poker player since college, Robison is a former preacher and offers a bible study course each week at the Sporting House in Las Vegas. "I give all the glory to Jesus," he said. "I asked Him to give me wisdom about tournament play, and I believe He did."

. Robison came to the final table in good chip position and continued to steadily build his stack. By the time heads-up play began, he had a 2-to-1 advantage over runner-up John Spadavecchia, and it was all over 30 minutes later. The final hand came down when Spadavecchia raised all in on fifth street with a pair of nines, and Robison called with a pair of queens. On sixth street, Spadavecchia caught a six to give him nines up and the lead. But the river also paired Robison's six, giving him queens up to secure the pot and his first World Series title.

. Spadavecchia, a 56-year-old professional player from North Miami Beach, Florida, received $70,000 for his second-place finish. Retired from the import tile and marble business, Spadavecchia holds one WSP title, as well as two titles from the Hall of Fame Poker Classic, and has cashed numerous times in other major competitions. He played his first hand of poker on the streets in Italy when he was just a child.

. Winning third place in the Seven-Card Stud event and pocketing $35,000 was Matthias Holle of Gundelfingen, Germany. A 30-year-old professional player, Holle has cashed in four of the five major tournaments he has entered. He began playing Five-Card Stud with a stripped deck 10 years ago but has become familiar with the popular American poker games in just the past three years.

. After losing a big pot with aces up against Robison's rolled-up queens, Holle was almost down to the felt. He was eliminated from the tournament two hands later when he called all in on sixth street with jacks up. Holle failed to improve on the river and again ran into trips, as John Spadavecchia turned over rolled-up tens to take down the pot.

. "It was really great to play with John and Danny," Holle said. "John is an outstanding tournament player, and Danny is one of the finest seven-card stud players around."

. Finishing fourth in the Stud competition for $21,000 was 1990 World Champion of Poker Mansour Matloubi of London, England. His latest award brings Matloubi's total WSP earnings to $1,169,310, and he currently ranks No. 7 on the roster of all-time World Series money winners.

. Incidentally, Noyes commended the Horseshoe for instituting the new "Player Abuse Policy," saying that it was a pleasure to play in a tournament free from profanity and other indiscretions. "This should be the start of a nationwide reformation to give the game of poker the class and respect it deserves," he stated.
---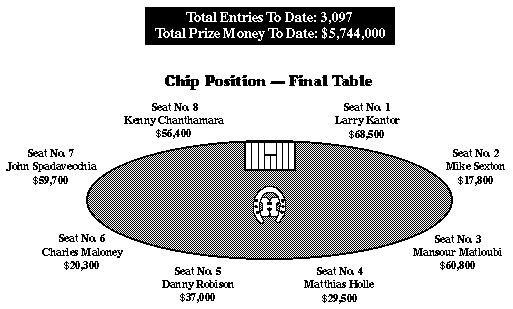 ---
The Final Hand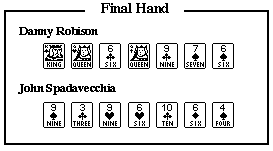 ---

---
ConJelCo is proud to bring coverage of the 1995 World Series of Poker to the Internet community.
---
<!%%Author>World Series of Poker Home Page<!%%EndAuthor> <!%%DateLastModified> Page last modified: 5-11-95<!%%EndDateLastModified>