26th Annual
World Series of Poker
Limit Texas Hold'em
$2,500 Buy-in
Entries: 186
Total Prize Money: $465,000
---

1994 Winner: Mike Laing - $212,000
1995 Champion: MEN NGUYEN
---
---
The Winners
1. Men "The Master" Nguyen $186,000

Bell Gardens, California

2. Carl McKelvey 93,000

Victoria, Texas

3. Walter Threadgill 46,500

Gainesville, Texas

4. Daniel Barnett 30,225

Corona Del Mar, California

5. Wing Wong 23,250

Scottsdale, Arizona

6. Lee Salem 16,275

San Diego, California

7. Erik Seidel 11,625

New York, New York

8. Russ Bouffiou 9,300

McFarland, Wisconsin

9. Tom McCormick 6,975

Fargo, North Dakota

10. Norm Michaud 5,580

Bakersfield, California

11. Pat Fleming 5,580

Las Vegas, Nevada

12. Julio Anicete 5,580

Gardena, California

13. Scotty Nguyen 4,650

Las Vegas, Nevada

14. Michael Moore 4,650

San Rafael, California

15. Herb Chessler * 4,185

Las Vegas, Nevada

16. Lew Spitzer * 4,185

Spokane, Washington

17. David Chew 3,720

Ceritos, California

18. Huck Seed 3,720

Las Vegas, Nevada

* Tie
---
The Showdown
. Binion's Horseshoe, May 7, 1995 -- Men "The Master" Nguyen, a 41-year-old professional poker player from Bell Gardens, California, vanquished 185 opponents to capture his second title in the 26th annual World Series of Poker. For his first-place finish in the $2,500 buy-in limit Texas Hold'em competition, Nguyen received $186,000 and a 14-karat gold World Series bracelet, custom designed by Neiman-Marcus.

. Nguyen also was awarded a World Series bracelet, plus $96,000, for his victory in the $2,500 buy-in limit Seven-Card Stud, High-Low Split Eight-or-Better event held May 4. To date, he is the only player who has won two competitions in this year's tournament.

. "I'm so happy to collect my third World Series title," Nguyen said. "Now my goal is to catch up with Phil Hellmuth and Ted Forrest and win three tournaments in one year. I'm hoping to win the championship event."

. One of the top tournament players in the world, Nguyen has to his credit not only three World Series titles, but also titles from the Hall of Fame Poker Classic, the Queens Poker Classic, the L.A. Poker Classic, and the Diamond Jim Brady Poker Tournament. Formerly the owner of a laundry and a furniture store in Los Angeles, Nguyen sold both businesses in 1988 to pursue poker as a full-time profession. He was introduced to Five-Card Stud many years ago in his native Vietnam and has played a variety of poker games ever since.

. Nguyen came to the final table as the chip leader and promptly proceeded to mow down the opposition. By the time heads-up play began, he had more than a 4-to-1 advantage over runner-up Carl McKelvey, and the end was nigh. The decisive hand came down when McKelvey raised before the flop with A-K, Nguyen reraised with K-10, and McKelvey called all in. The flop came K-6-4, giving McKelvey the lead with his ace kicker, and a nine on the turn improved his chances. But Lady Luck was with "The Master," bringing Nguyen a ten on the river to claim the $50,000 pot and his third WSP title.

. For his second-place finish in the limit Hold'em event, McKelvey received $93,000. A 52-year-old professional player from Victoria, Texas, he holds titles from the Hall of Fame, the Diamond Jim Brady, and the Stairway to the Stars poker tournaments.

. Finishing in third place for $46,500 was Walter Threadgill, a 66-year-old recreational poker player from Gainesville, Texas. Retired from the oil business, Threadgill has cashed in several previous World Series tournaments and holds a title from the Queens Poker Classic. He has been a poker player for 50 years.

. Threadgill was eliminated from the Hold'em competition when he called all in before the flop with A-Q against Nguyen, who had raised with pocket deuces. The final board showed 8-8-4-10-5, and Nguyen took down the pot with eights up.
---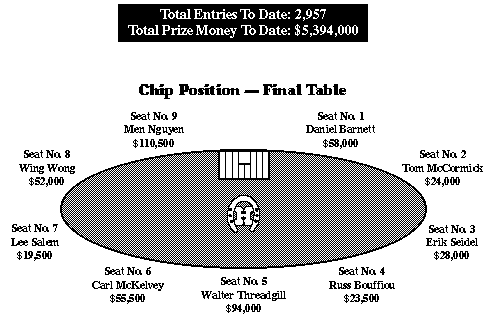 ---
The Final Hand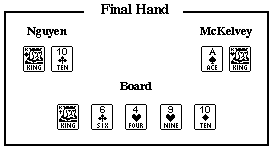 ---

---
ConJelCo is proud to bring coverage of the 1995 World Series of Poker to the Internet community.
---
<!%%Author>World Series of Poker Home Page<!%%EndAuthor> <!%%DateLastModified> Page last modified: 5-9-95<!%%EndDateLastModified>