26th Annual
World Series of Poker
Chinese Poker
$5,000 Buy-in
Entries: 24*
Rebuys: 26*
Total Prize Money: $250,000
---

1994 Winner: New Event
1995 Champion: STEVE ZOLOTOW
---
---
The Winners
1. Steve Zolotow $112,500

Las Vegas, Nevada

2. Doyle Brunson 62,500

Las Vegas, Nevada

3. Denny Axel 37,500

Las Vegas, Nevada

4. Herb Bronstein 25,000

Las Vegas, Nevada

5. Howard Lederer 12,500

Las Vegas, Nevada
---
The Showdown
. Binion's Horseshoe, May 6, 1995 -- Steve Zolotow, a 50-year-old financial consultant from Las Vegas, defeated 23 opponents to claim top honors in the 15th event of the 26th annual World Series of Poker. For his first-place finish in the $5,000 buy-in Chinese Poker competition -- a new event added to this year's tournament -- Zolotow took home $112,500 and a custom-designed, 14-karat gold bracelet to commemorate the victory.

. This is the first World Series title for Zolotow, who has cashed in several major poker competitions and also has won numerous bridge and backgammon tournaments. A semi-professional gambler, he has been playing both poker and bridge since childhood.

. When heads-up play began, Zolotow was outchipped 2-to-1 by runner-up Doyle Brunson. But the tide soon began to turn, and two hours later, Brunson was down to only one $5,000 chip. It was all over on the next hand when Zolotow showed down his winning combination -- four eights in back, kings up for the middle hand, and J-10-7 in front. Brunson set his final hand as follows: tens up in back, a pair of jacks in the middle, and A-K-Q in front.

. Brunson, the World Champion of Poker in both 1976 and 1977, received $62,500 for his second-place finish. A 61-year-old professional gambler from Las Vegas, Brunson won the first-ever Chinese Poker Championship tournament during the 1994 Hall of Fame Poker Classic. He holds numerous titles from major poker competitions -- including seven from the WSP -- and is a member of the Poker Hall of Fame. With total World Series earnings of $1,516,175, Brunson ranks No. 4 on the roster of all-time WSP money winners.

. Denny Axel of Las Vegas won third place and $37,500. The 45-year-old co-owner of Card Player magazine, Axel has cashed in one previous WSP tournament, as well as in several other major poker competitions. He has played poker on a serious level for 8 years.
---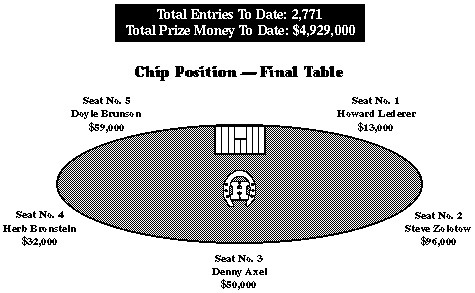 ---
The Final Hand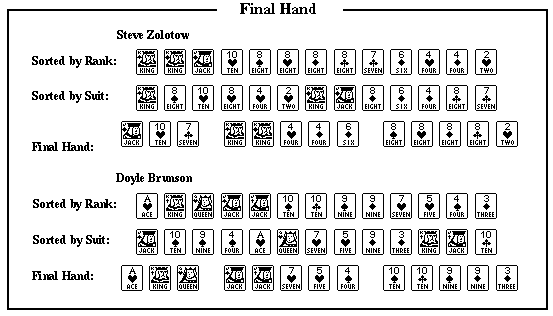 ---

---
ConJelCo is proud to bring coverage of the 1995 World Series of Poker to the Internet community.
---
<!%%Author>World Series of Poker Home Page<!%%EndAuthor> <!%%DateLastModified> Page last modified: 5-9-95<!%%EndDateLastModified>