26th Annual
World Series of Poker
Limit Ace-to-Five Draw
With Joker
$1,500 Buy-in
Entries: 136
Total Prize Money: $204,000
---

1994 Winner: J.J. Chun - $93,000
1995 Champion: CLIFFORD ROOF
---
---
The Winners
1. Clifford Roof $81,600

Clinton, Oklahoma

2. Tony Bolton 40,800

London, England

3. Bill Ayers 20,400

San Diego, California

4. Wilbert Liebling 12,240

Los Angeles, California

5. Isaac Chen 10,200

Rolling Heights, California

6. Bill Hagen 8,160

San Jose, California

7. Mike Davis 6,120

Harker Heights, Texas

8. Larry Sigety 4,080

Las Vegas, Nevada

9. Dick Gladden 3,060

Anaheim, California

10. David Litt 3,060

North Hollywood, California

11. Pat Medaris 3,060

Banning, California

12. Mike Picow 3,060

Las Vegas, Nevada

13. Brent Carter 2,040

Oak Park, Illinois

14. Margit Gurunlai 2,040

San Jose, California

15. Tony Vermiglio 2,040

Tucson, Arizona

16. Cliff Yamagawa 2,040

Pasadena, California
---
The Showdown
. Binion's Horseshoe, May 6, 1995 -- Clifford Roof, a 42-year-old recreational poker player from Clinton, Oklahoma, conquered 135 opponents to capture first place in the 14th event of the 26th annual World Series of Poker. For his first-place finish in the $1,500 buy-in limit Ace-to-Five Draw (with Joker) competition, Roof took home $81,600 and a 14-karat gold bracelet, custom designed by Neiman-Marcus.

. This is the first World Series title for Roof, who has previously cashed in the Hall of Fame Poker Classic. An antique furniture dealer, he began playing poker with his family at the age of 12. "This competition was great -- I loved it," Roof said, adding that he just comes to the Horseshoe tournaments. "They're the best ones around."

. When heads-up play began, Roof and runner-up Tony Bolton were close to even in chips. Then Roof caught a rush and won pot after pot until he had Bolton almost down to the felt. The final hand came down when Bolton was forced all in for the big blind and drew four cards to a three. Roof drew three to 4-joker. Although Bolton made a K-9, his hand was no good when Roof turned over an 8-6 to win the pot and his first World Series title.

. For his second-place finish in the Ace-to-Five Draw event, Bolton received $40,800. A 44-year-old professional gambler from London, England, Bolton has cashed a number of times in previous World Series competitions and has won several tournaments at the Victoria Club in London. He began playing poker 18 years ago.

. Bill Ayers of San Diego, California, won third place and pocketed $20,400. A 57-year-old contracting officer for San Diego County, Ayers has cashed in several major poker competitions and holds titles from the Hall of Fame Poker Classic and the Diamond Jim Brady tournament. He has been a poker player for just seven years.

. Ayers was eliminated from the competition when he called all in before the draw against Roof, who had raised with a one-card draw to 9-6-4-A. Ayers rapped pat with a 10-9, but his hand was shot down when Roof caught a trey to take the pot.

. After losing with a 9-8 against Roof's 9-7, Wilbert Liebling of Los Angeles was precariously low in chips. A few hands later, he had to settle for fourth place and $12,240 when he was forced all in for the big blind and Roof called. On the draw, Roof showed down a pat 9-8. Liebling exposed a queen, then mucked his hand, acknowledging defeat.
---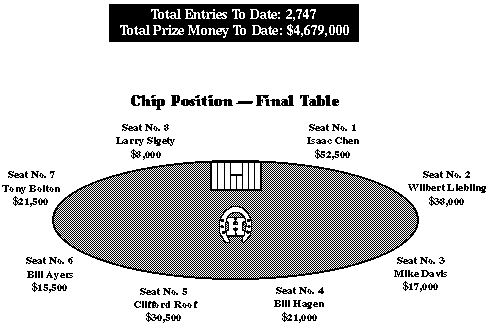 ---
The Final Hand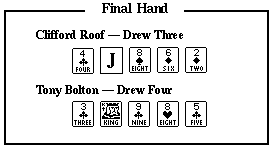 ---

---
ConJelCo is proud to bring coverage of the 1995 World Series of Poker to the Internet community.
---
<!%%Author>World Series of Poker Home Page<!%%EndAuthor> <!%%DateLastModified> Page last modified: 5-8-95<!%%EndDateLastModified>