26th Annual
World Series of Poker
Limit Omaha High-Low Split
Eight or Better
$2,500 Buy-in
Entries: 119*
Total Prize Money: $297,500*
---

1994 Winner: J.C. Pearson - $103,000
1995 Champion: MARLON SANTOS
---
---
The Winners
1. Marlon Santos $119,000

Las Vegas, Nevada

2. Jim Douglas 68,425

Redondo Beach, California

3. Marsha Waggoner 35,700

Downey, California

4. Dave Crunkleton 20,825

Las Vegas, Nevada

5. Don Williams 16,363

Las Vegas, Nevada

6. Ron Graham 13,388

Las Vegas, Nevada

7. Tony Hartman 10,412

Minneapolis, Minnesota

8. Herb Chessler 7,437

Las Vegas, Nevada

9. Don Holt 5,950

Henderson, Nevada
---
The Showdown
. Binion's Horseshoe, May 5, 1995 -- Marlon Santos, a 40-year-old professional poker player from Las Vegas, topped a record field of 119 competitors to win the 13th event of the 26th annual World Series of Poker. For his first-place finish in the $2,500 buy-in limit Omaha, High-Low Split Eight-or-Better competition, Santos was awarded $119,000 and a custom-designed, 14-karat gold bracelet to commemorate his victory.

. This is the first World Series title for Santos, a former poker dealer who moved to the other side of the table 10 years ago. During that time, he has won titles at the Super Bowl of Poker and the America's Cup tournament at Vegas World, and has cashed in numerous other major poker competitions.

. Santos came to the final table in good chip position, and when heads-up play began, he had more than a 2-to-1 advantage over runner-up Jim Douglas. After a half-hour of trading chips back and forth, the final hand came down when Douglas took K-Q-10-10 up against Santos, who led the betting with K-8-5-4. The flop came K-9-2, giving Douglas the lead with top pair and a queen kicker. When a five fell on the turn, bringing Santos kings up, he bet and Douglas called all in. But the river card was an eight, giving Santos an even higher two pair to scoop the pot and win his first World Series title.

. Douglas, a 45-year-old dentist from Redondo Beach, California, received $68,425 for his second-place finish. A poker player for just six years, Douglas holds a title from the California State Poker Championship tournament and has cashed all three times he has entered an Omaha High-Low Split event at the World Series of Poker.

. "Marlon is a great competitor and a great player," Douglas said. "It was tough to keep up with him -- he kept showing me good hands."

. Winning third place and $35,700 in the Omaha High-Low Split event was Marsha Waggoner of Downey, California. The public relations director of the Bicycle Club Casino in Bell Gardens, California, Waggoner began playing poker 18 years ago in her native Australia. She has cashed in numerous major poker competitions and holds titles from the Super Bowl of Poker, the Diamond Jim Brady tournament, and the Stairway to the Stars tournament. Her latest award brings Waggoner's total World Series earnings to $111,360, moving her past Annie Duke and Mim Penney into the No. 1 spot on the women's roster of all-time WSP money winners.

. Waggoner was eliminated from the Omaha High-Low Split competition when she called a pre-flop raise with J-10-10-2 against Jim Douglas, who held A-A-6-3. The flop came 9-5-2, and when Douglas bet, Waggoner called all in. But a six on the turn and a queen on the river brought her no help, and Douglas scooped the pot with a pair of aces for high and a 6-5 low.
---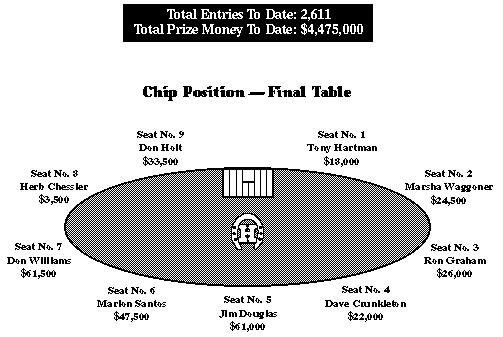 ---
The Final Hand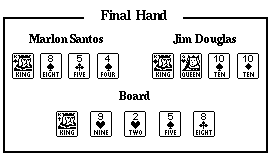 ---

---
ConJelCo is proud to bring coverage of the 1995 World Series of Poker to the Internet community.
---
<!%%Author>World Series of Poker Home Page<!%%EndAuthor> <!%%DateLastModified> Page last modified: 5-86-95<!%%EndDateLastModified>