26th Annual
World Series of Poker
No-Limit Deuce-to-Seven Draw
$5,000 Buy-in
Entries: 26
Rebuys: 19
Total Prize Money: $229,000
---

1994 Winner: Lyle Berman - $128,250
1995 Champion: JOHN BONETTI
---
---
The Winners
1. John Bonetti $101,250

Houston, Texas

2. Johnny Chan 56,250

Las Vegas, Nevada

3. Doyle Brunson 33,750

Las Vegas, Nevada

4. Mickey Appleman 22,500

New York, New York

5. Matthias Rohnacher 11,250

Heidelberg, Germany
---
The Showdown
. Binion's Horseshoe, May 4, 1995 -- John Bonetti of Houston, Texas, defeated 25 opponents -- including two former World Champions of Poker -- to capture top honors in the 12th event of the 26th annual World Series of Poker. For his victory in the $5,000 buy-in no-limit Deuce-to-Seven Draw competition, Bonetti was awarded $101,250 and a 14-karat gold bracelet, custom designed by Neiman-Marcus.

. This is the third World Series title for Bonetti, who also won the Deuce-to-Seven Draw championship in 1990. A 66-year-old retiree from the property management business, Bonetti was the 1993 champion of the Queens Poker Classic and holds titles from several other major competitions. He began playing poker on a serious level when he moved from New York to Texas 17 years ago.

. Bonetti came to the final table as the chip leader, and by the time play was three-handed, his stack dwarfed those of his two remaining opponents, former World Champions Doyle Brunson and Johnny Chan. The first to be eliminated was Brunson, who moved all in with a two-card draw to 9-8-6. Bonetti called and drew two to 6-5-3. After the draw, Brunson showed down A-10, but it proved no good when Bonetti turned over Q-7 to claim the pot.

. Several hands later, it was all over when Chan took a one-card draw to 10-8-6-5 up against Bonetti, who drew two to 7-4-2. Chan caught another five to pair, and Bonetti secured the pot and his third WSP title with a Q-9.

. "This was the greatest three-way competition I've ever had," Bonetti said. Earlier he told Brunson and Chan: "I love to gamble, especially with you guys. You guys are gentlemen -- the best in the world."

. Chan, the 1987 and 1988 World Champion of Poker, received $56,250 for placing second in the Deuce-to-Seven Draw competition. A 37-year-old professional player from Las Vegas, Chan also has to his credit numerous titles from other major poker competitions. With total World Series earnings of $2,097,539, he continues to rank No. 1 on the roster of all-time WSP money winners.

. When play was three-handed, Chan was in middle chip position and made a laydown against Bonetti that practically guaranteed him second place. After drawing one card, Chan bet $25,000 and Bonetti raised, moving all in with his pat hand. Chan called time, turned over his 8-6-4-3-2, thought a moment, then conceded the pot. "By laying down the hand, I'm locking up second place," he later explained. "If I call and lose, I finish third. If I call and win, I still come in second."

. Brunson, the World Champion of Poker in both 1976 and 1977, pocketed $33,750 for his third-place finish. A 61-year-old professional gambler from Las Vegas, Brunson is a member of the Poker Hall of Fame and holds seven WSP titles, as well as countless titles from other major tournaments. His latest award brings Brunson's total World Series earnings to $1,453,675, moving him past Hamid Dastmalchi into the No. 5 spot on the roster of all-time WSP money winners.
---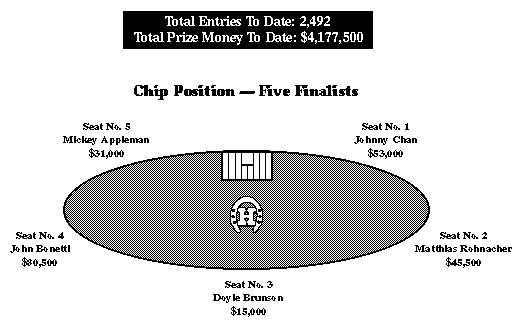 ---
The Final Hand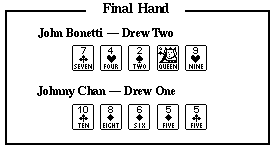 ---

---
ConJelCo is proud to bring coverage of the 1995 World Series of Poker to the Internet community.
---
<!%%Author>World Series of Poker Home Page<!%%EndAuthor> <!%%DateLastModified> Page last modified: 5-6-95<!%%EndDateLastModified>