26th Annual
World Series of Poker
Limit Seven-Card Stud High-Low Split
Eight or Better
$2,500 Buy-in
Entries: 96*
Total Prize Money: $240,000*
---

1994 Winner: New Event
1995 Champion: MEN NGUYEN
---
---
The Winners
1. Men "The Master" Nguyen $96,000

Bell Gardens, California

2. Steve Nixon 55,200

McAllen, Texas

3. Vince Burgio 28,800

West Hills, California

4. Mike Epstein 16,800

Las Vegas, Nevada

5. "Miami John" Cernuto 14,400

Las Vegas, Nevada

6. Charles Burris 12,000

Lewisville, Texas

7. Deane Stonier 9,600

Jacksonville Beach, Florida

8. Tom Jacobs 7,200

Las Vegas, Nevada
---
The Showdown
. Binion's Horseshoe, May 4, 1995 -- Men "The Master" Nguyen, a 41-year-old professional poker player from Bell Gardens, California, charged past 95 opponents to capture first place in the 11th event of the 26th annual World Series of Poker. For his victory in the $2,500 buy-in limit Seven-Card Stud, High-Low Split Eight-or-Better competition -- a new event added to this year's tournament schedule -- Nguyen was awarded $96,000 and a 14-karat gold bracelet, custom designed by Neiman-Marcus.

. This is the second World Series title for Nguyen, who also holds titles from the Hall of Fame Poker Classic, the L.A. Poker Classic, and the Diamond Jim Brady Poker Tournament. Formerly the owner of a laundry and a furniture store in Los Angeles, Nguyen sold both businesses in 1988 to pursue poker as a full-time profession. He was introduced to the game some years ago when he played five-card stud in his native Vietnam.

. Nguyen came to the final table in good chip position, and after making deuces full to scoop a pot and eliminate Mike Epstein, he had a solid advantage over his remaining two opponents. First to go was Vince Burgio, who called all in on fourth street with A-10-8-5 against Nguyen's 5-3-3-2. Although Burgio paired his ten, he failed to make a low, and Nguyen caught a jack on both fifth and seventh streets to scoop the pot with two pair.

. A few hands later, it was all over when runner-up Steve Nixon took split queens and a three-card low draw up against Nguyen, who also had a three-card low draw, plus trip fives. Nixon failed to improve, and Nguyen caught a second trey on the river to fill up, scoop the pot, and win his second WSP title.

. "I had some tough competition at the final table," Nguyen said. "They were all top players, but I played well and got the cards I needed to win."

. For his second-place finish in the Stud High-Low Split event, Nixon took home $55,200. A 59-year-old retired rancher from McAllen, Texas, Nixon holds a title from the Hall of Fame Poker Classic and has finished in the money in several other major poker competitions. "I've played poker all my life," he commented. "But I never really learned how to play until I retired and started to come out here."

. Third-place finisher Vince Burgio of West Hills, California, received $28,800. A 55-year-old professional player, Burgio holds a Stud High-Low Split title from the 1994 WSP, as well as titles from the Hall of Fame Poker Classic and the Queens Poker Classic. He has played poker since the age of 8.

. As a special note, congratulations are in order for Mike Krescanko and Tracy Wells, who -- after a five and one-half year courtship -- are getting married May 13 here in Las Vegas. Krescanko has cashed in several previous WSP tournaments and finished just out of the money in the Stud High-Low Split event. Wells placed third in the Women's Seven-Card Stud competition in last year's World Series.
---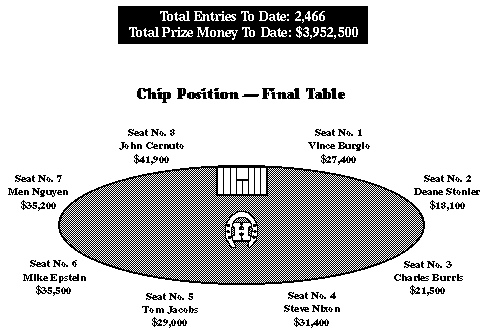 ---
The Final Hand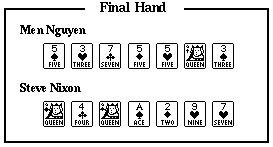 ---

---
ConJelCo is proud to bring coverage of the 1995 World Series of Poker to the Internet community.
---
<!%%Author>World Series of Poker Home Page<!%%EndAuthor> <!%%DateLastModified> Page last modified: 5-6-95<!%%EndDateLastModified>