26th Annual
World Series of Poker
Pot-Limit Texas Hold'em
$1,500 Buy-in
Entries: 264*
Total Prize Money: $396,000*
---

1994 Winner: Jay Heimowitz - $148,200
1995 Champion: PETER VILANDOS
---
---
The Winners
1. Peter Vilandos $148,500

Houston, Texas

2. Mike Cook 75,240

London, England

3. James Miller III 37,620

Oceanside, California

4. Jason Lester 25,740

New York, New York

5. Lucy Rokach 17,820

Stoke-on-Trent, England

6. Annie Duke 13,860

Las Vegas, Nevada

7. Dewey Tomko 9,900

Greenleaf, Florida

8. Larry Beilfuss 7,920

West Allis, Wisconsin

9. Howard Lederer 5,940

Las Vegas, Nevada

10. Peter Van Den Berg 4,752

Silvertop, South Africa

11. Mark Mitchell 4,752

Seattle, Washington

12. Jeff Norman 4,752

Aptos, California

13. George Roumanis 3,960

Long Beach, California

14. Lothar Landaver 3,960

Landshut, Germany

15. Jay Moriarty 3,960

Studio City, California

16. D.J. Johnson 3,168

Las Vegas, Nevada

17. Dan Bakker 3,168

Hot Springs, Arkansas

18. Neal Einfeld 3,168

Bearsville, New York

19. Alex Brenes 1,980

Miami Lakes, Florida

20. Steve Gallagher 1,980

Oceanside, California

21. Rod Peate 1,980

Newport Beach, California

22. Richard Chiovari 1,980

Chicago, Illinois

23. Mort Epstein 1,980

Las Vegas, Nevada

24. Gilbert Gross 1,980

Las Vegas, Nevada

25. Barbara Enright 1,980

Van Nuys, California

26. Len Miller 1,980

Oceanside, California

27. Danny Dang 1,980

Los Angeles, California
---
The Showdown
. Binion's Horseshoe, May 3, 1995 -- Peter Vilandos, a 54-year-old recreational poker player from Houston, Texas, defeated a record field of 264 competitors to win the 10th event of the 26th annual World Series of Poker. For taking top honors in the $1,500 buy-in pot-limit Texas Hold'em competition, Vilandos received $148,500 and a custom-designed, 14-karat gold bracelet to commemorate his victory.

. This is the first World Series title for Vilandos, who has cashed numerous times in major poker competitions and also holds titles from the Queens Poker Classic and the Diamond Jim Brady tournament. The owner of three auto repair shops, Vilandos began playing poker 35 years ago in his native Greece.

. Short-chipped when he came to the final table, Vilandos won several all-in hands and managed to slowly but surely build his stack. By the time heads-up play began, he was almost even in chips with runner-up Mike Cook. Vilandos then went on the attack, relentlessly hammering Cook's stack until he had his opponent almost down to the felt. In the decisive confrontation, Cook was dealt 5H 2D in the big blind, and Vilandos called with 10D 4H. The flop came 9D 4D 3C, giving Vilandos middle pair and Cook an open-end straight draw. When Cook bet, Vilandos raised and Cook called all in. But the 3D on the turn was no help, and when the river brought the 5D, Vilandos won the pot and his first World Series title with a 10-high flush.

. "The competition today was very hard," Vilandos said. "I had lots of ups and downs, and at the last three tables, I had fewer chips than anybody. But I won a lot of all-in hands, kept my concentration, and never lost control."

. For placing second in the pot-limit Hold'em event, Cook pocketed $75,240. A 48-year-old jewelry dealer from London, England, Cook has previously cashed twice in the WSP, including finishing sixth for $12,548 in yesterday's pot-limit Omaha competition. He holds titles from both the Great Britain Poker Championship and the European Poker Championship tournaments.

. Finishing third and collecting $37,620 was James Miller III of Oceanside, California. A 31-year-old dealer and floorman at Oceanside Card Casino, Miller has been competing in poker tournaments for just two years and already has cashed in several major events. He was knocked out of the pot-limit Hold'em competition when he called all-in before the flop with K-Q against Mike Cook, who held A-Q. Neither player improved, and Cook took down the pot with ace high.

. In her fourth appearance at the final table in this year's WSP, Annie Duke of Las Vegas finished sixth for $13,860. With total World Series earnings of $89,983, she ranks No. 2 on the women's roster of all-time WSP money winners. Duke's brother, Howard Lederer, placed ninth in this event, winning $5,940. This is the first time in World Series history that a brother and sister have competed at the same final table.
---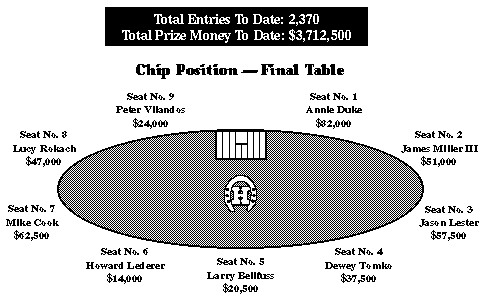 ---
The Final Hand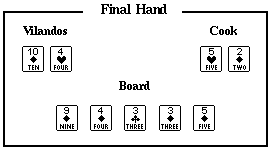 ---

---
ConJelCo is proud to bring coverage of the 1995 World Series of Poker to the Internet community.
---
<!%%Author>World Series of Poker Home Page<!%%EndAuthor> <!%%DateLastModified> Page last modified: 5-5-95<!%%EndDateLastModified>