26th Annual
World Series of Poker
Limit Omaha High-Low Split
$1,500 Buy-in
Entries: 234
Total Prize Money: $351,000
---

1994 Winner: T.J. Cloutier - $135,000
1995 Champion: DR. MAX STERN
---
---
The Winners
1. Dr. Max Stern $140,400

Las Vegas, Nevada

2. Cong Do 70,200

Falls Church, Virginia

3. Lonnie Heimowitz 35,100

Monticello, New York

4. J.W. Smith 22,815

Dalton, Georgia

5. Reed Knaffl 17,550

Emory, Texas

6. Annie Duke 12,285

Las Vegas, Nevada

7. Larry Colt 8,775

Oviedo, Florida

8. Art Youngblood 7,020

Gulfport, Mississippi

9. Eli Balas 5,265

Las Vegas, Nevada

10. Robert Campbell 4,212

Boston, Massachusetts

11. Dan Bakker 4,212

Hot Springs, Arkansas

12. Doug Saab 4,212

Birmingham, Alabama

13. Neal Lorsbach 3,510

Tacoma, Washington

14. Jim Keaney 3,510

Las Vegas, Nevada

15. Karen Wolfson 3,510

Las Vegas, Nevada

16. Brad Newman 2,808

Aurora, Colorado

17. Danny Dang 2,808

Los Angeles, California

18. Howard Mann 2,808

Martinsburg, W. Virginia
---
The Showdown
. Binion's Horseshoe, April 30, 1995 -- Dr. Max Stern, a 55-year-old recreational poker player from Las Vegas, vanquished 233 opponents to capture first place in the seventh event of the 26th annual World Series of Poker. For his victory in the $1,500 buy-in limit Omaha, High-Low Split Eight-or-Better competition, Stern was awarded $140,400 and a custom-designed, 14-karat gold bracelet.

. This is the first World Series title for Stern, a pediatrician who splits his time between Las Vegas and his native Costa Rica. He has cashed in several previous World Series competitions, as well as in numerous other major poker tournaments. "It's an unbelievable feeling to finally win a World Series title," Stern said. "Among poker players, money goes back and forth, but being a champion is a great, great honor."

. Stern came to the final table as one of the chip underdogs, but over the next several hours, he managed to steadily build his stack. By the time heads-up play began, he had a nearly insurmountable advantage over runner-up Cong Do, and the end was nigh. The final hand came down when Do raised all in before the flop with AD KD 8H 2C and was called by Stern, who held QS 7S 4H 3D. The flop came 10D 9S 6S, and the 8C fell on the turn, giving Do the lead. But his hopes were dashed when the river brought the QC, giving Stern top pair to scoop the pot and secure his first World Series title.

. Do, a 27-year-old competitor from Falls Church, Virginia, received $70,200 for his second-place finish. Employed in his family's restaurant business, Do has played poker for just seven years. This marks the first time he has cashed in a major competition.

. Winning third place and $35,100 in the Omaha High-Low Split event was Lonnie Heimowitz of Monticello, New York. The 31-year-old president of United Beverage Company, Heimowitz began playing poker in 1982 and has cashed in one other major tournament, the Queens Poker Classic. He is the son of Jay Heimowitz, a talented competitor who has four World Series of Poker titles to his credit. "Though you have to learn on your own and develop your own style, without a doubt my dad has been very helpful to me," Heimowitz said. "He's a terrific poker player."

. Almost down to the felt, Heimowitz was eliminated from the tournament when he raised all in before the flop with AC JS 8C 5C and was called by both Stern and Do. The final board read AD 7D 5H 2H 6H and Do, who held AH QH 4H 2D, scooped the pot with an ace-high heart flush and a 6-5 low.

. In her second time to cash in this year's World Series, Annie Duke of Las Vegas finished in sixth place for $12,285. Her latest award brings Duke's total WSP earnings to $69,535, moving her past Robin Brown and Alma McClelland into the No. 4 spot on the women's roster of all-time World Series money winners.
---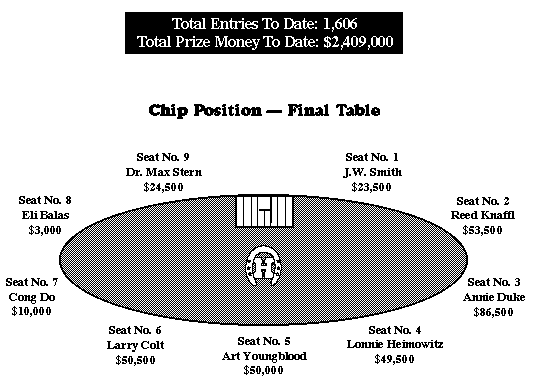 ---
The Final Hand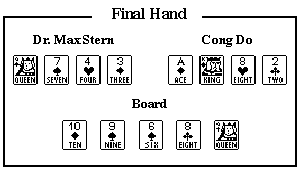 ---

---
ConJelCo is proud to bring coverage of the 1995 World Series of Poker to the Internet community.
---
<!%%Author>World Series of Poker Home Page<!%%EndAuthor> <!%%DateLastModified> Page last modified: 5-1-95<!%%EndDateLastModified>