26th Annual
World Series of Poker
Limit Seven-Card Razz
$1,500 Buy-in
Entries: 138
Total Prize Money: $207,000
---

1994 Winner: Mike Hart - $88,800
1995 Champion: MICKEY SISSKIND
---
---
The Winners
1. Mickey Sisskind $82,800

West Bloomfield, Michigan

2. Leroy Baca 41,400

Belen, New Mexico

3. Fred Walker 20,700

Council Bluffs, Iowa

4. Sven Arntzen 12,420

Annapolis, Maryland

5. 10,350

Pacific Palisades, California

6. Mike Sexton 8,280

Las Vegas, Nevada

7. Men Nguyen 6,210

Bell Gardens, California

8. Mark Lowery 4,140

Oklahoma City, Oklahoma

9. Ron McMillan 3,105

Las Vegas, Nevada

10. Ken Flaton 3,105

Henderson, Nevada

11. Mark Mitchell 3,105

Seattle, Washington

12. Chau Giang 2,588

Las Vegas, Nevada

13. Brent Carter 2,587

Oak Park, Illinois

14. Sam Grizzle 2,070

Garden Grove, California

15. Artie Cobb 2,070

Las Vegas, Nevada

16. Rafael Loson 2,070

Buenos Aires, Argentina
---
The Showdown
. Binion's Horseshoe, April 29, 1995 -- Mickey Sisskind, a 54-year-old recreational poker player from West Bloomfield, Michigan, defeated 137 opponents to win the sixth event of the 26th annual World Series of Poker. For his first-place finish in the $1,500 buy-in limit Seven-Card Razz competition, Sisskind took home $82,800 and a custom-designed,14-karat gold bracelet to commemorate his victory.

. This is the first World Series title for Sisskind, who plays only Razz and has competed in this WSP event since 1987. "I'm very excited about winning," he said. "I've thought about a World Series Razz title for a long time." An attorney and commercial real-estate investor, Sisskind has cashed in two previous WSP tournaments, as well as in the Queens Poker Classic. He began playing poker in college.

. When heads-up play began, Sisskind had more than a 4-to-1 chip lead over runner-up Leroy Baca, who nevertheless survived five all-in confrontations before he was finally dispatched. The deciding hand came down when Baca bet all in on sixth street with a 10-8 and Sisskind called with a draw to a nine. On the river, it was all over for Baca, as Sisskind caught a six to win the pot and the title with a 9-7.

. Sisskind's victory over Baca was a repeat performance from the night before. "I was heads up against Mickey in a satellite last night," Baca said. "He beat me last night, and he beat me again today. He's a really tough player."

. Baca, a 55-year-old automobile dealer from Belen, New Mexico, pocketed $41,400 for his second-place finish. A poker player since age 15, he embarked on the tournament trail nine years ago and has cashed in several major poker competitions.

. Finishing third in the Razz event and winning $20,700 was Fred Walker of Council Bluffs, Iowa. The 58-year-old owner of a pool hall, Walker began playing poker in his early teens and has finished in the money in several major tournaments.

. After doubling through to stay alive, Walker was eliminated from the competition on the next hand when his 8-6-5 was bested by Leroy Baca's 8-6-4. "I'm happy to finish in third place," Walker said. "I played about even all the time. I was never really ahead but never behind either."

. In his third appearance at the final table -- three nights in a row, in fact -- Mike Sexton of Las Vegas finished sixth for $8,280. Sexton placed fourth in the Omaha competition on April 27, winning $14,820, and pocketed $15,900 for his fifth-place finish in the Stud High-Low Split tournament held April 28. Also cashing three times to date in this year's World Series are Chau Giang and Men "The Master" Nguyen.
---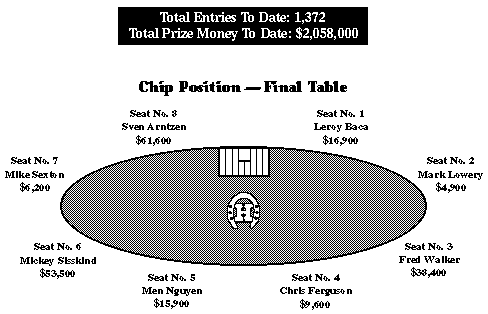 ---
The Final Hand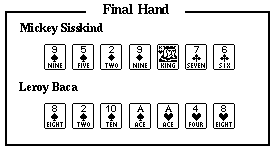 ---

---
ConJelCo is proud to bring coverage of the 1995 World Series of Poker to the Internet community.
---
<!%%Author>World Series of Poker Home Page<!%%EndAuthor> <!%%DateLastModified> Page last modified: 5-1-95<!%%EndDateLastModified>