26th Annual
World Series of Poker
No-Limit Texas Hold'em
$1,500 Buy-in
Entries: 366*
Total Prize Money: $549,000*
---

1994 Winner: George Rodis - $187,800
1995 Champion:
RICHARD KLAMIAN
---
---
The Winners
1. Richard Klamian $205,875

Las Vegas, Nevada

2. Cowboy Wolford 104,310

Las Vegas, Nevada

3. Carl McKelvey 52,155

Gulfport, Mississippi

4. Robert Gordon 32,940

Largo, Florida

5. John Morgan 27,450

Wolverhampton, England

6. Charley Watkins 19,215

Yale, Oklahoma

7. Peter Brehm 13,725

Houston, Texas

8. Robert Gingras 10,980

Ottawa, Canada

9. Mike Sexton 8,235

Las Vegas, Nevada

10. Mel Judah 6,588

London, England

11. Annie Duke 6,588

Las Vegas, Nevada

12. Chris Sandrock 6,588

Biloxi, Mississippi

13. Frank Henderson 5,490

Houston, Texas

14. S.P. Karabinas 5,490

Austin, Texas

15. Surinder Sunar 5,490

Wolverhampton, England

16. F.D. "Dody" Roach 4,392

Corpus Christi, Texas

17. Luis Santoni 4,392

Las Vegas, Nevada

18. Dick Carson 4,392

Las Vegas, Nevada

19. Dave Hill 2,745

Edmonds, Washington

20. Matthias Rohnacher 2,745

Heidelberg, Germany

21. Garland Walters 2,745

Munfordville, Kentucky

22. Charles Homer 2,745

Houston, Texas

23. Johnny Chan 2,745

Las Vegas, Nevada

24. Bill Lester 2,745

Branson, Missouri

25. John Bonetti 2,745

Houston, Texas

26. George Rodis 2,745

Las Vegas, Nevada

27. Scott Silverman 2,745

Chimacum, Washington
---
The Showdown
. Binion's Horseshoe, May 1, 1995 -- Richard Klamian, a 46-year-old recreational poker player from Las Vegas, topped a record field of 366 competitors to win the eighth event of the 26th annual World Series of Poker. For his victory in the $1,500 buy-in no-limit Hold'em competition, Klamian received $205,875 and a custom-designed, 14-karat gold bracelet.

. This is the first World Series title for Klamian, who has cashed a number of times in previous WSP competitions, as well as in several other major poker tournaments. The owner of a sports information service, Klamian has been a poker player since the age of 15.

. "I'm still numb," he said after winning the tournament. "I wasn't going to play today -- I didn't get much sleep last night and was washed out -- but now I'm very happy I did."

. After surviving three all-in confrontations, then winning a huge pot when he eliminated third-place finisher Carl McKelvey, Klamian had an enormous chip advantage over runner-up Cowboy Wolford. A few hands later, it was all over when Klamian, holding pocket queens, raised $30,000 before the flop, and Wolford called with A-8 offsuit. The flop came K-3-2 and both players checked. When an eight fell on the turn, giving Wolford a pair, he moved all in and Klamian called. A second king on the river was no help, and Klamian won the pot and the title with a higher two pair.

. Wolford, a 64-year-old professional poker player from Las Vegas, was awarded $104,310 for his second-place finish. A former PRCA calf-roping champion, Wolford holds one World Series of Poker title, plus a title from the Super Bowl of Poker, and has cashed numerous times in other major competitions. He has been playing poker since age 10.

. Finishing third in the no-limit Hold'em event and pocketing $52,155 was Carl McKelvey of Gulfport, Mississippi. A 52-year-old professional player, he holds titles from the Hall of Fame, the Diamond Jim Brady, and the Stairway to the Stars poker tournaments.

. McKelvey was eliminated from the competition when he reraised before the flop, moving all in with pocket tens against Klamian, who held A-Q. The final board showed A-K-Q-K-6, and Klamian took down the pot with top two pair.

. Annie Duke finished 11th in this event, winning $6,588. She now ranks No. 2 on the women's roster of all-time World Series money winners, with total earnings of $76,123. Johnny Chan, the WSP's overall No. 1 money winner, placed 23rd for $2,745, increasing his total tournament earnings to $2,041,289.
---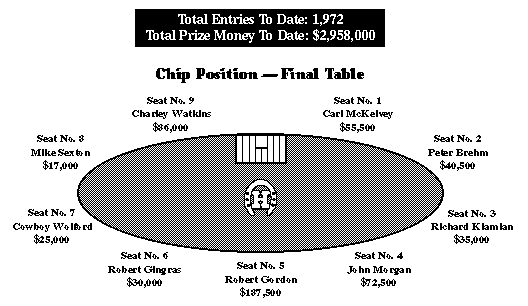 ---
The Final Hand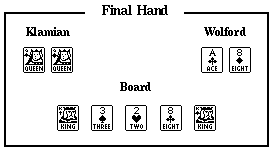 ---

---
ConJelCo is proud to bring coverage of the 1995 World Series of Poker to the Internet community.
---
<!%%Author>World Series of Poker Home Page<!%%EndAuthor> <!%%DateLastModified> Page last modified: 5-3-95<!%%EndDateLastModified>