26th Annual
World Series of Poker
Pot-Limit Omaha
$1,500 Buy-in
Entries: 134
Rebuys: 105
Total Prize Money: $358,500*
---

1994 Winner: O'Neil Longson - $100,800
1995 Champion: DR. PHIL EARLE
---
---
The Winners
1. Dr. Phil Earle $143,400

Houston, Texas

2. Ron Graham 71,700

Las Vegas, Nevada

3. Tom McEvoy 35,850

Las Vegas, Nevada

4. O'Neil Longson 23,303

Salt Lake City, Utah

5. Jay Heimowitz 17,925

Bethel, New York

6. Mike Cook 12,548

London, England

7. Jim Boyd 8,962

Martinsburg, W. Virginia

8. Mansour Matloubi 7,170

London, England

9. Perry Green 5,377

Anchorage, Alaska

10. Wade Coody 4,302

Tyler, Texas

11. Tony Bloom 4,302

London, England

12. Donn O'Dea 4,302

London, England

13. Jason Gray 3,585

London, England

14. Matthias Rohnacher 3,585

Heidelberg, Germany

15. Chris Truby 3,585

London, England

16. Jack Culp 2,868

Phoenix, Arizona

17. Chris Bjorin 2,868

London, England

18. Dewey Tomko 2,868

Greenleaf, Florida
---
The Showdown
. Binion's Horseshoe, May 2, 1995 -- Dr. Phil Earle, a recreational poker player from Houston, Texas, vanquished a record field of 134 competitors to capture first place in the ninth event of the 26th annual World Series of Poker. For his victory in the $1,500 buy-in pot-limit Omaha competition, Earle was awarded $143,400 and a 14-karat gold bracelet, custom designed by Neiman-Marcus.

. This is the first World Series title for Earle, who also holds a title from the Poker Hall of Fame and has cashed in several other major tournaments. A family practitioner in minor emergency, Earle has been a poker player for 15 years. "I started right at the top in a no-limit game in Houston," he said.

. Earle came to the final table as a chip underdog. But after doubling through twice against Tom McEvoy and then eliminating O'Neil Longson to win a $235,000 pot, Earle had most of the chips on the table and dispatched his two remaining opponents in short order. In the final hand, runner-up Ron Graham was all in before the flop with A-9-4-2. Earle held A-J-10-8. When the last card was dealt, the board showed K-J-2-K-7, giving Earle top two pair to win the pot and his first World Series title.

. Soon after the tournament was over, Earle took the microphone from Jack McClelland and announced, "I'd like to dedicate my win to my pal who was one day a lion but for eternity is a champion -- Jack Straus." It was a heartfelt -- and fitting -- tribute to the legendary 1982 World Champion of Poker. Earle also paid tribute to his fellow finalists in the pot-limit Omaha competition. "It's one of the greatest pleasures I've had in poker to play at the final table tonight," he said. "I was in the presence of some great players."

. For his second-place finish in the pot-limit Omaha event, Ron Graham of Las Vegas received $71,700. A 44-year-old professional player, Graham has cashed in a number of major poker competitions. "I've been playing poker a long time, and it's been a struggle," he commented.

. Tom McEvoy, the 1983 World Champion of Poker, finished in third place for $38,850. A 50-year-old professional player from Las Vegas, McEvoy has to his credit four World Series of Poker titles, plus numerous titles from other major competitions. His latest award brings McEvoy's total WSP earnings to $958,245, and he currently ranks No. 12 on the roster of all-time World Series money winners.

. Finishing in fourth place for $23,303 was 1994 defending pot-limit Omaha champion O'Neil Longson of Salt Lake City, Utah. He was knocked out of the tournament when he reraised before the flop with A-K-8-7 and Earle, who held A-A-3-2, kicked it up again. Longson called all in. On fourth street, the board showed 8-6-5-7, giving Longson two pair to take the lead. But a second five fell on the river, bringing Earle a higher two pair and the monster $235,000 pot.

. Mansour Matloubi, the 1990 World Champion of Poker, finished eighth in the pot-limit Omaha event and pocketed $7,170. With total World Series earnings of $1,148,310, Matloubi ranks No. 7 on the list of all-time WSP money winners.
---
---
The Final Hand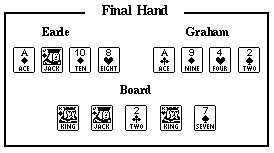 ---

---
ConJelCo is proud to bring coverage of the 1995 World Series of Poker to the Internet community.
---
<!%%Author>World Series of Poker Home Page<!%%EndAuthor> <!%%DateLastModified> Page last modified: 5-3-95<!%%EndDateLastModified>