26th Annual
World Series of Poker
Limit Seven-Card Stud High-Low Split
Eight or Better
$1,500 Buy-in
Entries: 212
Total Prize Money: $318,000
---

1994 Winner: Vince Burgio - $127,200
1995 Champion: ROD PEATE
---
---
The Winners
1. Rod Peate $127,200

Newport Beach, California

2. Steve Hohn 63,600

Leewood, Kansas

3. Dr. Willard Noyes 31,800

Kutztown, Pennsylvania

4. Phil Tanner 19,080

Springfield, Illinois

5. Mike Sexton 15,900

Las Vegas, Nevada

6. Mike Hart 12,720

Newport Beach, California

7. Martin Fox 9,540

New York, New York

8. Wing Wong 6,360

Scottsdale, Arizona

9. Thomas Chung 4,770

Federal Way, Washington

10. Sven Arntzen 4,770

Annapolis, Maryland

11. Thomas Hayden 4,770

Owensboro, Kentucky

12. J.J. Volpe 4,770

Redlands, California

13. Gus Nescoe 3,180

Largo, Florida

14. Bill Alexander 3,180

Palm Springs, Florida

15. Rick Steiner 3,180

Cincinnati, Ohio

16. George Gonzales 3,180

Chicago, Illinois
---
The Showdown
. Binion's Horseshoe, April 28, 1995 -- Rod Peate, a 47-year-old poker player from Newport Beach, California, charged past 211 opponents to lasso first place in the fifth event of the 26th annual World Series of Poker. For his victory in the $1,500 buy-in limit Seven-Card Stud, High-Low Split Eight-or-Better competition, Peate was awarded $127,200 and a 14-karat gold bracelet, custom designed by Neiman-Marcus.

. This is the first World Series title for Peate, who was runner-up to Tom McEvoy in the 1983 WSP no-limit Hold'em championship event. A poker shift supervisor for Hollywood Park Casino in Inglewood, California, Peate holds a title from the Diamond Jim Brady tournament and has cashed numerous times in other major competitions. He played in home poker games as a kid and became a serious competitor 15 years ago.

. Peate came to the final table as the chip leader and managed to maintain his position until shortly before he faced Steve Hohn in the final showdown. When heads-up play began, the two men were almost even in chips and the lead swung back and forth for the next 30 minutes. Soon thereafter, Peate seized the advantage when he made sevens full of jacks, scooping a huge pot and leaving Hohn with only $2,000. The next hand, Hohn raised all in on third street with pocket queens and a six in the door, and Peate called with A-8-5. Hohn failed to improve, and Peate secured the pot and his first World Series title with aces up.

. "After placing in several World Series events over the years, it's great to finally win one," Peate said. "My wife Debbie wanted me to play in this tournament, and she staked me."

. For his second-place finish in the Stud High-Low Split event, Hohn received $63,600. A 46-year-old stockbroker from Leewood, Kansas, he has cashed in several other major tournaments, including the Poker Hall of Fame and the L.A. Poker Classic.

. "I'm thrilled with second place -- it's the most money I've ever won," Hohn said. "I was very fortunate today. I made a lot of comebacks and managed to yo-yo my way up."

. Dr. Willard Noyes, a 62-year-old vascular surgeon from Kutztown, Pennsylvania, finished in third place for $31,800. A poker player since the age of 6, Noyes holds a title from the Queens Poker Classic and has finished in the money in the World Poker Finals and the New England Poker Championship tournament.

. Noyes was eliminated from the Stud High-Low Split competition when he bet all in on sixth street with a low draw, failed to improve, and lost the pot to Steve Hohn, who made a pair of nines.

. Incidentally, Noyes commended the Horseshoe for instituting the new "Player Abuse Policy," saying that it was a pleasure to play in a tournament free from profanity and other indiscretions. "This should be the start of a nationwide reformation to give the game of poker the class and respect it deserves," he stated.
---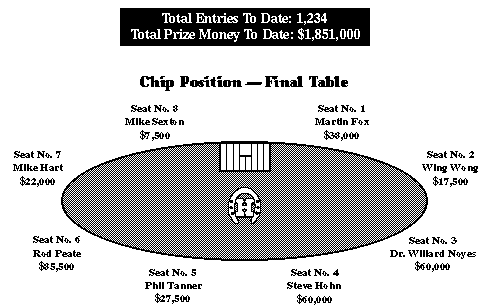 ---
The Final Hand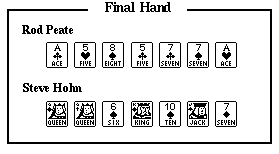 ---

---
ConJelCo is proud to bring coverage of the 1995 World Series of Poker to the Internet community.
---
<!%%Author>World Series of Poker Home Page<!%%EndAuthor> <!%%DateLastModified> Page last modified: 5-1-95<!%%EndDateLastModified>