26th Annual
World Series of Poker
Chinese Poker
$1,500 Buy-in
Entries: 69
Total Prize Money: $103,500
---

1994 Winner: New Event
1995 Champion: JOHN TSAGARIS
---
---
The Winners
1. John Tsagaris $41,400

Vancouver, B.C., Canada

2. Bruce Cohen 23,805

Queens, New York

3. Matthias Rohnacher 12,420

Heidelberg, Germany

4. Clyde Coleman 7,245

Marlow, Oklahoma

5. Edwin Castro 6,210

Newark, California

6. Men Nguyen 5,175

Bell Gardens, California

7. Chau Giang (tie) 3,623

Las Vegas, Nevada

8. Kenny Brown (tie) 3,622

Birmingham, Alabama
---
The Showdown
. Binion's Horseshoe, April 27, 1995 -- John Tsagaris, a 40-year-old recreational poker player from Vancouver, British Columbia, Canada, defeated 68 opponents to claim top honors in the fourth event of the 26th annual World Series of Poker. For his first-place finish in the $1,500 buy-in Chinese Poker competition -- a new event added to this year's tournament -- Tsagaris took home $41,400 and a custom-designed, 14-karat gold bracelet to commemorate the victory.

. The owner of a sports bar, Tsagaris has been a poker player for 20 years and has cashed in one other major competition. He had played Chinese Poker just five times prior to entering this tournament."It feels great to win a title, but I was very lucky," he said.

. When heads-up play began, Tsagaris had a substantial chip lead over runner-up Bruce Cohen. It was all over a few hands later when Tsagaris showed down the winning combination -- a pair of sevens in front, a pair of aces for the middle hand, and a club royal flush in back. Cohen set his final hand in the following manner: king high in front, two pair in the middle, and a jack-high diamond flush in back.

. Cohen, who is from Queens, New York, was awarded $23,805 for his second-place finish. A western boot retailer, he has played Chinese Poker for 13 years and has cashed in one previous World Series tournament. "I enjoy Chinese Poker a lot, and I like the tournament format," Cohen commented. "It's good to see the game here in Vegas."

. Matthias Rohnacher, the 34-year-old owner of a poker club in Heidelberg, Germany, finished in third place for $12,420. Formerly in the music business, Rohnacher holds a title from the 1992 Queens Poker Classic and was the runner-up in the 1994 European poker championship tournament.

. The $5,000 buy-in Chinese Poker competition -- also a new event in this year's World Series -- is scheduled at 5 p.m. on Saturday, May 6. Rebuys will be permitted during the first three hours of play.
---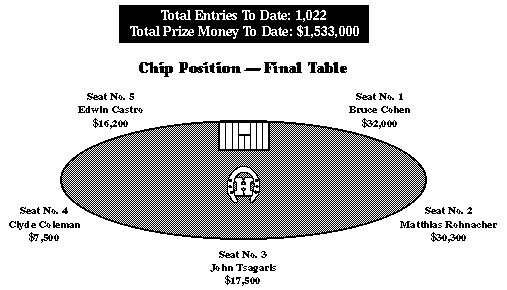 ---
The Final Hand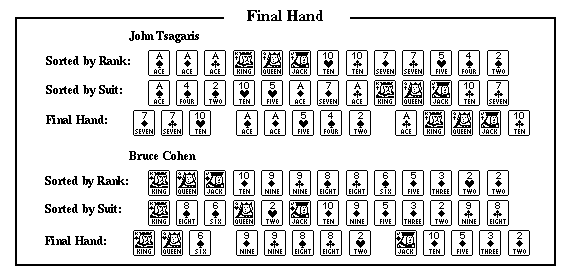 ---

---
ConJelCo is proud to bring coverage of the 1995 World Series of Poker to the Internet community.
---
<!%%Author>World Series of Poker Home Page<!%%EndAuthor> <!%%DateLastModified> Page last modified: 5-1-95<!%%EndDateLastModified>