26th Annual
World Series of Poker
Limit Omaha
$1,500 Buy-in
Entries: 152
Total Prize Money: $228,000
---

1994 Winner: Brent Carter - $83,400
1995 Champion: BERRY JOHNSTON
---
---
The Winners
1. Berry Johnston $91,200

Las Vegas, Nevada

2. Dan Bakker 45,600

Hot Springs, Arkansas

3. Lee Mougous 22,800

Elma, Washington

4. Mike Sexton 14,820

Las Vegas, Nevada

5. Tony Hartman 11,400

Minneapolis, Minnesota

6. Tommy Moorman 7,980

Fort Worth, Texas

7. John Bonetti 5,700

Houston, Texas

8. Eli Balas 4,560

Las Vegas, Nevada

9. Randy Holland 3,420

Tallahassee, Florida

10. David Helms 2,736

El Centro, California

11. Herb Kelso 2,736

Ridgeland, Mississippi

12. Trai Dang 2,736

Los Angeles, California

13. Chris Bjorin 2,280

London, England

14. Larry Colt 2,280

Oviedo, Florida

15. Mansour Matloubi 2,280

London, England

16. Gene Fisher 1,824

El Paso, Texas

17. Chris Sontum 1,824

Oslo, Norway

18. Rowzbeh Djangali 1,824

Greenbelt, Maryland
---
The Showdown
. Binion's Horseshoe, April 27, 1995 -- Berry Johnston, a 59-year-old professional gambler from Las Vegas, vanquished 151 opponents to capture first place in the third event of the 26th annual World Series of Poker. For his victory in the $1,500 buy-in limit Omaha competition, Johnston was awarded $91,200 and a custom-designed, 14-karat gold bracelet.

. The 1986 World Champion of Poker, Johnston holds several World Series titles, as well as numerous titles from other major competitions, including the Grand Prix of Poker, the Super Bowl of Poker, and the Queens Poker Classic. His latest award brings Johnston's total WSP earnings to $1,592,112, and he currently holds down the No. 3 spot on the roster of all-time World Series money winners.

. Johnston came to the final table as the chip underdog, but by the time heads-up play began, he had a 2-to-1 advantage over runner-up Dan Bakker. However, it was still touch-and-go, as the lead changed hands several times over the next two hours. The turning point came when Johnston flopped a nine-high straight to win a huge pot and put Bakker almost down to the felt. Shortly thereafter, it was all over when Bakker raised before the flop with AH 9D 4C 2H and Johnston, who held KD 4D 3H 3C, called. The flop came AD JD 3S, and Bakker bet all in. But when the 7D fell on the turn, giving Johnston the nut flush, Bakker was drawing dead. The river brought the 3D, adding insult to injury as Johnston took the pot and the title with quads.

. "This has to be the luckiest tournament I've ever won," Johnston said. "I was all in so many times it's unbelievable --10 times just at the last two tables, and one time, I had only $150 in the big blind."

. Bakker, a 43-year-old antiques dealer from Hot Springs, Arkansas, received $45,600 for his second-place finish. A poker player since age 13, he has cashed in several other major competitions.

. Winning third place and $22,800 in the limit Omaha event was Lee Mougous, a 44-year-old semi-professional player from Elma, Washington. A chemical equipment operator, Mougous has been playing poker since childhood and has finished in the money in a number of major tournaments. He was eliminated from the Omaha competition when he took A-J-9-4 up against Bakker, who held K-J-5-3. The final board showed K-5-2-7-J, and Bakker won the pot with two pair.

. In his second appearance at the final table in this year's World Series, Eli Balas of Las Vegas finished in eighth place for $4,560. He placed second, winning $159,600, in the $1,500 buy-in limit Hold'em event held April 25.

. Finishing 15th in the limit Omaha competition and winning $2,280 was 1990 World Champion of Poker Mansour Matloubi. His latest award brings Matloubi's total World Series earnings to $1,141,140, and he ranks No. 7 on the list of all-time WSP money winners.
---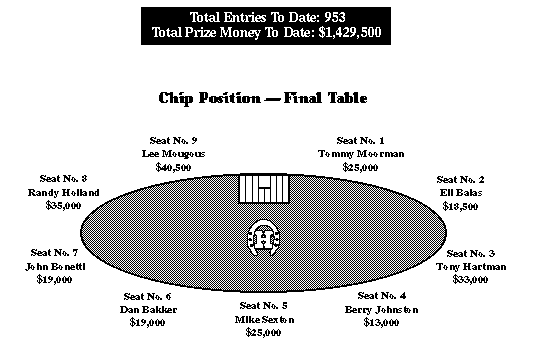 ---
The Final Hand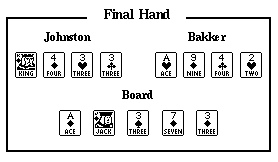 ---

---
ConJelCo is proud to bring coverage of the 1995 World Series of Poker to the Internet community.
---
<!%%Author>World Series of Poker Home Page<!%%EndAuthor> <!%%DateLastModified> Page last modified: 5-1-95<!%%EndDateLastModified>