26th Annual
World Series of Poker
Limit Seven Card Stud
$1,500 Buy-in
Entries: 241
Total Prize Money: $361,500
---

1994 Winner: Johnny Chan - $135,600
1995 Champion: VALTER FARINA
---
---
The Winners
1. Valter Farina $144,600

Genoa, Italy

2. S.P. Karabinas 72,300

Austin, Texas

3. Tom Pinak 36,150

Chicago, Illinois

4. Alan Miskin 21,690

Laurel, Maryland

5. David Moreno 18,075

Las Vegas, Nevada

6. Marie Gabert 14,460

Incline Village, Nevada

7. Matthias Holle 10,845

Gundelfingen, Germany

8. Julio Anicete 7,230

Hollywood Park, California

9. Gerhard Mauerer 5,423

Munich, Germany

10. Al Boston 5,423

Old Orchard Beach, Maine

11. Gregg Turk 5,422

Las Vegas, Nevada

12. Ken Hoey 5,422

Mystic, Connecticut

13. Norman Kong 3,615

N. Vancouver, B.C., Canada

14. Rowan LaBarre 3,615

Clarksville, Tennessee

15. Men Nguyen 3,615

Bell Gardens, California

16. Rose Feldman 3,615

Paradise Valley, Arizona
---
The Showdown
. Binion's Horseshoe, April 26, 1995 -- Valter Farina, a 41-year-old recreational poker player from Genoa, Italy, charged past 240 opponents to capture top honors in the second event of the 26th annual World Series of Poker. For his first-place finish in the $1,500 buy-in limit Seven-Card Stud competition, Farina took home $144,600 and a custom-designed,14-karat gold bracelet to commemorate his victory.

. This is the first World Series title for Farina, who has previously cashed in several other major tournaments. A poker player for 20 years, he credits his victory to getting the right cards at the right time. "Everyone at the final table was a good player, and I had to get lucky to win," he said.

. Lady Luck was indeed in Farina's corner tonight, enabling him to go from a big underdog to the top dog in two key hands. After catching a second king on the river to make sevens full against Tom Pinak and stay alive, Farina then caught a fifth heart on the river to snap off S.P. Karabinas' ace-high straight and take down a $250,000 pot. Karabinas had only $15,000 in chips left and raised all in on the next hand with K-J-7. Farina called with A-10-10. By sixth street, Karabinas had a set of jacks and Farina had picked up a straight draw. Once again, the river came through for Farina, bringing him a six to make a 10-high straight and claim his first World Series title.

. Karabinas, a 63-year-old retired orthopedic surgeon from Austin, Texas, received $72,300 for his second-place finish. A poker player since college, he has been a serious competitor for the past 15 years and has cashed in several other major tournaments, including the Hall of Fame Poker Classic, the Queens Poker Classic, and the L.A. Poker Classic.

. Placing third in the Seven-Card Stud competition and winning $36,150 was Tom Pinak of Chicago, Illinois. A 45-year-old home builder, Pinak holds a Stud High-Low Split title from the 1994 Hall of Fame Poker Classic and has cashed in several other major competitions. "I'm very happy with third place and feel lucky to get this far," he said. "I owe it all to Scotty Brooks."

. Although Pinak came to the final table as the chip leader, he lost several big pots in a row when play was three-handed and couldn't recover. He was eliminated from the competition when he raised all in on third street with a jack in the door and was called by Karabinas, who showed down rolled-up queens to take the pot.

. First out at the final table was Julio Anicete, followed in short order by Matthias Holle. The next player to go was Marie Gabert, who had to settle for sixth place and $14,460 when her pair of jacks proved no match against Tom Pinak's kings up. Incidentally, Gabert's latest award brings her total World Series earnings to $36,460, and she now ranks No. 12 on the women's roster of all-time WSP money winners.

. Dispatched in fifth place was David Moreno, whose pair of tens was shot down on sixth street when Karabinas made a seven-high straight. Fourth-place finisher Alan Miskin was knocked out of the tournament when he went all in on third street with a pair of eights, failed to improve, and lost the pot to Karabinas' king-high club flush.
---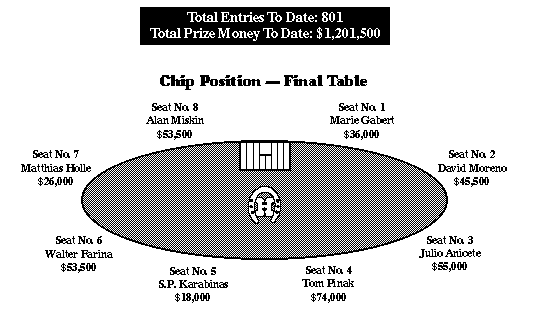 ---
The Final Hand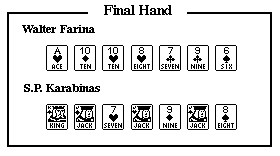 ---

---
ConJelCo is proud to bring coverage of the 1995 World Series of Poker to the Internet community.
---
<!%%Author>World Series of Poker Home Page<!%%EndAuthor> <!%%DateLastModified> Page last modified: 5-1-95<!%%EndDateLastModified>