26th Annual
World Series of Poker
Limit Texas Hold'em
$1,500 Buy-in
Entries: 560 *
Total Prize Money: $840,000 *
---

1994 Winner: Steven Sim - $289,200
1995 Champion:
CHRISTIAN VAN HEES
---
---
The Winners
1. Christian Van Hees $315,000

Seattle, Washington

2. Eli Balas 159,600

Las Vegas, Nevada

3. Woody Moore 79,800

Dallas, Texas

4. William Gordon 50,400

Largo, Florida

5. 'Eskimo' Clark 42,000

New Orleans, Louisiana

6. Jeff Kanow 29,400

Seal Beach, California

7. Tom Ellsworth 21,000

Whitefish, Montana

8. Phiktak In 16,800

Long Beach, California

9. Adam Morton 12,600

Milton Keynes, England

10. Mohamed Aslam 10,080

Dallas, Texas

11. 'Miami John' Cernuto 10,080

Las Vegas, Nevada

12. Igal Zaks 10,080

Woodland Hills, California

13. Russ Salzer 8,400

Queens, New York

14. Hieu Ma 8,400

South El Monte, California

15. Noli Francisco 8,400

West New York, New Jersey

16. Macdonald Kempf 6,720

Austin, Texas

17. Teresa McMillan 6,720

Las Vegas, Nevada

18. Annie Duke 6,720

Las Vegas, Nevada

19. Danny Lee 4,200

Hacienda Heights, California

20. Michael Sandor 4,200

North Hollywood, California

21. Volker Beyer 4,200

Burbank, California

22. Mike Picow 4,200

Las Vegas, Nevada

23. Robert Feduniak 4,200

New York, New York

24. David Adams 4,200

Las Vegas, Nevada

25. Chau Giang 4,200

Las Vegas, Nevada

26. Gary Carlson 4,200

Sunnyvale, California

27. Tom Wilson 4,200

Alvin, Texas
---
The Showdown
. Binion's Horseshoe, April 25, 1995 -- Christian Van Hees, a 33-year-old professional poker player from Seattle, Washington, topped a record field of 560 competitors to capture first place in the inaugural event of the 26th annual World Series of Poker. For his victory in the $1,500 buy-in limit Hold'em competition, Van Hees was awarded $315,000 and a custom-designed,14-karat gold bracelet.

. A first-time World Series participant, Van Hees has previously cashed in three Diamond Jim Brady events and has won numerous smaller poker competitions. He was introduced to poker in childhood, became a full-time professional player after being discharged from the Navy in 1986, and polished his skills at the Hideaway Cardroom in North Seattle.

. "Winning a World Series title is the one thing I've always wanted to do," Van Hees said. "It's great. I feel like I've really accomplished something."

. Van Hees came to the final table with a substantial chip lead and never relinquished his position. By the time play was three-handed, he had acquired a 6-to-1 advantage over both Eli Balas and Woody Moore, who were almost even in chips. First to be dispatched was Moore. In the big blind with 10-9, he called a raise before the flop against Van Hees, who held K-Q. The flop came Q-10-8, and when a king fell on the turn, Moore called all in. But the river failed to help him, and Van Hees took down the money with two pair.

. Two hands later, it was all over when Eli Balas was forced all in for the big blind with 7-4 offsuit. Van Hees held 6-2, and when the final board showed 10-9-6-Q-J, he secured the pot and his first World Series title with bottom pair.

. Balas, a 38-year-old competitor from Las Vegas, received $159,600 for his second-place finish. He holds a World Series pot-limit Omaha title, as well as several titles from other major poker competitions.

. For placing third in the limit Hold'em event, Woody Moore of Dallas, Texas, took home $79,800. A 46-year-old recreational poker player, Moore is a former professional polo player and is retired from the oil and gas business. This is the first time he has cashed in a major poker competition.

. As a special note of interest, Annie Duke of Las Vegas finished 18th in this event, bringing her total WSP earnings to $57,250. She currently ranks sixth on the women's roster of all-time World Series money winners.
---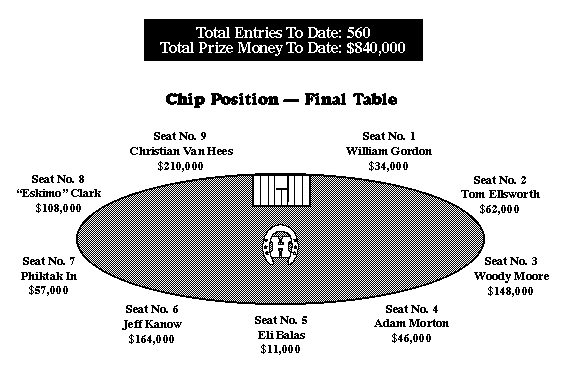 ---
The Final Hand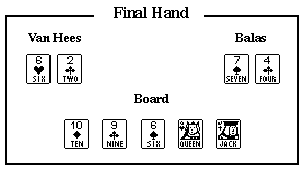 ---

---
ConJelCo is proud to bring coverage of the 1995 World Series of Poker to the Internet community.
---
<!%%Author>World Series of Poker Home Page<!%%EndAuthor> <!%%DateLastModified> Page last modified: 5-1-95<!%%EndDateLastModified>