26th Annual
World Series of Poker

WORLD CHAMPIONSHIP
No-Limit Texas Hold'em
$10,000 Buy-in
Entries: 273
Total Prize Money: $2,730,000
---
1994 Defending Champion: Russ Hamilton - $1,000,000
1995 Champion: ???????
---
---
The Final Six
Toronto, Canada
Downey, California
Oak Park, Illinois
Santa Cruz, California
San Diego, California
Van Nuys, California
Prize Money Awarded
7. Tom Franklin 69,200

Gulfport, Mississippi

8. Henry Orenstein 51,900

Verona, New Jersey

9. Dolph Arnold 39,790

Houston, Texas

10. Roger Moore 27,680

Eastman, Georgia

11. Mike Cook 27,680

London, England

12. John Esposito 27,680

Las Vegas, Nevada

13. James Hayes 24,220

Anchorage, Alaska

14. Roger Hellums 24,220

Freer, Texas

15. Bill "Crocodile" Argyros 24,220

Melbourne, Australia

16. Dick Carson 20,760

Las Vegas, Nevada

17. Freddie Deeb 20,760

Long Beach, California

18. Gary Kallam 20,760

Las Vegas, Nevada

19. Larry Beilfuss 17,300

West Allis, Wisconsin

20. Jason Lester 17,300

New York, New York

21. Berry Johnston 17,300

Las Vegas, Nevada

22. R. David Baxter 17,300

Corpus Christi, Texas

23. Mike Sexton 17,300

Las Vegas, Nevada

24. Billy Horan 17,300

New York, New York

25. Mike Laing 17,300

Las Vegas, Nevada

26. Hal "Deadman" Kant 17,300

Reno, Nevada

27. John Heaney 17,300

Wenonah, New Jersey
---
The Story
. Binion's Horseshoe, May 17, 1995 -- At the conclusion of the third day's competition, six players remain in the 1995 World Championship $10,000 buy-in No-Limit Texas Hold'em tournament. Still in contention for the championship title, $1 million, and an engraved, 14-karat gold bracelet commemorating the victory are Howard Goldfarb, Dan Harrington, Brent Carter, Chuck Thompson, 1992 World Champion of Poker Hamid Dastmalchi, and Barbara Enright, the only two-time Women's World Poker Champion (1986, '94).

. Leading the field with $1,194,000 and more than a 2-to-1 chip advantage over his nearest competitor is Howard Goldfarb, a 33-year-old land developer from Toronto, Canada. A recreational poker player, Goldfarb has cashed in one previous WSP competition, placing 22nd in last year's championship event for $16,800. He began playing poker just two years ago.

. Dan Harrington, a 49-year-old professional poker player from Downey, California, captured his first World Series title on May 12, when he won the $2,500 buy-in no-limit Hold'em event. A former attorney, Harrington has cashed in several other WSP competitions through the years and has accumulated total tournament earnings of $297,250. He has been playing poker for 12 years.

. Brent Carter, a 46-year-old retired businessman from Oak Park, Illinois, has two World Series of Poker titles to his credit and boasts career WSP earnings of $428,104. Named the Best All-Around Player in the 1995 Queens Poker Classic, Carter also holds titles from the Hall of Fame Poker Classic, the Super Bowl of Poker, the L.A. Poker Classic, and the Diamond Jim Brady Poker Tournament. His introduction to poker came during grade school, when he began playing penny ante with his friends.

. Chuck Thompson is a 56-year-old professional poker player from Santa Cruz, California. Formerly a chemist for Mobil Oil Company, he holds a title from the Peppermill tournament and has cashed in numerous major poker competitions through the years. His career World Series earnings currently stand at $45,913. When he isn't traveling the tournament trail, Thompson props the poker games at Garden City Casino in San Jose, California, where he has worked for 15 years.

. Hamid Dastmalchi, the 1992 World Champion of Poker, holds three World Series of Poker titles, as well as titles from numerous other major poker competitions. His WSP earnings to date total $1,424,160, and he presently ranks No. 6 on the roster of all-time tournament money winners. A 39-year-old real-estate investor from San Diego, California, Dastmalchi began playing poker at the age of 12 in his native Iran. He has lived in the United States for 20 years.

. Barbara Enright, a professional poker player from Van Nuys, California, bears the distinction of being the only two-time Women's World Poker Champion. Prior to the beginning of this year's championship tournament, she had total WSP earnings of $56,780 and now ranks No. 1 on the women's roster of all-time money winners. In addition to her two World Series titles, Enright holds titles from the Super Bowl of Poker, the L.A. Poker Classic, and the Diamond Jim Brady Tournament. She has been playing poker since childhood.

. Tom Franklin of Gulfport, Mississippi, had to settle for seventh place in the championship event and $69,200 when he moved all in before the flop with Q-10 and was called by Howard Goldfarb, who held A-K. The final board showed A-7-6-9-6, and Goldfarb took down the $266,000 pot with aces up. Goldfarb also dispatched Henry Orenstein of Verona, New Jersey, who went home with eighth place and $51,900 when his pair of jacks proved second-best to Goldfarb's jacks up. Dolph Arnold of Houston, Texas, exited in ninth place with $39,790 when his A-Q was shot down by Hamid Dastmalchi, who held A-J and made tens full of jacks to win the pot.
---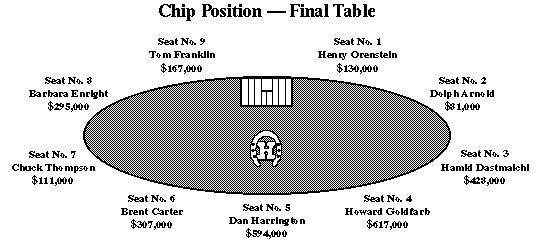 ---

---
ConJelCo is proud to bring coverage of the 1995 World Series of Poker to the Internet community.
---
<!%%Author>World Series of Poker Home Page<!%%EndAuthor> <!%%DateLastModified> Page last modified: 5-21-95<!%%EndDateLastModified>