26th Annual
World Series of Poker

WORLD CHAMPIONSHIP
No-Limit Texas Hold'em
$10,000 Buy-in
Entries: 273
Total Prize Money: $2,730,000
---
1994 Defending Champion: Russ Hamilton - $1,000,000
1995 Champion: ???????
---
---
The Final 27
1. Dan Harrington $297,000

2. Jim Hayes 264,000

3. Bill Argyros 214,000

4. Henry Orenstein 198,500

5. Howard Goldfarb 194,000

6. Hamid Dastmalchi 191,000

7. Brent Carter 147,500

8. Larry Beilfuss 132,000

9. Barbara Enright 105,500

10. R. David Baxter 103,000

11. Jason Lester 101,000

12. Dolph Arnold 96,000

13. Chuck Thompson 89,500

14. Billy Horan 68,500

15. Mike Cook 61,500

16. Roger Moore 59,000

17. Berry Johnston 56,500

18. Dick Carson 53,500

19. Tom Franklin 48,500

20. Freddie Deeb 48,500

21. Roger Hellums 41,500

22. John Esposito 37,500

23. Mike Laing 33,000

24. Mike Sexton 29,000

25. Gary Kallam 25,000

26. John Heaney 22,000

27. Hal Kant 13,500
---
The Story
. Binion's Horseshoe, May 16, 1995 -- At the conclusion of the second day's competition, 27 semi-finalists remain in the 1995 World Championship $10,000 buy-in No-Limit Texas Hold'em tournament. Among those still in contention for the title are former World Champions Berry Johnston (1986) and Hamid Dastmalchi (1992), as well as Barbara Enright, the only two-time Women's World Poker Champion (1986, '94).

. Currently leading the field with $297,000 in chips is Dan Harrington of Downey, California. A 49-year-old professional player and former attorney, Harrington won the $2,500 buy-in no-limit Hold'em competition held May 12 and has racked up total World Series earnings to date of $297,250. Holding down the No. 2 position is Jim Hayes of Anchorage, Alaska, and in third place is Bill Argyros of Melbourne, Australia.

. Statistics of note:
Two of the 27 semi-finalists -- chip leader Dan Harrington and former World Champion Berry Johnston -- already have won a title in this year's World Series, and 11 of the semi-finalists have cashed in at least one event.
The number of women entering the championship competition represented 4 percent of the field, and the number of former World Champions participating represented 5 percent of the field.
Eight of the first day's top 20 chip leaders remain in the tournament.
. Finishing in 28th place, just out of the money, was Jack Keller, the 1984 World Champion of Poker. Keller was eliminated from the competition when he raised $12,000 before the flop with pocket eights and was called by Dan Harrington, who held K-J offsuit. The flop came A-4-2, and both men checked. When a jack fell on the turn, Harrington checked and Keller moved all in for $62,000. Harrington thought for a long time, then finally called. A queen on the river was no help to Keller, and Harrington took the pot with a pair of jacks.
. The third day of the World Championship competition begins May 17 at noon, and play will continue until only six finalists remain. The final six contenders will meet again on May 18 to determine who will become the 1995 World Champion of Poker.
---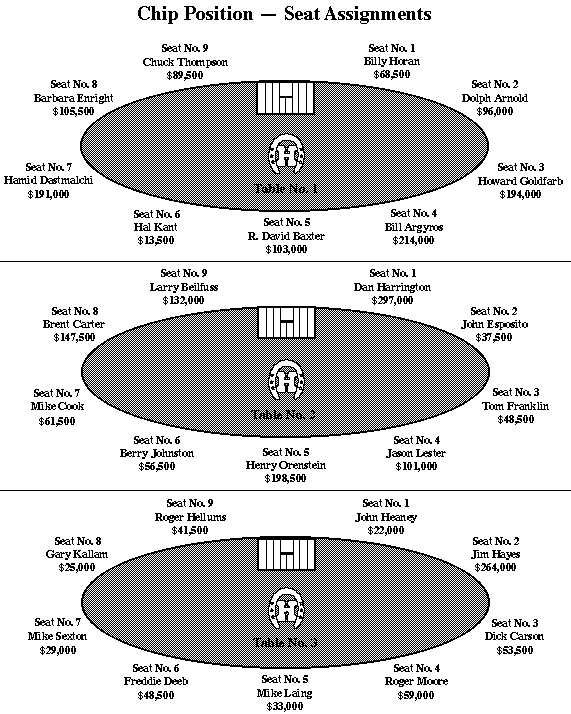 ---

---
ConJelCo is proud to bring coverage of the 1995 World Series of Poker to the Internet community.
---
<!%%Author>World Series of Poker Home Page<!%%EndAuthor> <!%%DateLastModified> Page last modified: 5-18-95<!%%EndDateLastModified>