26th Annual
World Series of Poker

WORLD CHAMPIONSHIP
No-Limit Texas Hold'em
$10,000 Buy-in
Entries: 273
Total Prize Money: $2,730,000
---

1994 Defending Champion: Russ Hamilton - $1,000,000
---
---
Prize Money Awarded
1. Dan Harrington $1,000,000

Downey, California

2. Howard Goldfarb 519,000

Toronto, Canada

3. Brent Carter 302,750

Oak Park, Illinois

4. Hamid Dastmalchi 173,000

San Diego, California

5. Barbara Enright 114,180

Van Nuys, California

6. Chuck Thompson 86,500

Santa Cruz, California

7. Tom Franklin 69,200

Gulfport, Mississippi

8. Henry Orenstein 51,900

Verona, New Jersey

9. Dolph Arnold 39,790

Houston, Texas

10. Roger Moore 27,680

Eastman, Georgia

11. Mike Cook 27,680

London, England

12. John Esposito 27,680

Las Vegas, Nevada

13. James Hayes 24,220

Anchorage, Alaska

14. Roger Hellums 24,220

Freer, Texas

15. Bill "Crocodile" Argyros 24,220

Melbourne, Australia

16. Dick Carson 20,760

Las Vegas, Nevada

17. Freddie Deeb 20,760

Long Beach, California

18. Gary Kallam 20,760

Las Vegas, Nevada

19. Larry Beilfuss 17,300

West Allis, Wisconsin

20. Jason Lester 17,300

New York, New York

21. Berry Johnston 17,300

Las Vegas, Nevada

22. R. David Baxter 17,300

Corpus Christi, Texas

23. Mike Sexton 17,300

Las Vegas, Nevada

24. Billy Horan 17,300

New York, New York

25. Mike Laing 17,300

Las Vegas, Nevada

26. Hal "Deadman" Kant 17,300

Reno, Nevada

27. John Heaney 17,300

Wenonah, New Jersey
---
The Showdown
. Binion's Horseshoe, May 18, 1995 -- Dan Harrington, a 49-year-old professional poker player from Downey, California, battled a record field of 273 players over a four-day period to win the championship event of the 26th annual World Series of Poker. For his first-place finish in the $10,000 buy-in no-limit Texas Hold'em competition, Harrington was awarded the championship title, $1 million, and a custom-designed, 14-karat gold bracelet to commemorate his victory.

. This is the second World Series title for Harrington, a former attorney who entered the championship tournament by winning a $220 buy-in satellite event. He claimed his first title and $249,000 for his victory in the $2,500 buy-in no-limit Hold'em competition held May 12. After almost a week of marathon play, Harrington commented, "You're not going to see me tomorrow in a poker tournament -- I can guarantee you that." A poker player for 12 years, Harrington now has total WSP earnings of $1,297,250, moving him into the No. 7 spot on the roster of all-time World Series money winners.

. When heads-up play began, Harrington had a 1.5-to-1 advantage over runner-up Howard Goldfarb, who had started the day's competition as the indisputable chip leader. After winning two pots in a row when Goldfarb folded on the flop, Harrington increased his lead to almost 4-to-1, and the end was nigh. The final hand came down when Goldfarb, who held A-7 offsuit, bet $100,000 before the flop and Harrington called with 9D 8D. The flop came 8-6-2, Goldfarb moved his remaining $617,000 all in, and Harrington called. When the turn and river brought running queens, Goldfarb's luck ran out, as Harrington claimed the pot and the championship title with two pair.

. Goldfarb, a 33-year-old land developer from Toronto, Canada, received $519,000 for his second-place finish. "It's a nice achievement, considering it was only the second time I played in this event, but it's still a tremendous letdown," he said. A poker player for just two years, Goldfarb has cashed in one previous WSP competition, placing 22nd in last year's championship event.

. Finishing in third place and pocketing $302,750 was Brent Carter, a 46-year-old retired businessman from Oak Park, Illinois. He was eliminated from the competition when he called a pre-flop raise with KS QS against Goldfarb, who held AH 4H. The flop came 8-6-5, Carter moved all in, and Goldfarb called. But neither player helped, and Goldfarb won the pot with ace high.

. Hamid Dastmalchi, the 1992 World Champion of Poker, was dispatched in fourth place when he moved all in before the flop with K-5 and was called by Dan Harrington, who held A-10 and flopped a straight to win the pot. Dastmalchi's fourth-place award of $173,000 brings his total WSP earnings to $1,597,160, and he now ranks No. 4 on the roster of all-time World Series money winners. Barbara Enright of Van Nuys, California, placed fifth for $114,180, the highest finish ever for a woman in the championship event. The only two-time Women's World Poker Champion, Enright now ranks No. 1 on the women's roster of all-time World Series money winners, with total WSP earnings of $170,960.
---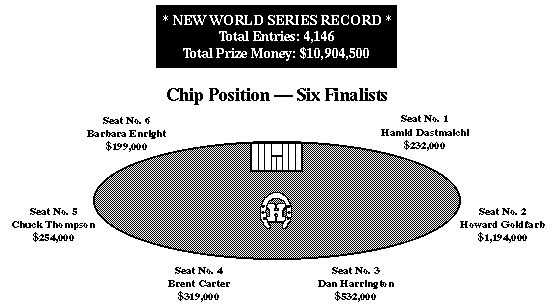 ---
The Final Hand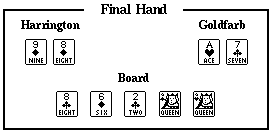 ---

---
ConJelCo is proud to bring coverage of the 1995 World Series of Poker to the Internet community.
---
<!%%Author>World Series of Poker Home Page<!%%EndAuthor> <!%%DateLastModified> Page last modified: 5-21-95<!%%EndDateLastModified>