26th Annual
World Series of Poker
Limit Seven-Card Stud
$5,000 Buy-in
Entries: 77
Total Prize Money: $385,000
---

1994 Winner: Roger Moore - $144,000
1995 Champion: TONY DeANGELO
---
---
The Winners
1. Tony DeAngelo $154,000

Sewell, New Jersey

2. T.J. Cloutier 88,550

Dallas, Texas

3. Kevin Redican 46,200

Reno, Nevada

4. Harry Thomas 26,950

Fort Lauderdale, Florida

5. Chris Bjorin 23,100

London, England

6. Robert Turner 19,250

Downey, California

7. Ralph Levine 15,400

Las Vegas, Nevada

8. Walt Baronick 11,550

Glendale, Arizona
---
The Showdown
. Binion's Horseshoe, May 11, 1995 -- Tony DeAngelo, a 38-year-old recreational poker player from Sewell, New Jersey, conquered 76 opponents to win the 20th event of the 26th annual World Series of Poker. For his victory in the $5,000 buy-in limit Seven-Card Stud competition, DeAngelo was awarded $154,000 and a 14-karat gold bracelet, custom designed by Neiman-Marcus.

. This is DeAngelo's first World Series title and marks the second time he has made it to the final table. He finished seventh in the $5,000 buy-in Stud competition during the 1993 WSP. The owner of an auto dealership, DeAngelo began playing poker 17 years ago. "I feel like 'Tony the Tiger' -- grrrreat!" he said. "I've been coming to Vegas since 1986 and have been thinking about winning this tournament ever since. It's a personal dream come true for me."

. DeAngelo came to the final table in good chip position, and when heads-up play began, he had only a slight disadvantage to runner-up T.J. Cloutier. The two men traded chips back and forth for the next few hands, then DeAngelo went on a rush and won several pots in a row to take a substantial lead. The decisive hand came down when Cloutier raised on third street with Q-8-8, DeAngelo reraised with 7-7-3, Cloutier kicked it up again, and DeAngelo called. By fifth street, Cloutier was all in with queens up and DeAngelo had picked up a gut-shot straight draw. Sixth street brought blanks to both players, but on the river, DeAngelo -- who had just five outs -- caught a six to win the pot and his first World Series title with a seven-high straight.

. "I had my rosary with me the whole time," DeAngelo said. "I kept praying, 'Let me win this tournament,' and I just felt I was going to win. Every time my chips went down, I got them back in the next hand or so. It was like magic."

. Cloutier, a 55-year-old professional poker player from Dallas, Texas, received $88,550 for his second-place finish. A former professional football player in the Canadian League, Cloutier holds more than 25 titles from major poker competitions, including three from the World Series of Poker and three consecutive no-limit Hold'em championship titles from the Diamond Jim Brady tournament. His latest award brings Cloutier's total World Series earnings to $1,008,610, moving him past Tom McEvoy into the No. 12 spot on the roster of all-time WSP money winners. Incidentally, Cloutier is the first player to top $1 million in earnings without winning the championship event.

. Placing third in the Seven-Card Stud event and pocketing $46,200 was Kevin Redican of Reno, Nevada. A 46-year-old stock market investor, Redican has cashed in several other major poker competitions, including the Hall of Fame Poker Classic and the Diamond Jim Brady tournament. He began playing poker 20 years ago and considers himself primarily a Hold'em player. "I just recently took up Stud again," he commented.

. Redican was eliminated from the tournament when he called all in on fourth street with a straight draw against Cloutier, who turned over trip queens. When Redican failed to catch a needed jack, Cloutier took down the pot.
---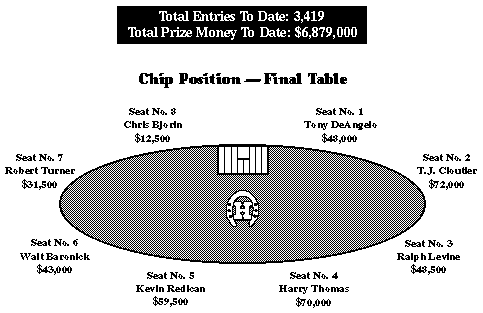 ---
The Final Hand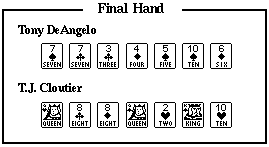 ---

---
ConJelCo is proud to bring coverage of the 1995 World Series of Poker to the Internet community.
---
<!%%Author>World Series of Poker Home Page<!%%EndAuthor> <!%%DateLastModified> Page last modified: 5-15-95<!%%EndDateLastModified>