26th Annual
World Series of Poker
No Limit Texas Hold'em
$2,500 Buy-in
Entries: 249
Total Prize Money: $622,500
---

1994 Winner: John Heaney - $220,000
1995 Champion: DAN HARRINGTON
---
---
The Winners
1. Dan Harrington $249,000

Downey, California

2. John Gordon 124,500

Largo, Florida

3. Mark Edwards 62,250

San Francisco, California

4. Chuck Thompson 40,463

Santa Cruz, California

5. Chip Reese 31,125

Las Vegas, Nevada

6. Brian Meyers 21,788

Las Vegas, Nevada

7. Mike Pancer 15,562

San Diego, California

8. Daniel Barnett 12,450

Corona Del Mar, California

9. Jay Moriarty 9,337

Studio City, California

10. Earl Sexton 7,470

Las Vegas, Nevada

11. Jay Heimowitz 7,470

Bethel, New York

12. D.J. Johnson 7,470

Las Vegas, Nevada

13. Frank Henderson 6,225

Houston, Texas

14. Brent Carter 6,225

Oak Park, Illinois

15. Eskimo Clark 6,225

New Orleans, Louisiana

16. Jason Lester 4,980

New York, New York

17. Christian Van Hees 4,980

Seattle, Washington

18. Chau Giang 4,980

Las Vegas, Nevada
---
The Showdown
. Binion's Horseshoe, May 12, 1995 -- Dan Harrington, a 49-year-old professional poker player from Downey, California, vanquished 248 opponents to capture first place in the 21st event of the 26th annual World Series of Poker. For his victory in the $2,500 buy-in no-limit Texas Hold'em competition, Harrington was awarded $249,000 and a 14-karat gold bracelet, custom designed by Neiman-Marcus.

. This is the first World Series title for Harrington, who previously has entered only a few other major poker competitions. A former attorney, Harrington said that he began playing poker 12 years ago primarily for "the fun and excitement" the game offers.

. Harrington came to the final table with a substantial chip lead and managed to maintain his position until just before heads-up play began against runner-up John Gordon, who now had a 2-to-1 advantage. Over the next half-hour, Harrington slowly but surely whittled away at Gordon's stack, accumulating enough chips to again hold a strong lead. The determining hand came down when Harrington, who held 4-3 offsuit, bet $100,000 before the flop. Gordon raised, moving all in with KD 4D, and Harrington called. The final board showed 7-5-3-10-4, giving Harrington two pair to win the pot and his first World Series title. After the 17-hour Hold'em marathon ended, Harrington's only comment was, "I'm very happy -- but very tired."

. Gordon, a 32-year-old recreational poker player from Largo, Florida, received $124,500 for his second-place finish. This is the first major poker tournament he has entered. "My brother placed fourth in the first event, and my dad placed fourth in the $1,500 no-limit Hold'em event, so I thought I'd give it a try," he said. The owner of a company that builds armored cars, Gordon has played poker for just 8 years.

. Finishing third in the no-limit Hold'em competition and taking home $62,250 was Mark Edwards of San Francisco, California. A 42-year-old management consultant, he has previously cashed in both the WSP and the Hall of Fame Poker Classic, which are the only two major tournaments he enters. Edwards was introduced to poker at the tender age of 5, when his father taught him the game.

. Almost even in chips with both Harrington and Gordon, Edwards was eliminated from the tournament when he took K-2 offsuit up against Gordon, who was on the button with pocket fours. Gordon raised $50,000 before the flop, and Edwards called out of the small blind. When the flop came 8-4-2, Edwards moved all in with his pair of deuces. Gordon called, and his trip fours took down a pot worth $250,000. "In hindsight, I would have liked to see another flop," Edwards commented.

. Chuck Thompson of Santa Cruz, California, had to settle for fourth place and $40,463 when he moved all in before the flop with pocket kings, only to be called by Mark Edwards, who showed down pocket aces to win the pot.

. Finishing in fifth place for $31,125 was Chip Reese of Las Vegas. A member of the Poker Hall of Fame, Reese was dispatched when his pocket tens were shot down on the river by John Gordon, who caught a jack to make a higher pair and win the pot.
---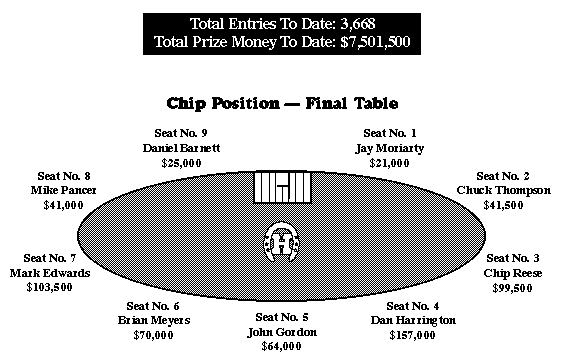 ---
The Final Hand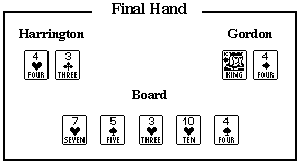 ---

---
ConJelCo is proud to bring coverage of the 1995 World Series of Poker to the Internet community.
---
<!%%Author>World Series of Poker Home Page<!%%EndAuthor> <!%%DateLastModified> Page last modified: 5-15-95<!%%EndDateLastModified>