Why You Lose at Poker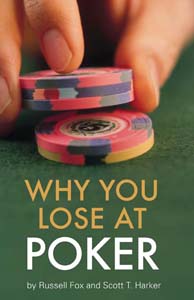 Why do you lose at poker?
Before you answer that question, think about this. There is no magic key that unlocks the door to poker. You might be able to pinpoint a leak or two in your game, but you may be surprised to find that there are many more lurking under the surface.
This book shows you the sixteen most common errors in poker, and how to avoid them. You will learn the keys to finding the leaks in your game and plugging them for good.
Stepping away from the table and watching others play incorrectly is the best path to understanding your own mistakes. You'll learn why these errors are so bad, and why they cost you money over and over. Recognizing these errors in your own game can be painful, but the rewards of revealing them are well worth it.
If you're ready to admit that you'd like to lose less and win more, then you need this book!
more...
'Of all the guys in poker you've never heard of, Russ and Scott are two of the smartest. They are long-time winning poker players, and have done a great job of putting that knowledge into this book to help you become a better player. I believe this book will help make anybody who is willing to work at his game into a winning player.'— Greg Raymer, Champion, 2004 World Series of Poker
212 pages.
Paper: 978-1886070-26-4, $19.95.
eBook: 978-1886070-26-4, $9.99.