1999 Champion
HASSAN KAMOEI
---
Event #5 Results
Pot-Limit Omaha
$2,500 Buy-in


---
1. Hassan Kamoei
$173,000
Indio, CA
2. Norbert Hoelting
86,500
Essen, Germany
3. Robert L. Williamson III
43,250
San Angelo, TX
4. T.J. Cloutier
25,950
Richardson, TX
5. Carl Bailey
19,465
Amarillo, TX
6. Surinder Sunar
15,140
Wolverhampton, England
7. Ace de Hollan
10,815
Vista, CA
8. Paul Rowe
8,650
Las Vegas, NV
9. John Shipley
6,920
Birmingham, England
10. Steve Rydel
5,190
11. Ilan Elezra
5,190
12. Ali Sarkeshik
5,190
13. Berry Johnston
4,755
14. Terrance Jennings
4,755
15. Paul Sherr
4,755
16. Bruce Van Horn
4,325
17. Ken Lennard
4,325
18. Donnacha O'Dea
4,325
---
Total Prize Pool: $432,500
Number of Entrants: 111
Number of Rebuys: 62
---
Entries to Date: 1,297
Prize Money to Date: $2,647,500
---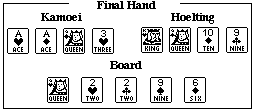 SOLID PLAY WINS THE GOLD
FOR GOLDEN STATE PRO
In a lengthy heads-up match characterized by tight, cautious play, Hassan Kamoei of Indio, California, finally wore down the last of 110 opponents to capture top honors in the fifth event of the 1999 World Series of Poker. His first-place finish in the $2,500 buy-in (with rebuys) pot-limit Omaha competition brought Kamoei $173,000 in prize money and a custom-designed, 14-karat gold WSOP bracelet.

A 47-year-old poker pro and sometimes car salesman, Iranian-born Kamoei won an event at the Commerce Casino's 1998 Heavenly Hold'em tournament and has previously cashed in numerous major competitions. On winning his first World Series bracelet, he commented: "It was really exciting -- I would like to get some more."

A chip underdog when he arrived for the final showdown, Kamoei played a solid game and managed to survive several all-in confrontations to stay alive. Even so, when play was down to three-handed, he was still substantially behind both runner-up Norbert Hoelting and Robert L. Williamson III, who had held the chip lead throughout most of the final-table competition. The turning point came when Kamoei took K-K-5-2 up against Williamson, who held J-10-6-2. On the river, the board showed Q-Q-4/4-4 and Williamson bet out. Kamoei raised, Williamson reraised, and Kamoei called his bluff, winning a monster pot and putting Williamson in jeopardy.

"I can't believe I played good for two days then made that dumb play," Williamson said. "It's pretty sickening."

"You tried to play that Texas poker," commented a friend from the rail.

To which the San Angelo, Texas, resident responded, "Well, it works back home."

Now close to the green, Williamson was eliminated a few hands later when he raised before the flop with 9-9-8-5 and was called by Hoelting, who held A-J-J-10. The flop came Q-10-9, Williamson bet all in, and Hoelting called. Williamson still had the lead when a deuce fell on the turn, but his trips were crushed when a river king gave Hoelting a straight to win the pot. Williamson, the 28-year-old co-owner of a chain of Kettle Restaurants, received $43,250 for his third-place finish.

When heads-up play began, Kamoei and Hoelting were almost dead-even in chips and cautiously jockeyed for position before Kamoei eventually seized the lead when Hoelting forfeited a sizable pot for a raise on the flop. Kamoei continued to slowly chip away at Hoelting's stack and the end, when it came, was anticlimactic. Dealt A-A-Q-3, Kamoei reraised before the flop and Hoelting called all in with K-Q-10-9. On the turn, the board showed Q-2-2/9, and when Hoelting failed to improve on the river, Kamoei claimed the pot and his first WSOP title with aces up.

For his runner-up finish, Hoelting took home $86,500. A 42-year-old attorney from Essen, Germany, and a poker player for just four years, he also placed third in a no-limit hold'em event at the 1999 Rio Carnivale of Poker.

In his second final-table appearance at this year's tournament, four-time World Series title-holder T.J. Cloutier of Richardson, Texas, cashed fourth for $25,950. The $2,500 pot-limit Omaha defending champion suffered several setbacks before finally being eliminated from the competition when he reraised from the big blind, moving all in with K-Q-7-4 against Hoelting, who held A-A-4-4. The flop came 10-9-9 and Cloutier picked up a flush draw on the turn. But he failed to catch on the river, and Hoelting took down the pot with aces up.

Carl Bailey, a poker pro from Amarillo, Texas, was shot down in fifth place for $19,465 when he took K-J-9-7 up against fellow Texan Robert Williamson, who held 9-8-7-3. The flop came 9-9-7, giving both players nines full of sevens. When the turn brought an eight, Bailey check-raised all in only to bite the dust when Williamson showed down nines full of eights.

Knocked out in sixth place for $15,140 was Surinder Sunar of Wolverhampton, England, whose two pair was snapped off on the river when Carl Bailey caught a deuce to make trips.

Also meeting his demise at the hands of Bailey was Ace de Hollan of Vista, California, who placed his hopes and his remaining chips on A-A-K-5. The flop came 9-4-2 and Bailey, who held 10-9-8-7, bet out. Ace de Hollan called all in but was forced to settle for seventh place and $10,815 when Bailey made nines up to claim the pot.

Paul Rowe of Las Vegas made his last stand when he called all in before the flop with A-9-8-5 against Hoelting, who held As Ac 7h 6c. The flop came 10s 10c 4c, and when the Jc fell on the river, Rowe was washed up in eighth place for $8,650.

Finishing ninth for $6,920 was John Shipley of Birmingham, England, who made kings up on the flop only to see Carl Bailey catch a third heart on the turn to claim the pot with an ace-high flush.
---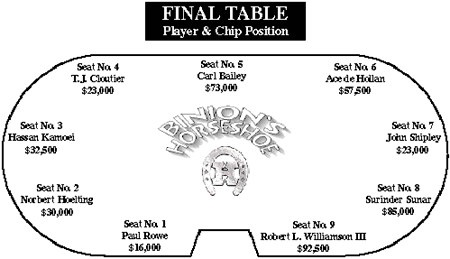 A Chip and a Chair, Revisited
by Andy Glazer
©1999 Andrew N. S. Glazer, all rights reserved. Used with permission. Andrew N. S. Glazer is the author of Casino Gambling the Smart Way available at most bookstores.

When Jack Strauss won the World Series of Poker's No-Limit Hold 'em Championship in 1982, he created a rallying cry for all tournament poker players: "All you need is a chip and a chair." That's because Strauss had at one time been down to a single chip, and managed to fight all the way back and win the tournament. In parlaying one chip all the way to poker's Holy Grail, Strauss forever defined the qualities of not giving up, fighting tooth and nail, and fiercely holding onto of every bit of equity you have left.

With Strauss having provided such a dramatic example of this principle, you'd think top poker players everywhere wouldn't merely recite the "chip and a chair" rallying cry, but would play that way. But anyone who has spent much time around poker tournaments knows that the vast majority of poker players either can't or won't follow through on Strauss' lesson. Down to a few chips, most players would rather "get it over with" and toss their final few chips into a pot under less than ideal circumstances, hoping to get lucky rather than sit through the misery of playing short-stacked.

This is hardly a trait confined to poker; it's a metaphor for the way many people go through life. It's merely more easily discerned in poker, or in sports, where the scores are kept more precisely than they are in life.

At today's World Series Omaha tournament, winner Hassan Kamoei and runner-up Norbert Hoelting proved they shouldn't be lumped in with "most players." They faced a huge uphill battle as the day began, as the four chip leaders held 67% of the $432,500 on the table. Kamoei, in 5th position with $32,500, held 7.5% of the chips, and Hoelting, in 6th with $30,000, held 6.9%. To make matters worse, the player in 7th position was the legendary T.J. Cloutier, the event's defending champion and clearly a man on his game: This was second final table in the Series' first five events.

Cloutier made a move early and had tripled his $23,000 starting stack by the time three players had been eliminated. Meanwhile, Kamoei had only $18,000 left, a mere 4% of the chips left. His position was starting to look distinctly Straussian.

Kamoei soon faced elimination against Cloutier when he took a stand with Kd-9h-7h-6d. He pushed his final $18,000 in before the flop and Cloutier called with Ac-Qh-Qs-8h, a pretty big favorite.

"I knew I had him by the short hairs, that's why I called him," Cloutier said after the hand. Cloutier's grip on those short hairs grew tighter when the flop came raggedy with only one diamond, leaving Kamoei hoping for a King's appearance on the turn or river. No such royalty deigned to visit, but two running diamonds forced Cloutier to yield both the pot and the hairy grasp.

Kamoei's $36,000 total still looked relatively helpless, but he and the others got to breath a bit more easily when Hoelting eliminated Cloutier. Four players remained, with Kamoei the distant trailer, but he still had his chips and his chair.

Carl Bailey, a youthful pro from Amarillo, Texas, was the next to exit, and he left on perhaps the cruelest hand of the tournament. He was heads up against Robert Williamson when the flop came 9-9-7. Both players checked the flop and Bailey checked again on the turn, when an 8 came off. Williamson bet the size of the pot, and Bailey's poker face deserted him. With a gleam in his eye and a smile on his face, Williamson re-raised the size of the pot, and I could tell he knew he had Williamson cold, that Bailey had a full house and figured Williamson had made a straight with the 8.

Williamson, though, called Bailey's bet instantly, and the cards were turned over. Bailey indeed held the 9-7 I'd suspected, but Williamson also held a 9 and a 7... and an 8, which gave him 9s full of 8s. Bailey looked stunned and dazed by the cruel defeat.

"A knife in the gut," he later described it.

With the chip totals standing at Williamson, $178,000; Hoelting, $157,000; and Kamoei, $82,000, the three leaders took a break. Williamson had been the leader when the finals started, and was still the leader now, but something in his game changed when the players returned. He ran a huge bluff at Kamoei, who had picked up a few of Hoelting's chips on an earlier hand. The board showed Q-Q-4-4-4, and Williamson kept leading at the pot, including a big bet that put Kamoei all-in on the river when he called. Williamson turned over J-10-6-2: nothing. Not even an Ace or King kicker to the three 4s he played on the board. Kamoei turned over a pair of Kings, and the chip positions had taken a huge turn. Kamoei was the leader, Hoelting not far behind, and Williamson now had almost nothing left.

A friend of Williamson's arrived shortly thereafter, and looked surprised as his meager pile of chips. He called out, "they robbed me while you were away, honey."

Another spectator (clearly also a Williamson friend) said, "No they didn't rob him, he gave it away. He just tried to play that Texas-style poker."

"It works back home," the San Angelo, Texas native said, laughing.

Although Williamson too proved to be a Straussian fighter, doubling through twice to get into a position where one more big win would have given him an average chip total, Hoelting finally took him out, and suddenly the two early afternoon underdogs were playing for all the marbles.

"I think I relaxed too much on the break," Williamson said. "My game changed when I knew I had a big chunk of money locked up." He also indicated he had less commitment to poker than his opponents did.

"I tried a solid year of nothing but gambling when I graduate from college," the now-28 Williamson said. "But I realized it wasn't for me. My three priorities in life are God, family and country, and I couldn't give those the attention I wanted playing poker full time. I still play three or four times a week, but I'll never be a full-time pro."

Kamoei, who is a regular at California's Fantasy Springs Casino, comes much closer to full-time professional status, and with only one opponent standing between him and his first World Series bracelet, his game turned to steel. Not steal, as in robbing pots with bold moves, but steel, as in solid, unyielding, focused, tight play. He never turned over a weak hand the rest of the tournament. Four times he checked hands on both the turn and river that looked golden in showdowns: big sets, big straights. Onlookers were puzzled. It seemed like he was catching cards with which he could have pushed Hoelting around. But the conservative play left Hoelting wondering just when he could bet against this Rock who kept showing down powerful hands that he'd checked, and as a result Hoelting didn't do much betting either.

The more Kamoei's chip lead grew, the tighter his play became; it was clear he wasn't going to bluff off any chips. The cards kept favoring Kamoei in each small showdown, and his chip lead kept growing. Finally Hoelting decided that he could no longer afford conservative play with his small stack; he had to attack, and hope that Kamoei would continue his policy of folding against small raises.

Hoelting tried a raise from the button, but for the first time in a long time, Kamoei didn't back down; he raised back to put Hoelting all-in, and small wonder: Kamoei held A-A-Q-3, a big favorite against Hoelting's unsuited K-Q-10-9. When the board finally showed Q-2-2-9-6, the soft-spoken Californian had come all the way back. He took the chips that few others would have given a chance and turned them into solid gold. Lady luck had certainly smiled upon him at some critical moments, but mostly this victory was about patience, about waiting for a moment when his last few chips could perform at peak efficiency.

Branch Rickey, the former general manager of the then-Brooklyn Dodgers, once said that "luck is the residue of design." The design for Hassan Kamoei today was patience, rather than panic, and steely resolve, rather than resolving to steal. As a result, the only thing flashing as brightly as this deserving winner's smile was that 14-carat gold bracelet snapped firmly about his wrist.