1999 Champion
David Grey
---
Event #4 Results
Seven-Card Stud
$2,500 Buy-in


---
1. David Grey
$199,000
Henderson, NV
2. Eli Balas
99,500
Las Vegas, NV
3. Ross Jackson
49,750
Portsmouth, England
4. Chris Ferguson
29,850
Pacific Palisade, CA
5. Ross Lichen
24,875
Ocean, NJ
6. Louis J. Asmo
19,900
Dublin, OH
7. Tom McCormick
14,925
Fargo, ND
8. Bob Oxenberg
9,960
Aspen, CO
9. Robert J. Patrick
7,460
10. Scotty Warbuck
7,460
11. Richard M. Holmes
7,460
12. Eugene Lang
7,460
13. Jose Brennes
4,975
14. Catherine Brown
4,975
15. Max Stern
4,975
16. Cesare Poget
4,975
---
Total Prize Pool: $497,500
Number of Entrants: 199
---
Entries to Date: 1,186
Prize Money to Date: $2,215,000
---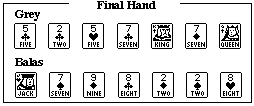 NEVADA PRO OUTGUNS FIELD
TO CLAIM FIRST WSOP TITLE
Tournaments are such a shootout at the end, and somebody's got to be holding the gun -- I'm glad it was me," commented David Grey, who mowed down 198 opponents to capture first-place prize money of $199,000 in the $2,500 buy-in seven-card stud competition. The 40-year-old poker pro from Henderson, Nevada, also took home a traditional 14-karat gold winner's bracelet for his victory in the fourth event of this year's World Series of Poker.

This is the first WSOP title for Grey, a respected high-limit player who also has to his credit two titles from the Hall of Fame Poker Classic and has cashed in several other major competitions. He began playing poker 20 years ago.

Prior to the beginning of the competition, it was announced that one of the finalists -- Ross Lichen of Ocean, New Jersey -- had suffered a heart attack and was hospitalized. After some discussion among the players and Lichen's representative, it was decided that Lichen would receive fifth-place prize money of $24,875, and his chips were removed from play.

Although Grey arrived for the final showdown as a chip leader, he had a major setback early on, losing several pots in a row to almost decimate his stack. But he managed to survive two all-in battles before rallying to get back in the game for good when he won a monster pot with jacks up against Louis J. Asmo's pair of kings. From that point forward, nothing could stop Grey's onslaught, and after dispatching one opponent after another, he held more than a 3-to-1 advantage over runner-up Eli Balas when heads-up play began. It was all over a few hands later when Balas raised on third street with J/7-9 and was challenged by Grey, who reraised with 5c 2c/5h. On fourth street Balas caught an eight and bet all in. He made two pair on the river but was washed up when Grey showed down a king-high club flush to claim the pot and his first World Series title.

"You've got to hang in there, hang in there, and then get very lucky to win a tournament," Grey said. "I got the best hands at the end and caught some cards. That's why I got the bracelet."

For his runner-up finish, Balas was awarded $99,500. A professional competitor and a regular on the tournament circuit, he has cashed in numerous other major events.

Placing third in the stud contest and pocketing $49,750 was Ross Jackson, 39, of Portsmouth, England, who lists "opportunist" as his profession. His poker accomplishments of note include back-to-back titles in hold'em and stud at the 1997 Orleans Open. Left short-stacked after losing two pots in a row, Jackson was soon eliminated when he called all in on third street with 2-2/6 against Grey, who held Q-Q/3. When neither player improved, Grey dragged the pot and quipped, "I've always been good with the ladies."

Though Chris Ferguson of Pacific Palisades, California, briefly held the lead, he lost it -- along with most of his chips -- in a confrontation with Eli Balas, who made quad treys on fifth street. Ferguson mucked his hand without showing it and shortly thereafter met his demise when he reraised all in on fourth street with A-8/10-4 against Grey, who held four spades. When Grey made an ace-high flush on sixth street, Ferguson was drawing dead and exited in fourth place for $29,850. A recent Ph.D. recipient, Ferguson has to his credit numerous in-the-money finishes from major tournaments and holds two Legends of Poker titles.

Knocked out in sixth place for $19,900 was Louis J. Asmo, a travel agent from Dublin, Ohio, and the 1997 WSOP $3,000 limit hold'em champ. After losing one pot and forfeiting another on fourth street, Asmo threw his last punch when he took K-6/K up against Grey, who started with J-7/J and made jacks up on fifth street. On sixth street Asmo bet all in, but he failed to catch on the river and went down for the count.

Tom McCormick of Fargo, North Dakota, was shot down in seventh place for $14,925 when he called all in on third street with A-K/2 against Balas, who started with J-7/6. On sixth street, McCormick still had the lead with a pair of aces and Balas had made a pair of nines. But Balas caught a second jack on the river, and when McCormick failed to help, he was gone. The president of a construction company, McCormick has made numerous WSOP final-table appearances over the years.

Collecting $9,960 for his eighth-place finish was Bob Oxenberg, an artist from Aspen, Colorado, whose favorite subjects to paint are "naked ladies and poker scenes." He made his last stand when he bet all in on fourth street with Q-10/A-7 against Asmo, who called with a four-flush. When Asmo made a spade flush on sixth street, Oxenberg was drawing dead to a pair of queens.
---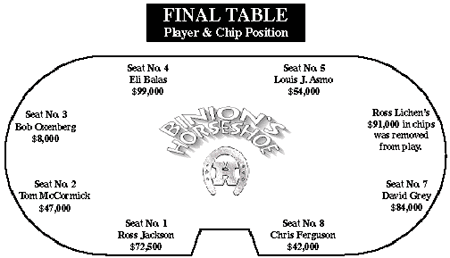 The World Serious of Poker
by Andy Glazer
©1999 Andrew N. S. Glazer, all rights reserved. Used with permission. Andrew N. S. Glazer is the author of Casino Gambling the Smart Way available at most bookstores.

In my report yesterday on the 7-card stud championship, "Too Legit to Quit," I related a tale of mental toughness, and of how one player who had seemed very ill refused to leave the tournament table, despite entreaties from his fellow players, because the tournament was "too important."

That player, Ross Lichen, stayed focused on his poker, and fought his way to a spot in the final table, where he was positioned to start in the second-leading chip position.

But while Lichen's chips sat waiting for him at 4:00 p.m. today, Lichen never arrived. After finishing up the tournament the night before, Lichen went to the Bellagio to play more poker, and suffered the heart attack that concerned fellow players like Richard Holmes had been worried about during the tournament.

Lichen was rushed to the hospital, and as of this writing looked to have a good chance for survival. Incredibly, he had wanted to leave the hospital to play his seat in the final table, but his doctor told him if he left the hospital he would die, and common sense finally prevailed.

The other seven finalists got together to decide what they wanted to do. Lichen's chip total was so high that everyone realized if his chips were simply anted off, he would stand an excellent chance to finish somewhere between fourth and seventh, with fifth the most likely finish.

This option was the obvious solution, but it would have given a considerable advantage to finalist Louis Asmo, who had drawn the seat to Lichen's right; Asmo would have been in the best position to attack Lichen's defenseless blinds each round.

In a classy gesture, Asmo said he didn't want that kind of distortion interfering with a World Series Championship, and strongly supported a proposal that all players agree to pay Lichen fifth place money of $24,860, and to remove Lichen's chips from the table. The pre-set prizes for the other seven finishers would be reduced about 3.5% each to pay for Lichen's share. A friend of Lichen's on hand to represent him accepted this proposal, and the tournament moved forward.

With a lesson about the relative importance of a poker tournament and life still casting a shadow over the final, it seemed quite fitting that when the tournament had whittled down to three players, those players were the most experienced high-limit poker players among the seven who'd begun at the final table: Eli Balas, David Grey, and Ross Jackson. All three are regulars in the high-limit Bellagio games.

"I didn't really know any of the other finalists," Grey said. "It was obvious some of them were strong players but it wound up as a battle between three guys who knew each other pretty well."

The chip lead passed back and forth between the three veterans, each taking sizable leads at one time or another, but eventually Grey, well-known as the "highest" high-limit player of the three, took control and took home the title.

"I got hot at the right time," he said calmly. "You need a lot of luck to win a poker tournament, even though there are some players who think that every time they win, they've done it by dazzling and completely outplaying 300 other top players. I was down to my last few chips several times early in the tournament and several times late, and every time I won the hand I had to win.

"Skill is important of course, don't get me wrong," Grey continued. "It's just that when you get to the end of a tournament like this, and the blinds and antes are so high, anybody can get hot for a few hands and wind up with all the chips. If I were playing at much lower limits against these players, I'd be pretty confident about being able to grind out a win. But with the betting structure reaching $10,000 and $20,000, and each of us having about $130,000 in chips, the winner is the guy who catches cards at the end, period."

I mentioned to Grey that I'd seen several players snap on their winner's bracelets already at this Series and that he seemed the calmest and least affected of them all.

"Well, I'm certainly happy, it's nice to get the recognition," he said, "but winning a poker tournament, even a World Series tournament, isn't like winning the Masters in golf or something like that. There's a lot more luck here. I've won a lot of money playing poker so the money isn't going to change my life. It's nice, but it's not like getting married or having a kid or something important like that."

Grey's triumph, and perspective, seem like a very fitting ending to a day that began with sad news about a player whose desire, however admirable, caused him to risk far more than his chips. For most players, the value of a World Series victory probably lies somewhere in between the extremes that Lichen and Grey presented, but the stark contrast in their attitudes and results offer lessons that few associated with the event will ever forget.