1999 Champion
TOM FRANKLIN
---
Event #8 Results
Limit Omaha
$2,500 Buy-in


---
1. Tommy Franklin
$104,000
Gulfport MS
2. Erik Alps
52,000
Munich, Germany
3. Jim Meehan
26,000
Minneapolis MN
4. Lee Grove
15,600
Superior NB
5. Jim Payton
11,700
Canby IN
6. Peter Vilandos
9,100
Houston TX
7. Eli Elezra
6,500
Henderson NV
8. Danny McElroy
5,200
Milltown NJ
9. Bruce Corman
4,160
Nottingham UK
10. Eli Bajayo
3,120
11. "Rich" Yueqi Zhu
3,120
12. Mel Silva
3,120
13. John Spadavecchia
2,860
14. Humberto Brenes
2,860
15. Danny Dang
2,860
16. Jaeggi Alphons
2,600
17. Amarillo Slim
2,600
18. Lamar Wilkinson
2,600
---
Total Prize Pool: $260,000
Number of Entrants: 104
---
Entries to Date: 1,878
Prize Money to Date: $4,100,000
---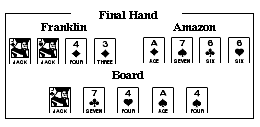 CAPTAIN TOMMY FRANKLIN
MARCHES TO OMAHA VICTORY
Perilously low-chipped at the final table, "Captain" Tom Franklin refused to surrender, fought back and defeated his final two opponents in a marathon battle to win the eighth event of the World Series of Poker, $2,500 limit Omaha. "When I was down to $12,000 in three-way action," he said, "I was determined to still play good hands, go all in and pray." He was helped by getting strong hands, often getting heads-up with aces or kings. "A couple of times I made plays, but when I had big draws," he added.

Franklin, 48, is a rock and roll entertainment producer. His final opponent, bested in a long see-saw battle, was Amazon (aka Erik Alps), a resident of Germany who got his nickname from living in Brazil.

Captain Tom (he picked up his title years ago when he took flying lessons) was nattily dressed in logo apparel gifted by Casino Magic,owner of casinos in Louisiana and Mississippi, as a form of sponsorship; he said other players should try to get similar deals.

Soon after the final table got started, players were gunned down so quickly it seemed the event might end in record time. Three players were eliminated in three consecutive hands, and later two others were knocked out at once.

Bruce Corman, who owns a men's clothing company in Nottingham, England, was the first victim. Starting with a meager $7,000, he couldn't hold on long. He took his stand with a respectable A-Q-J-9, but lost when Amazon's aces held up. Danny McElroy, who owns a logistics company, went out on the next hand. Starting with K-K-5-3, he had a flush and inside straight draw on the turn, but a rag came on the end and Minnesota attorney Jim Meehan scooped all the chips with paired aces and nines. The third time wasn't the charm for Eli Elezra, who operates a chain of 30-minute photo shops along the Vegas Strip and who only lasted 30 minutes himself. He raised all in with A-A-Q-9 and was called by Amazon with a much weaker A-K-Q-4. Amazon caught trip fours on the flop, filled up with a king on the end, and the camera man was out of film.

Captain Tom, meanwhile, had trouble finding a hand he didn't like. In the first 10 hands, he raised eight times and called once. ("Kings was my worst hand," he insisted.)

Peter Vilandos, whose numerous tournament wins includes a WSOP pot-limit hold'em event, lost chips when he failed to bluff out Meehan. The next hand costs both him and Jim Payton their seats. After a three-bet, the flop came K-Q-T. Meehan bet $4,000, Vilandos raised all in for another $3,500, Payton called, and Meehan, who flopped the nuts with an ace-high straight, flat called. A jack hit the turn to give Payton a king-high straight, and he bet his last chips. He and Vilandos, also with a lower straight, departed, but Payton's extra chips gave him the higher finish.

Lee Grove, a Nebraska feed grain farmer, had been quiet, nursing his small stack. He finally conceded when his all-in K-Q-7-7 couldn't improve against Franklin's A-A-10-2.

Down to three, Meehan leads with about $115,000 while Franklin has about $100,000 and Amazon about $45,000. But after losing some pots, mostly to Meehan, the Captain is nearly discharged when he finally goes all in. He survives when he makes two pair against Meehan's pocket kings, then climbs back to $70,000 with trip 4s, aces full and a baby flush, all against the Minnesota attorney. The two make an interesting contrast. Frankln bets the second it's his turn, while Meehan ponders at great length, sometimes tossing his fedora on an adjoining table as if to free his brain for thinking.

Chips go back and forth for a long time until a crucial hand comes up. With a three-way raised pot, the flop comes down Qc, Jc, 3d. Amazon bets $4,000, Meehan raises, Franklin re-raises, and now there's $60,000 in the pot. Meehan bets on the turn when an ace of diamonds gives him the nut straight and a flush re-draw. But a lowly deuce of clubs on the river gives Amazon a flush and Meehan, suddenly chip-depleted, walks about to cool off.

Meehan gets drained further when Franklin flops trip fives, fills, and wins a $66,000 pot. But it's Amazon who finally finishes him off and takes a sllight chip lead when his flush beats Meehan's two pair.

Amazon then pulls way ahead, but suddenly the captain goes to war. He calls for a black three on the end and gets it to make a wheel, then catches an ace to make an ace-high straight, then wins with kings and fives, and then wins a fourth consecutive hand with a flush.

Finally, the Amazon man is down to $19,000, and then Captain Franklin blows him out of the water when he goes in with J-J-3-4, flops three jacks and fills up on the end to win going away. Amazon has one consolation: it's his highest major tournament finish ever.
---