1999 Champion
ESKIMO CLARK
---
Event #2 Results
Seven-Card Razz
$1,500 Buy-in


---
1. Eskimo Clark
$84,610
New Orleans, LA
2. Simon Zhang
42,300
San Francisco, CA
3. Larry Perkins
21,150
Las Vegas, NV
4. Fernando Bracelli
12,690
Milan, Italy
5. Stan Goldstein
10,575
Los Angeles, CA
6. Steve Pearson
8,460
Las Vegas, NV
7. Dr. Ron Agar
6,345
Toronto, Ontario, Canada
8. Men "The Master" Nguyen
4,230
Bell Gardens, CA
9. Barry Shulman
3,170
10. Chris Ferguson
3,170
11. Chris Bjorin
3,170
12. Artie Cobb
3,170
13. Brian Nadell
2,115
14. Chau Giang
2,115
15. Frank Henderson
2,115
16. David Hayden
2,115
---
Total Prize Pool: $211,500
Number of Entrants: 141
---
Entries to Date: 750
Prize Money to Date: $1,125,000
---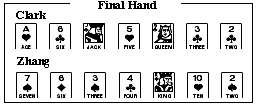 ESKIMO PUTS THE FREEZE
ON FINAL-TABLE COMPETITION
I was playing good tonight, concentrating and reading the other players," commented Eskimo Clark of New Orleans, Louisiana, who managed to freeze out 140 opponents and seize first place in the $1,500 buy-in seven-card razz competition. For his victory in the second event of the 1999 World Series of Poker, Clark was awarded $84,610 and a custom-designed, 14-karat gold WSOP bracelet.

This is the third World Series title for Clark, who has previously won bracelets in both Omaha and seven-card stud. A 51-year-old professional competitor, he is a regular on the tournament trail and holds additional titles from several other major competitions.

Clark came to the final table in middle chip position, but in less than 10 minutes he iced three opponents to add substantially to his stack. The first to get frostbitten was four-time World Series title-holder Men "The Master" Nguyen of Bell Gardens, California. Short-chipped from the get-go, Nguyen placed his hopes for survival on a 9-6 but was bested by Clark's 8-6 and exited in eighth place for $4,230.

Also short-stacked and looking for a miracle was Canadian dentist Dr. Ron Agar, who took 9-5/6 up against Clark's 8-5/A. Agar made a K-10 but was chilled in seventh place for $6,345 when Clark showed down an 8-6 to claim the pot.

The next to go was Steve Pearson of Las Vegas, who thought his 9-2/3 was good enough to challenge Clark's raise on third street with 2-3/6. On sixth street, Clark had a made 9-6 and Pearson was drawing to a 9-4. But when Clark caught an ace for a 6-5, Pearson was drawing dead and had to settle for sixth place and $8,460.

"I've sure had the hands," said Eskimo, as he stacked all the chips he'd accumulated. To which Stan Goldstein responded, "That's right, baby. You've been loaded every time."

Though the pace slowed somewhat, Clark continued to build his stack, mostly at the expense of Simon Zhang, who had arrived for the final showdown as the undisputed chip leader. In the meantime, Larry Perkins was also gathering ammunition, mostly at the expense of Stan Goldstein, who caught a picture or paired hand after hand.

After forfeiting one pot to Perkins on fifth street and then losing another to his nemesis, Goldstein was getting low on bullets. He took his last shot when he raised on third street with 4-6/7 and was again challenged by Perkins, who reraised with 9-5/4. On sixth street Goldstein was all in with a made 10 and a draw to a 7-6. But Perkins had a made 9-5, and when Goldstein paired on the river, he bit the dust in fifth place for $10,575. Incidentally, Goldstein, a 36-year-old poker pro from Los Angeles, also finished fifth in this same event in the 1997 World Series.

Fernando Bracelli, 35, a restauranteur from Milan, Italy, had been successfully dodging Eskimo's snowballs most of the evening but was finally pelted when he took a stand with 9-A/3. Eskimo, who started with A-6/5, had a made 6-5 on sixth street and Bracelli had a made 9-6. All in on the river, Bracelli paired and went down in fourth place for $12,690.

Now possessing most of the chips in play, Clark turned his attention to Perkins, who was soon put almost down to the felt when he called all in on the river with a 9-6 only to see Clark show down a 6-5. Perkins, who recently retired from his position as sportsbook director here at the Horseshoe, met his demise moments later when he called all in on third street with 5-6/A against both Clark and Simon Zhang. Perkins made a 10-7 but was shown the exit in third place for $21,150 when Zhang showed down an 8-7.

Outchipped more than 4-to-1 when heads-up play began, Zhang battled Eskimo for almost two hours, survived numerous all-in confrontations, and at one point almost got even. But the 36-year-old restaurant owner from San Francisco couldn't sustain the momentum and saw his stack steadily depleted. He made his final stand when he raised on third street with 7-6/3 and was challenged by Clark, who called with A-6/J. All in on fifth street, Zhang made a 7-6, but his hand proved no good when Clark showed down a 6-5 to claim the pot and the title. For his runner-up finish in the first World Series tournament he has ever played, Zhang was awarded $42,300.
---