1999 Champion
NOEL FURLONG
---
Event #16 Day Four
Texas Hold'em (No-Limit)
$10,000 Buy-in


---
1. Noel Furlong
$1,000,000
The Currargh, Ireland
2. Alan Goehring
768,625
New York NY
3. Padraig Parkinson
489,125
Dublin, Ireland
4. Erik Seidel
279,500
Las Vegas NV
5. Chris Bigler
212,420
Felisbach, Switzerland
6. Huck Seed
167,700
Las Vegas NV
7. George McKeever
125,775
8. Paul Rowe
83,850
9. Ty Bayne
64,285
10. Gary lent
44,720
11. Bill Brenske
44,720
12. Randy Holland
44,720
13. Glenn Schott
39,130
14. Mickey Finn
39,130
15. Eric Holum
39,130
16. James Van Alstyne
33,540
17. Jonathan Kaplan
33,540
18. Mike Epstein
33,540
19. John Hennigan
27,950
20. Bob Oxenberg
27,950
21. Hal Kant
27,950
22. Doug Traverso
27,950
23. Dewey Weum
27,950
24. Lance Straugn
27,950
25. Bill Fain
27,950
26. Joel Fischbein
27,950
27. Bob Smith
27,950
28. Don Thompson
15,000
29. Steve Lott
15,000
30. Mike Davis
15,000
31. John Inashima
15,000
32. Scott Amos
15,000
33. Robert Cooke
15,000
34. Mac Fisher
15,000
35. John Montelpro
15,000
36. Q. Knopow
15,000
---
Total Prize Pool: $3,930,000
Number of Entrants: 393
---
Entries to Date: 3,456
Prize Money to Date: $11,291,000
---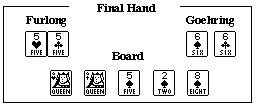 IRISHMAN NOEL FURLONG WINS
WORLD POKER CHAMPIONSHIP
A 61-year-old Irishman who manufactures carpets and races horses is the new poker champion of the world. Noel "J.J." Furlong took down the richest, most prestigious prize in the game when he won the 30th annual World Series of Poker $10,000 buy-in, no-limit championship event by flopping a full house and defeating Alan Goehring, 36, a New York corporate bond trader and analyst.

This year's event drew a record 393 entrants, generating a $3,930,000 prize pool. For his victory, Furlong earned $1 million and a custom 14-karat gold bracelet. This is his first major tournament win; he finished sixth in the World Series championship in 1989, and seventh in this year's $3,500 no-limit event.

It was a great day (two days, actually) for the Irish, a country of but 3.75 million souls, when Dubliner Padraig Parkinson, 41, a poker player, came in third, George McKeever, also of Dublin, just missed the cut by finishing seventh the night before, and Mickey Finn, an American of obvious Irish descent, finished 14th.

Furlong played a hard-driving but disciplined game, knowing when to release a hand, and betting just enough so as not to get into trouble. "He's absolutely fearless, in poker and in business," commented his friend Terry Rogers, founder of the Irish Eccentric tournament.

"I worked hard, but it was 99 percent luck," Furlong said modestly. Asked who his toughest opponent was, he named Huck Seed, who finished fourth, and who always seemed to go in with the worst of it.

This was only the fifth tournament for runner-up Goehring, and his first major cash-in, worth $768,625. He was satisfied with his game, except for the final hand, which he thought he misplayed. Furlong, who then had abut a 3-1 chip lead, played pocket fives against Goehring's pocket sixes. He flopped fives full of queens when the board came Q-Q-5, then set a trap by checking. On the turn, he bet $150,000, Goehring raised $300,000 and Furlong put him all in for his last $600,000.

Furlong came to the final table as chip leader with $1,544,000. At the last table of nine the night before, multi-bracelet holder Erik Seidel started with the most chips, $826,000, but a series of losing confrontations cut him down to $167,000, lowest of the six finalists.

First out was Huck Seed. The 1997 WSOP champ, perhaps getting impatient, moved in for just over $500,000 holding J-8 of diamonds. Furlong made a tremendous call with A-3 of hearts, flopped two pair, and Seed never got to sprout higher than sixth place.

In later action, Seidel made one of the greatest calls in World Series history. Before the flop, he called a $60,000 bet by Chris Bigler of Switzerland. A flop of 8-6-2 of clubs was checked, as was a jack on the turn. A five came on the river and Bigler bet $150,000. Seidel, after long thought, decided he was bluffing and called with A-Q. Bigler had Q-10.

Later, Furlong slow-played a hand with disastrous results. Unusual for him, he limped in with pocket kings. On a flop of J-8-7 he bet $100,000, and Parkinson, who made two pair and filled on the end, raised another $569,000. Furlong called and lost and Parkinson drew roughly even with his fellow Irishman.

Bigler was next out, finishing fifth. He held pocket nines and checked his set when the flop came Q-9-8. He thought he had trapped Furlong when the Irish industrialist put him all in for $400,000, but Furlong, with J-10, had flopped a straight. Seidel played his last hand when he moved in for $300,000 with A-Q and was called by Parkinson with A-K. Seidel flopped a queen, but then Parkinson eliminated him on the river when a king fell.

A big chip swing came after Goehring raised $120,000 with pocket tens and Furlong put him all in with A-Q. The tens held up, and the playing field evened with the three finalists each holding over $1 million. But then Parkinson lost it when he bet $100,000 pre-flop with Q-10 and moved in for another $600,000 on a board of 6-4-2 with two diamonds. Furlong called with a nut flush draw, but instead hit an ace on fourth street to bust his countryman.

Down to two, the symbolic $1 million in $100 bills in the traditional cardboard box was brought in and placed on the table. The two finalists were almost dead even. But then the more experienced Furlong began to pull ahead. A couple of times Goehring made sizeable bets, then folded when Furlong moved in. On another hand, Goehring lost $300,000 to Furlong's flush. Finally, the man from Clifton Lodge, Ireland, made his full house and donned the bracelet that proclaimed him king of the poker world.
---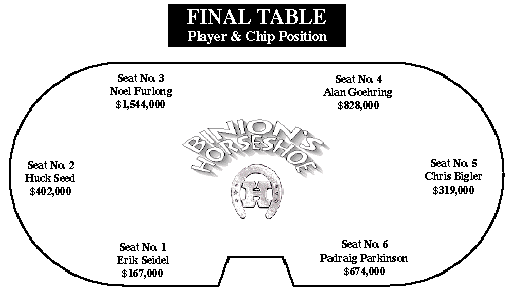 Irish Eyes Are Smiling
by Andy Glazer
©1999 Andrew N. S. Glazer, all rights reserved. Used with permission. Andrew N. S. Glazer is the author of Casino Gambling the Smart Way available at most bookstores.

When seven players remained in this year's Irish Poker Championships, er, I mean, World Series of Poker No-Limit Hold 'em Championship, three of Ireland's finest still remained: George McKeever, Padraig Parkinson, and Noel Furlong, the only three Irish players to enter the 393 player event.

"It's Ireland against the rest of the world," a railbird cried. "It always has been," came Parkinson's speedy, grinning reply.

Furlong, perhaps bringing a new meaning to the old battle saying that only a king may slay another king, eliminated McKeever to set the final table of Americans Huck Seed, Erik Seidel, and Alan Goehring, Ireland's Parkinson and Furlong, and Switzerland's Chris Bigler. It felt like the Ryder Cup, USA vs. Europe.

Although Furlong held a huge chip lead, with $1,544,000 to $828,000 for Goehring, $674,000 for Parkinson, $402,000 for Seed, $319,000 for Bigler and $167,000 for Seidel, many observers, myself included, were picking Seed, not from any jingoistic nationalism but simply based on tournament experience.

By the time the final hand had been played, it was clear to all observers that heart, stamina and iron nerves could more than compensate for a relative lack of tournament experience. All six finalists played brilliantly. To perform so well under these conditions--three relatively sleepless nights, facing the scrutiny of a live audience of 300, plus half a dozen TV cameras, dozens of flash photographers and print media, and a live Internet audio broadcast--is an achievement of which all should be proud.

The play was fast and furious. As so often happens in tournaments, the first few hands set a pattern, and Huck Seed got everyone's blood moving in a hurry. With the blinds starting at $10,000 and $20,000, and antes of $2,000 each, Parkinson raised the first pot $60,000. Seed instantly went all-in, and when everyone folded, Huck had added $100,000 to his stack in 20 seconds.

On the second hand, Seidel, who everyone knew had to make a relatively early move, went all-in to capture the $40,000 in dead money, and we were off to the races. He made the same successful move two hands later, from the small blind, and the two tournament veterans were gathering ammunition.

On Hand Six, Huck limped in from the button, and he, Furlong, and Goehring all checked the A-J-5 mixed suit flop. The four of clubs hit on the turn, the second club on the board, and Goehring bet $40,000, with Huck calling. The river brought the 3c, and Huck bet $200,000. Goehring called, and Huck turned over the 10-8 of clubs for a flush (Goehring didn't show his hand but later claimed he'd made a straight). In six hands Huck had almost doubled up and the Seednosticators in the crowd were crowing. I choose this point to tell Card Player's Linda Johnson that I had picked Seed in my story yesterday. Feeling pretty bright, I was.

The feeling lasted two hands.

Huck called $20,000 one seat in front of Furlong's button, and Furlong raised it to $100,000. The blinds quickly folded and Huck said, "I'm all in." Furlong and his billions (OK, 1.5 million) couldn't have hesitated more than two seconds. "I call," he said. Huck, very quietly (I barely heard him and I was four feet away) said with a rueful smile, "good call."

They turned them over. Huck showed Jd-8d, a stunningly weak hand on which to risk all his chips, especially when he now had plenty of them; Huck, of course, had been figuring the size of the bet would win the pot without a showdown. But Furlong must have either anticipated this sort of situation, or had some kind of read on Huck, because he had called with an even more stunningly weak (for the circumstances) hand: Ah-3h. Of the plays at the final table, only two, this bet and call, drew considerably criticism from the onlookers, and the onlookers had it easy: plenty of sleep, and facing none of the pressures that a million-dollar prize, media and peer scrutiny, and the chance to make history could impose.

Some commentators (although I disagreed) said that even if Furlong had known Huck's exact hand, his call might have been wrong. He was only a 3:2 favorite and risking handing his huge chip lead over to one of the most dangerous players in the world... and of course he couldn't know Huck's hand was that weak. But the other side of the same coin was pretty enticing: the chance to assume an immense chip lead and to eliminate his most dangerous foe in one mighty stroke.

The winners write the history books. The flop came A-Q-3 offsuit. Huck was gone, the crowd was stunned, and Furlong, who owns a carpet manufacturing business, looked richer than he had a few weeks earlier when he'd bet $700,000 on a horse to win at 7:2 odds. He collected. No money pressure on Noel this tournament, that was for sure.

Before the buzzing had a chance to settle down, on the very next Goehring made it $60,000 to go from the button, and Bigler went all-in for about $300,000 from the small blind. Goehring thought for a while and called with pocket 2s; Bigler showed Kh-Jh. Two jacks flopped and Bigler had doubled through. Be still my beating heart!

Play settled down for a while, with the more customary no-limit style of bet-fold taking over for a couple of rounds. Then, with Furlong on the button, Seidel made it $60,000 to go, and both Goehring and Bigler called from the blinds. The flop came 8c-6h-2c, and everyone checked. The Js hit on the turn and again everyone checked. On the river a harmless looking 5s hit, and Goehring bet $150,000. Bigler folded quickly, and Seidel thought for about two minutes, staring down Goehring, who had been his tormentor for the last two hours of the previous day's play, taking over $500,000 from Erik in three big confrontations. Finally Erik called, a decision which would have left him with only $14,000 if he lost. Seidel showed A-Q, not even a pair; but Goehring showed Q-10, a stone cold bluff. Seidel had read his man perfectly.

"That is A-1," said Tournament of Champions Director Mike Sexton.

"That's why he's sitting there and we're sitting here," said Mike Paulle.

"The greatest call in the history of the World Series of Poker," said John Bonetti on the Internet broadcast. Erik had doubled through to more than $500,000, and the hunt was on.

(By the way, they used my cell phone used for this first-ever Internet broadcast. I wonder if this makes the phone a piece of World Series memorabilia. I'm taking offers.)

The next major confrontation was intramural. Furlong limped in pre-flop, calling the $20,000 one off the button, and he, Bigler and Parkinson saw the flop, which came Jh-8s- 7h. Check, check and Furlong bet $100,000. Bigler folded but Parkinson went all-in for $644,000. Furlong, holding pocket kings, called his countryman, but Parkinson's J-8 gave him two pair, and the finishing 5-8 gave Furlong two pair but Parkinson eights full and moved him to about 1.3 million. The two Irishmen now held the lead, but Furlong's limp- in trap play with the kings had cost him his huge edge. He now had only about $100,000 more than Parkinson did.

A few hands later, with Furlong on the button, and Bigler in the big blind, Parkinson limped in after Bigler, and Furlong raised $60,000. Bigler re-raised $90,000 and Parkinson got out of the way. Furlong called.

The flop came Qs-9s-8h. Bigler checked, Furlong went all-in and Bigler instantly called with his last $400,000. 9-9 for Bigler, a set of nines played well both before and after the flop, but Furlong turned over a stunning 10h-Jh for a straight. The board failed to pair, and Bigler was out, having done nothing wrong except run into a completely unforeseeable straight.

"If I win that hand, I think I win the tournament," said the well-composed Bigler afterwards. Hard to say, but he was playing well and told me that he was "enjoying all the attention and pressure, it made it more fun." He would have been a dangerous opponent and I think we will be seeing more of Mr. Bigler in no-limit finals. "I'm not that great a limit player because I'm not that mathematical," he said. "But in no-limit you can play the man and play his stack, and I like that kind of game."

Four players left, the two relatively chip-poor New Yorkers (Seidel and Goehring) vs. the two Irish chip leaders.

Goehring was the low man now at about $175,000, but the virtually unknown man behind the wraparound sunglasses wasn't through. A bond trader and analyst for a big New York firm, Goehring was very familiar with the concept of making fast decisions involving big chunks of money, and he went to work.

(I learned something funny about Goehring's sunglasses after the tournament. Everyone had assumed Goehring routinely employed them when playing to avoid giving away information. Actually, he'd had laser eye surgery only two weeks earlier, and had been told to wear the wraparound sunglasses for a couple of days while his eyes were sensitive to light. He made a last-minute decision to use them in the Series, as a way of pretending he was a pro who didn't give away information--"a psych job," he called it.)

With Seidel on the button, Parkinson raised $60,000, and Goehring called. The flop came 10d-9h-5d, Goehring went all-in and Parkinson called. Q-10 for Goehring, a pair of tens, and K-9 for Parkinson, a pair of nines. A four came on the turn, and a Jack hit on the river. "Yes!" Parkinson yelled, laughing. "Padraig Parkinson almost made a straight," Tournament Coordinator Bob Thompson explained, laughing almost as hard. The game being poker and not hand grenades or horseshoes, where close does count, Goehring had doubled through.

A couple of tough losses put Goehring back near the 100k mark, though, and he shoved his last $92,000 in from the button. Parkinson called from the big blind and Seidel joined the "eliminate Alan" conspiracy by calling with 20% of his estimated remaining $450,000. The flop came J-8-5, check-check, a 10 on the turn, check and a surprise bet from Seidel; Parkinson frowned and folded. So much for conspiracies. They turned them up, A-10 for Alan, K-10 for Erik, so his bet-out of alleged co-conspirator Parkinson cost him nothing, but his initial call has enabled Goehring to more than triple up, to $290,000, while dropping Erik to about $360,000.

A few hands later, Parkinson raised $60,000 from the button, and Erik went all-in; Parkinson called instantly. A-Q for Erik, A-K for Parkinson, and Erik started to stand up. But wait! The flop comes 3-3-Q! Seidel, already standing, walked away from the table, unable or unwilling to watch the turn and river. A harmless nine fell on the turn, but a king came on the river, and the shouts of the crowd told Erik the news before Bob Thompson could announce it. Erik looked stunned at the doubly cruel hand. He had faced the pre-flop heartbreak, received an unexpected reprieve, and then got stabbed again at the finish. A tough departure, although with typical Seidel class, he returned a few minutes later and handled Internet play-by-play for more than an hour.

When this tournament started, I had examined the pari-mutuel betting sheet distributed by the Megasports sports book, and when I looked at the 90 famous names on whom individual win-place-show bets were available, (all other starters were lumped together in the "field" bet), I said to myself, "what in the world was I thinking about, considering entering this tournament with so many truly great players starting?"

With Seidel's departure, Megasports could now calculate all the winning wagers. All 90 named stars were out. The final payoff would be Win-field; Place-field; Show-field. Maybe it wasn't such a silly thought after all, especially since the 7th, 8th, 9th and 10th place finishers were all field guys too. Seidel and Seed were the only members of the "magic 90" to make the top 10.

The blinds have moved up to $15,000 and $30,000, and with the $3,000 antes, there's $54,000 in dead money each hand. It's costing $18,000 a hand to play, which makes it hard to sit on the sidelines.

It looked like it was going to be an all-Ireland finish, as Goehring had only $280,000 left. But the New Yorker limped in from the small blind with pocket kings, Parkinson bet all- in with what turned out to be pocket tens, Goehring called as quickly as you might expect, and the 7-7-5-4-2 board doubled him through.

A couple of hands later, Furlong limped in from the button, Goehring made it $100,000 to go, Furlong went all-in and Goehring called almost as quickly as he had in the last big confrontation. This time it was Goehring with the pocket tens, but Furlong held A-Q, not pocket kings, and the 3-7-8-K-2 board doubled Goehring through again. In one of those curious quirks of timing, Goehring had reached the million mark in chips at exactly the same moment the million dollars in cash was brought out in the traditional cardboard box.

Usually this money comes out and is placed on the table when there are only two players left. Since Goehring had stubbornly refused to get knocked out just to cooperate with this tradition, the cool million was placed on the podium where Phil Hellmuth and actor Wilford Brimley were announcing for ESPN.

The chip count stood at 1.5 million for Noel, 1.0 million for Alan, and 1.4 million for Parkinson. We have a horserace, and given both Furlong's name and his big score at the track a few weeks ago, the result seemed inevitable.

Goehring doesn't seem to believe in either tradition or foreshadowing, though. Three times in the next four hands he took $200,000 or more from Furlong, and the fellow who was down to $92,000 and an apparent two-way elimination conspiracy a few minutes ago was now the Big Dog with about 1.7 million.

Goehring's blitz soon continues when he makes it $80,000 from the small blind, only to face a $200,000 raise from Parkinson, which he calls. A scary flop of Ad-8d-2d evokes a $400,000 bet from Goehring, and after a long, hard consideration, Parkinson throws it away. Goehring is now the Two Million Dollar Man.

The Ryder Cup final is set when Parkinson raises $70,000 from the small blind and is called by Furlong. The 4c-2d-6d flop evokes an all-in bet from Parkinson. Furlong's feet are wiggling and bouncing as he ponders the call. He tries the balk move at his chips to see if Parkinson will cringe, but Parkinson doesn't blink. The feet keep wiggling. He asks for a count; Parkinson has bet $617,000. Finally Furlong calls. Parkinson turns over Qd- 10d, a flush draw. Furlong turns over Ad-8d, the nut flush draw and the better no-pair hand. An Ace hits on the turn, leaving Parkinson no outs; a good thing for Furlong as a now irrelevant Queen hits on the river. Parkinson is out. Three Irishmen entered this tournament, and Furlong eliminated the other two. Only a King may slay another King.

The chips are virtually even, but the cards to come were not, and Furlong compounds Goehring's poorly timed run of bad cards with flawless pressure. Phil Hellmuth, a VERY hard guy to impress, keeps talking on the Internet about how Furlong is playing perfectly, moving his chips well, giving Goehring no chance to make a move without some kind of monster hand. No monster hands materialize.

Goehring makes several moves at pots, but each time Furlong fires back, and each time the card-less Goehring has to back down. Soon Furlong has about 3 million to Goehring's $930,000.

The end comes soon after a break. Furlong limps in from the button. The flop comes Qh-Qc-5s, and both players check. The turn brings the 2s, adding a flush draw to the possibilities. Alan checks, and Furlong bets $150,000. Alan raises another $300,000. Furlong thinks for about 20 seconds before going all-in, and now Goehring frowns. He's in a tough spot. If he folds, he'll be trailing $3,500,000 to $400,000 on chips. He decides to call with his pocket sixes, hoping that Furlong holds a flush draw, A-5, a smaller pocket pair, or some hand he can suck out on. His hopes are reduced to the suck when Furlong turns over pocket fives. Furlong had flopped a full house, and hesitated long enough on the all-in bet to offer some hopes of a move rather than a monster.

Goehring has four outs, the two sixes and the two queens, and with 44 unseen cards, and he's not happy. Although Goehring couldn't have been certain that he was trailing when he called, now that it's clear Furlong has a real hand, the money odds on his call are poor. He's 10-1 to win the hand, which doesn't sound too bad considering he'd have been trailing by almost that margin if he'd folded. But winning the hand won't win the tournament; it will only even up the match.

The math becomes a footnote for historians when the eight of spades falls, and the mystery man has to settle for a hard-fought second place.

No losers today, folks. You both played marvelously. Although the chips ebbed and flowed throughout the day, the two finalists were also the two chip leaders after day two AND day three, and both were in the top 12 after day one. In this horserace, the two leaders led almost wire to wire, and they offered hope to the rest of us Field types. A magnificent, well-played, Series, and all finalists served as models of good sportsmanship. I'm sitting as I type this, gentlemen, but in my heart, it's a standing ovation.