1999 Champion
MIKE WATTEL
---
Event #15 Results
Omaha High-Low Split (Limit)
$1,500 Buy-in


---
1. Mike Wattel
$134,865
Fountain Hills AZ
2. Ed Smith
64,255
Twenty-Nine Palms CA
3. Marsha Waggoner
34,630
Downey CA
4. Kim "Uno" Daechun
21,670
Lakewood WA
5. Mike Matusow
16,405
Henderson NV
6. Ron McMillin
12,760
Houston TX
7. Chris Bjorin
9,115
London UK
8. Howard "Tahoe" Andrew
7,290
Walnut Creek CA
9. Scotty Nguyen
5,840
Henderson NV
10. Don Holt
4,375
11. Men "The Master" Nguyen
4,375
12. Robert Toft
4,375
13. Randy Holland
3,645
14. An Tran
3,645
15. Gary Kizziah
3,645
16. Nick Connors
2,915
17. Monte Kouz
2,915
18. Albert Newell
2,915
19. Gilbert Gross
2,185
20. Tony Cousineau
2,185
21. Tommy Hufnagle
2,185
22. Steve Levin
2,185
23. David "Rabbi" Danheiser
2,185
24. Max Stern
2,185
25. Jan Chen
2,185
26. Donald Halpern
2,185
27. Raymond Arthur
2,185
---
Total Prize Pool: $364,500
Number of Entrants: 243
---
Entries to Date: 3,063
Prize Money to Date: $7,361,000
---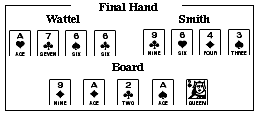 ARIZONA PRO ENDS ON TOP
IN SEE-SAW OMAHA MATCH
"I t was up and down, up and down, all night long," commented Mike Wattel after winning the 15th event in the 1999 World Series of Poker, $1,500 Omaha high-low. "But then I won a couple of big ones and knew it was over." This was the first major tournament victory for the 28-year-old pro from Fountain Hills, Arizona, and it earned him $134,865 and a custom gold WSOP bracelet. He had one other incentive for winning: he had promised his girl friend that he would. The victory was well earned because he came to the final table with the fewest chips, only $17,000.

Runner-up was Ed Smith, 44, of 29 Palms, California. "It was a lot of fun, or at least as fun as a frustrating game like Omaha can be," he said. "For example, Ron Mc.Millan dodged about four of my traps." Smith said he was always "chasing" because he could never accumulate enough chips to play with the confidence he would have liked.

The Omaha tournament lasted until 5:30 a.m. "Let's just chop the bracelet three ways and go home," one of the finalists suggested as dawn was breaking.

Early in the going, Wattel won a big pot from McMillan, who is in the hamburger franchise business. McMillan made sevens full of nines, but Wattel made tens full of sevens. Another full house knocked out Scotty Nguyen, the 1998 World Series champion. After two jacks flopped, Nguyen, holding A-J-Q-9, bet out his trip jacks. When a 10 came on the turn, he put in his last $5,000. Unfortunately for him, McMillan had two tens in his hand, giving him the full house that sent the reigning champ to the showers.

The genial Howard "Tahoe" Andrew was next to depart, aided by Marsha Waggoner, currently an executive host at Hollywood Park Casino. The Australian-born Waggoner matched her A-K-Q-4 against his J-J-10-2 as he went all in. The flop came K-5-3, followed by a deuce and a six, and her paired kings scooped it. Chris Bjorin, a Londoner originally from Sweden, was next to go all in, but he was saved by a full house. He held 10-10-A-J against McMillan's A-2-5-9. Another 10 on the turn and a paired four on the end gave him a full house.

Wattel was playing very aggressively at this point, raising nearly every pot, prompting Waggoner to ask him to back off. When he again raised, misread his hand, but luckily got half the pot with a weak low, she reminded him that "I told you to quit doing that." Kim "Uno" Daechun of Lakewood, Washington, a day trader stock investor, then cost himself a lot of chips when he bet out with nothing but a busted low and was called by Mike Matusow, winner of the 11th event, no-limit hold'em.

With his last chips, Chris Bjorin then goes in with A-Q-10-5. An Ace and nine on the flop give Wattel aces and nines, and now six players are left. It's past 3:30 a.m. when Wattel busts his second player in a row, Ron McMillan. When the flop showed A-A-4, McMillan, with a 2-3 in his hand, was shooting for a nut low. But it didn't come and he was crushed when Wattel, holding an A-4, flopped aces full.

Wattel now became the chip leader. Uno Daechun, meanwhile, was uno step away from disaster several times when all his chips went in, but he managed to stay alive. A bit later, Smith encountered a hand that so frustrated him that he jumped up in anguish. He started with a nice A-2-3 combination. When the board came A-7-7-2-2, he was double-counterfeited for low, but he did make deuces full. Unfortunately, Wattel had an A-7 and made sevens full, and he relievied Smith of a sizeable number of chips.

The next player out was Matusow, and once again Wattel did the honors. Matusow bet it all with sixes and deuces in his hand, while Wattel had Q-7-4-3. Wattel, still the chip leader, ended up with queens and sevens, and Matusow settled for fifth place prize money of $16,405. Now Smith started to surge ahead. He forced a short-chipped Daechun to take a stand with J-J-8-4. Smith had an inferior high hand with 10-10-7-3, but a ten on fourth street gave him trips, and Kim surrendered.

Waggoner has seen her once-impressive stacks of chips dwindle dangerously low. Finally all in for $5,000, she briefly survived when she scooped a pot with nines full of eights. But then she is forced to post all her chips in the blind again. "I'll just check the hand down, boys," she tells her opponents. Wattel ends up making a straight, and Marsha has to check out. The last two men standing traded chips for a number of hands, but Wattel's numbers kept rising. Finally, Smith had to go all in with a weak 9-6-4-3. Wattel had A-7-6-6. An ace hit both the flop and the turn and no low came, and Wattel was able to keep his promise to his girl friend.
---