---

GLORY DAYS REVISITED
Some things seem meant to be.
"I would have been fine, if I hadn't doubled Doyle through twice."
Berry Johnston had almost all the chips. Doyle Brunson had nearly none. No contest.
FIGHTING FOR SURVIVAL
With less than three full table left when only two were being paid, Phil Tanner was the shortest stack for over an hour. He was all-in more times than a narcoleptic. Yet they could never put him away. In succession, guys with more chips kept falling by the wayside while Phil Tanner hung on for dear life. Barry Shulman, gone in 22nd. Mike Hart in 21st, David Gardner - 20th. Bob Oxenburg, 19th. Harold Froelich. And finally, Alfons Kula was the last. He made a 7 6 5 only to be denied by the red-hot Berry Johnston and his 7 6 4.
In a stunning display of survival that would make the Mt Everest rescuers proud, Phil Tanner got in the money. It was inconceivable at that point that he could make the final table.
TABLE MANNERS
Only three away from the final table but short stacked, Morris Kessler had to make a move. He was in the money but wanted a shot at the title. In a theme that was played out over and over, the best starting hand lost. Morris went all-in with three to a wheel and came out with a 9 low. Berry Johnston, who acted as the terminator to several players hopes of getting in the big money, caught an 8 low to send Morris out of the tournament 11th. "If I had money, I'd probably throw it away." Morris said as he got up to leave.
Chuck Thompson was next to feel Berry's boot on his neck. Chuck caught two pair on the last two cards to make his hand a rough 10 low. Meanwhile Berry caught perfect - perfect for 7 low. 10th, so close yet so far.
To complete the trifecta and setup the final table, Tormod Roren - whose only mistake was being put near the unbeatable Berry Johnston, went all-in. Berry was there to save Tormod the hassle of having to show up the next day. Tormod made a 9 8, Berry a 9 7. Tormod was 9th. That meant the first day was over.
FINAL TABLE
The following are the final table seat assignments, chip counts and hometowns
| | | |
| --- | --- | --- |
| 1. Bill Gemple | Las Vegas NV | $37,200 |
| 2. Harry Thomas | Cincinnati OH | $16,600 |
| 3. Phil Tanner | Springfield IL | $16,500 |
| 4. Randy Holland | Waveland MS | $14,900 |
| 5. Doyle Brunson | Las Vegas NV | $20,900 |
| 6. Berry Johnston | Las Vegas NV | $83,500 |
| 7. Andre Boyer | Las Vegas NV | $13,900 |
| 8. Ray Dehkharghani | Kansas City MO | $29,100 |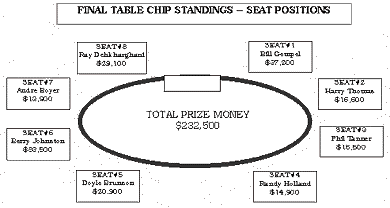 WE ARE THE CHAMPIONS
With eleven bracelets between them and three world titles, Doyle Brunson and Berry Johnston drew seats next to each other at the final table. What a sight for poker lovers. The Bear and the Silver Fox side by side.
Randy Holland had been weakened by a couple of hands, then he had a meeting with the suddenly red-hot Andre Boyer. Randy was all-in with 2 3 6, Andre called with A 4 5. Randy caught 3 pair. Andre K Q Q. Even with a Queen low, it was enough to take Randy out in 8th.
Next, to everyone's surprise was Bill Gempel. Second in chips at the start of the final table, Bill repeatedly got good enough hands to cost him money, but not good enough to win. Berry Johnston put Bill out of his misery with a 7 5 smooth. Just what Berry needed, more chips.
Phil Tanner, our magic man from the 3rd table, finally met someone with more magic than himself. Again, it's Berry Johnston who acts as the executioner. His 8 6 2 A were ruined by a J K and a 10 on 7th street costing Phil any chance of staying alive.
At this point, Berry's victory seemed a foregone conclusion. He had about half the chips on the table. Doyle Brunson on the other hand was nursing a handful.
Finally, Doyle went all-in with a 2 9 showing. Berry called with 7 5. Doyle caught a 5 then a J. Berry caught a 10 then another 10. When Doyle turned over an 8 7, Berry pitched his cards. Doyle had doubled up. He still was low stack at the table but out of immediate danger.
About fifteen minutes later, almost the exact same scenario. After putting Doyle all-in, Berry again lost to an 8 7. Now Doyle Brunson had ammunition.
Berry was hit pretty hard by the second loss. He was still the chip leader by a wide margin but no longer the massive favorite he was.
Harry Thomas helped Berry get back on track. Johnston put Thomas all-in with a 6 7 8 9 showing. Harry had A 2 8 10. Q K J came for Thomas, a 10 8 5 for Johnston. Thomas was 5th.
It was Doyle Brunson's turn to become aggressive. And no one in the history of poker has ever done it better. Andre Boyer who had started with the least chips finally ran out of gas. His A 3 5 turned into a Razz nightmare. Threes full of fives.
Winning most significant pots, Doyle worked his way up to $125,000 in chips. Berry had $40,000 and then there was the quiet kid in the corner. "You can call me Ray" because no one wants to say Dehkharghani, has $70,000.
With the ante $1,000 and the bring-in $2,000, Berry Johnston's magnificent run is over.
Berry ruins a beautiful A 4 5 by catching three pair. Ray's 9 is golden.
After 70 minutes of back and forth, the kid finally yields to the old master when he catches K K. The final hand was Brunson 9 8 6 5 3, Ray D, Q 9 6 5 A.
The big Bear had been a big dog to the Silver Fox but some things are meant to be.
---
FINAL RESULTS
$1,500 7 Card Razz - 155 Entries
| | |
| --- | --- |
| 1. Doyle Brunson - Las Vegas | $93,000 |
| 2. Ray Dehkharghani - Kansas City KS | 46,500 |
| 3. Berry Johnston - Las Vegas | 23,250 |
| 4. Andre Boyer - Las Vegas | 13,950 |
| 5. Harry Thomas - Cincinnati OH | 11,625 |
| 6. Phil Tanner - Springfield IL | 9,300 |
| 7. Bill Gempel - Las Vegas | 6,975 |
| 8. Randy Holland - Waveland MS | 4,650 |
| 9. Tormod Roren Vikersund - Norway | 3,488 |
| 10. Chuck Thompson - Santa Cruz CA | 3,488 |
| 11. Morris Kessler - Las Vegas | 3,488 |
| 12. Mike McClanahan - Las Vegas | 2,906 |
| 12. Al Pacini - Reno NV | 2,906 |
| 14. Bart DeLuca - Ithaca NY | 2,325 |
| 15. Blair Rodman - Las Vegas | 2,325 |
| 16. Lionel Ard - Winchester KY | 2,325 |
---
SUPER SATELLITES
(Patty Hughes and Rudy Lotief)
The No-Limit Super Satellites start each evening at 8:40 PM in the Satellite area. The Entry Fee is $220 for $200 in Tournament chips and there are unlimited $200 re-buys during the first hour, if you have less than $200 in Tournament chips. You may also make a single or double add-on at the end of the re-buy period. Blinds start at $5/$10 and increase every 20 minutes. Available monies will be converted into non-negotiable, non-transferable, non-refundable seats in the $10,000 World Championship event, with at least $5,000 in cash and $500 Lammers being divided among the final table players.
WSOP SUPER SATELLITE #6 Wednesday 4/22/98
TAKE A BUS, TAKE A TRAIN
In some of the worst No-Limit play ever seen outside the State of California, five very lucky "players" got there tickets punched for the Big Dance.
You've got to find a way to get here for one of these Super Satellites. As badly as I play No-Limit, even I'd have a chance. This might be the softest group ever to get into the Championship event.
Take a bus, take a train but get here.
Tonight, 151 players shelled out 171 rebuys to swell the prize pool to it's biggest amount yet, $64,400.
The following were the rewards for making the final table:
Places 1 thru 5 A $10,000 entry into the Championship event plus $520 ($10,520)
6th 11 tournament chips and $260 ($5,810)
7th 6 tournament chips and $310 ($3,310)
8th 3 tournament chips and $230 ($1,730)
9th 1 tournament chip and $500 ($1,000)
Ok, so maybe there is a little hyperbole here. Maybe these players aren't so bad after all. Let's take a look at who they beat to get here.
Ken Buntjer
Vince Burgio
Catherine Brown
An Tran
Max and Maria Stern
Louis Asmo
"Syracuse" Chris Tsipraildis
Bruce Van Horne
Deane Stonier
Pat Callahan
Susie Isaaacs
Mike Sexton
Brad Daughtery
Men Nguyen
Kathy Liebert
Brent Carter
Pat Fleming
Tony Ma
Kevin Song
Mel Judah
None of these esteemed players made the final table. So maybe the ones that did aren't so bad after all.
With Twelve players left, Jason Mubarak chose the wrong time to go all-in. Chris Ferguson had AA.
George Bartlett, who had been 12th the day before, moved one closer to the money tonight. He went all-in against O'Neil Longson's blind. George's A/5 off got blind-sided by O'Neil's 4/5 of Hearts when 8 7 6 hit the board.
Later George came over to Rudy Lotief looking for sympathy over his 12th and 11th place finishes in two days. Rudy said he'd given it all to Kathy Kohlberg for her 10th and 10th, one out of the money on two consecutive days and didn't have much left.
Rick Young liked a Queen on the flop so much he shoved the rest of his chips happily into the center of the table. Samuel Arzoin liked the Queen too. His A/Q sent Rick's Q/7 to the rail in 10th. Tonight's one out of the money.
The final table:
| | | | |
| --- | --- | --- | --- |
| Seat 1 | Bill Lester | $3,000 | Nesbit, MS |
| Seat 2 | Lance Straughn | $2,500 | Phoenix, AZ |
| Seat 3 | Cliff Davis | $5,500 | Prattsville, AL |
| Seat 4 | Debbie Burkhead | $12,000 | Las Vegas, NV |
| Seat 5 | Peter Vilandos | $12,000 | Houston, TX |
| Seat 6 | O'Neil Longson | $10,000 | Salt Lake City, UT |
| Seat 7 | Samuel Arzoin | $8,000 | LA, CA |
| Seat 8 | James Brown | $6,000 | Albuquerque, NM |
| Seat 9 | Chris Ferguson | $6,000 | Pacific Palisades, CA |
O'Neil Longson, a plunger if there ever was one, found one of the only two stacks at the table who could bust him. He went all-in with A/10 off. The equally crazy Debbie Burkhead risked a chance at the Championship event by diving in with QQ. One of them was going to be mortally wounded. It was O'Neil when no Ace showed. 9th place.
Chris Ferguson came over the top of a Cliff Davis limp, all-in with an A/7 off. Probably he expected no call. He got one. Cliff showed a K/2 of Clubs. A King hit the flop sending Chris out in 8th.
James Brown didn't make Lance Straughn "Feel Good" when he turned top set with his J/2. Lance with no chips didn't show his hand for 7th.
Repeatedly, during this time, players who had plenty of chips to get a seat risked those chips unnecessarily. It was insane. Debbie Burkhead's friends, in particular, finally had to call the parameds to get their hearts restarted as Debbie went all-in again. Debbie just grinned and chewed on her plastic stirrer. She knew what she was doing. She was from Moscow, she was Rushin' and nothing was going to stop her fun.
Since nobody was going to wait for anyone else to make a mistake when they could do it themselves, Samuel Arzoin went all-in from early position with pocket 8's. Cliff Davis said ok. I guess it's time to put an end to this fiasco. His pocket A's gave Samuel sixth place.
The Championship event winners for Super Satellite #6 were:
Bill Lester
Cliff Davis
Debbie Burkhead
Peter Vilandos
And singing "I Feel Good" rather badly, James Brown.
WSOP SUPER SATELLITE #7 Thursday 4/23/98
SANITY RESTORED
In contrast to last night, the No-Limit play was quite good tonight. Maybe it would be wise to invest your money in mutual funds. These players were tough.
Tonight, 160 players bought 146 rebuys bringing the prize pool to, $61,200.
The following were the rewards for making the final table:
Places 1 thru 5 A $10,000 entry into the Championship event plus $450 ($10,450)
6th 10 tournament chips and $260 ($5,260)
7th 5 tournament chips and $310 ($2,810)
8th 2 tournament chips and $230 ($1,230)
9th 1 tournament chip and $280 ($780)
Some of the "names" who competed were:
Ken Buntjer
An Tran
Louis Asmo
Bruce Van Horne
Deane Stonier
Mike Sexton
Brad Daughtery
Chris Tsiprailidis
Men Nguyen
Kathy Liebert
Brent Carter
Pat Fleming
Tony Ma
Kevin Song
Dan Heimiller
John Spadavecchia
Marsha Waggoner
Cowboy Wolford
John Bonetti
None of these esteemed players made the final table.
With Twelve players left, Randy Holland raised the blind. Luis Santoni flat called and Chris Ferguson raised all-in. Randy called all-in and Luis called. Bad idea. Chris knocked Randy out for 12th with pocket K's.
Mickey Seagle took a bad beat and 11th when he flopped third set with 3's only to lose to the flopped second set, 5's
Bill Boyd had two overcards on the flop but the turn and river came 9 9 and Bill was 10th. Tonight's one out of the money. Losing to J/9 off
The final table:
| | | | |
| --- | --- | --- | --- |
| Seat 1 | Peter Brehm | $5,500 | Houston, TX |
| Seat 2 | Luis Santoni | $6,500 | Pembroke Pines, FL |
| Seat 3 | Chris Ferguson | $9,000 | Pacific Palisades, CA |
| Seat 4 | Jack Green | $11,500 | Las Vegas, NV |
| Seat 5 | Tom Edwards | $11,000 | St Louis, MO |
| Seat 6 | Don Barton | $5,500 | Parumph, NV |
| Seat 7 | Chuck Thompson | $2,500 | Santa Cruz, CA |
| Seat 8 | Jack Fox | $3,000 | Reno, NV |
| Seat 9 | John Richman | $7,000 | New York, NY |
Chuck Thompson had no choice as the smallest stack to go all-in. His K/8 off was drawing real thin against John Richman's A/K. It didn't get there. Chuck was 9th.
Chris Ferguson is becoming an expert at getting to the final table. He's also becoming an expert at leaving it early. His 7's lost to Tom Edwards' J/5 when a Jack hit. Chris again was seatless in Las Vegas - 8th.
All-in for the big blind, Jack Fox asked if praying worked. It didn't look like it when his 8/3 off was up against Don Barton's Q/3 suited. Maybe it did! The board rivered a Q J 10 9. Luis Santoni yelled he's got a straight. Don Barton calmly replied, "I have a flush." The river had produced the wrong straight card for Fox. He got plenty of money, but no entry.
Jack Green was appropriately named as he raised Tom Edwards' blind. Tom called with A/5 off. Jack's 10's found another one on the flop making Tom say meet me in St Louis. Jack got the dough(nut). And Tom got the hole and 6th place, one out of the Championship.
The winners for Super Satellite #7 were:
Peter Brehm
Luis Santoni
Jack Green
Don Barton
John Richman
The great disappointment of the evening to this writer was losing a $20 side bet to Brad Daugherty when I was at least a 5-1 favorite. Brad whispers in my ear before the cards are dealt. "Luis Santoni is going to scoot in here." Luis is under the gun and would only move on a good Ace or a pair. Bang! Luis goes all-in. $20 to Brad. How did he know? "I know my players." Brad brags. "Do you think I have an advantage out here?" How did he know Luis would get an Ace? Scary!
---
SINGLE TABLE SATELLITES
(Becky Kerber, Barbara Lotief and Terry Vanderlip)
Single Table Satellites are run continuously 21 hours every day (8:00 AM until 5:00 AM) and usually last around 90 minutes. There are featured Satellites each day for the next day's event, as well as other Satellites depending on demand. Single Table Satellites for the $10,000 Main event and for the next no-limit Holdem event are spread frequently. Binion's charges $10 per player in a Satellite.
The featured Satellite on Wednesday was 8 handed 7 Card Stud where a $210 entry fee got $600 in chips. Initial ante was $5 with a $10 Bring-in and $30/$60. Winner got three $500 Lammers plus $100 cash.
$220 buy-in No Limit Holdem satellites were also being run. Ten Players got $800 each in chips, blinds started at $10/$25, increased every 15 minutes, and the winner got two $1,000 Lammers plus $100 in cash.
---
The Temperature sign atop Binion's Horseshoe read 82 degrees at 4:30 PM PDT on Thursday afternoon. The wind started blowing and it was pretty breezy out. A clear blue sky, except for some cumulus clouds to the west over Mount Charleston.
---
1998 vs 1997
Last year's $1,500 Razz Final Table lasted four hours and two minutes. This year it took four hours and 37 minutes.
---
RUMOR
Matt Damon, star of the poker movie "Rounders" may play in this year's $10,000 Championship Event.
---
McCLELLANDisms
Jack witnessed the following on Tuesday:
A player (unknown) in Event #1's Limit Holdem tournament received a 20 minute penalty for throwing his cards off the table.
The player protested that it was the Dealer's fault. He claimed that if the Dealer had not backed away from the table, the cards would have landed on the table when they bounced off the Dealer's chest.
---
PLAYER CONDUCT
Any player abusing employees or other players, either verbally or physically (swearing, throwing cards, etc.) or disrupting the tournament will be penalized. The following will be the MINIMUM penalty imposed:
FIRST OFFENSE - 20 minutes away from the table. (Blinds and/or antes to be forfeited)
SECOND OFFENSE - 40 minutes away from the table.
THIRD OFFENSE - Disqualification
The WSOP Floorpeople will be strictly enforcing the rules, with zero tolerance.
SCOREBOARD
| | |
| --- | --- |
| Unknown - 20 Minutes | Barry Shulman - 20 Minutes |
| Ray Dehkharghani - 20 Minutes | Unknown - 20 Minutes |
| Unknown - 20 Minutes | |
---
TOURNAMENTS
Jack McClelland is assisted by Steve Morrow and Jeff Vanderlip as Assistant Tournament Coordinators.
The 1998 WSOP continues the two-day format that was inaugarated last year, for most of the tournaments. Also, all two-day events start one level lower than in past years, and each level at the Final Table has been lengthened from 60 minutes to 80 minutes. Limit Holdem and Omaha events have two new levels of betting. First day play continues until the field is reduced to the Final Table, and Final Table play begins at 4:00 PM on the second day.
---
POKER ROOM
Shift Supervisors Jimmy Stefan, John Buchanan, Tony Shelton and Cathy Wood run the Poker room where the lower limit games are played.
A recent check showed the following games being spread:
| | |
| --- | --- |
| 2 - 1/4/8 Holdem | 1 - 10/20 Omaha8 |
| 2 - 4/8 Holdem | 4 - 15/30 Holdem |
| 2 - 4/8 Omaha Hi | 1 - 20/40 Holdem |
| 1 - 1/5 7Stud | 1 - 20/40 Omaha8 |
| 1 - 4/8 Omaha8 | 1 - 30/60 Holdem |
| 3 - 10/20 Holdem | 1 - 20/40 Razz/Omaha8/7Stud8 |
---
SIDE ACTION
Shift Supervisors John "Scoff" Sheffield, Kathy Hudson and Marshall Kassoff run the higher limit games on the south end of the Tournament Pavillion.
A recent check showed the following games were being spread:
| | |
| --- | --- |
| 1 - 5/5/10 PL Omaha/PL Holdem | 1 - 50/100 7Stud8 |
| 1 - 25/25 PL Holdem | 1 - 75/150 Holdem |
| 1 - 25/50 PL Holdem | 1 - 75/150 7Stud8 |
| 1 - 25/50 PL Omaha | 1 - 150/300 Razz |
| 1 - 50/100 7Stud | 1 - 200/400 HORSE |
| 1 - 50/100 Holdem | 1 - 100/200/400 2 to 7 |
| 2 - 50/100 Omaha8 | 1 - 150/300 ROE |
---
$10,000 CHAMPIONSHIP ENTRANTS
Updated through Tuesday Evening 21 April 1998
| | |
| --- | --- |
| 1. Brent Carter | 2. Randy Holland |
| 3. Gary Lent | 4. Hieu Ma |
| 5. Milt Meyers | 6. Marsha Waggoner |
| 7. Michael Pancer | 8. Bob Walker |
| 9. David Tagg | 10. Barbara Enright |
| 11. Steve Rydel | 12. Joe Baumgartner |
| 13. R. London | 14. Paul Hoenke |
| 15. Allen Cunningham | 16. John Bonetti |
| 17. Frank Hernandez | 18. Men Nguyen |
| 19. Casey Kastle | 20. J.C. Pearson |
| 21. John Morgan | 22. Peter Vilandos |
| 23. Bill Lester | 24. Cliff Davis |
| 25. Debbie Burkhead | 26. Jim Brown |
---

Proving once again that he is the Champion of Champions, Doyle Brunson conquered a formidable field in the $1,500 Razz event to win his eighth World Series title. The only other player with that many victories was the late Johnny Moss.
Brunson, 64, was awarded $93,000 and still another gold WSOP winner's bracelet. More importantly for the veteran professional and poker author was the fact that he rose from seventh to fifth place on the Top Money Winners list. His earnings now total $l,617,115 -- the result of 18 in-the-money finishes Brunson has achieved while attending every World Series since the beginning. Until his 16th place in last year's Championship event, he had never finished lower than 5th while cashing in nine different disciplines.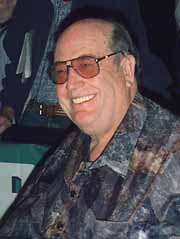 "I'm always happy to win," Brunson said while acknowledging that he would not normally enter lower buy-in events: "The reason I played this one and will play others at this World Series is that I wanted to pass some players ahead of me on the list." With his Razz victory, the two-time World Champion moved past fellow Champions Jack Keller and Hamid Dastmalchi.
Brunson played heads-up against a relative youngster and WSOP novice, Ray Dehkharghani, who fought stoutly and took the chip lead twice before succumbing after 70 minutes. Brunson's winning hand was 9-8-6-5-3, while his opponent drew K-K to a Q-9-6-5-A.
Dekhkarghani, a 27 year-old Iranian-born professional player and former medical student, said, "It was very exciting, but I'm disappointed. I wanted to win so badly, especially because I was playing against Doyle. There was nowhere I would rather have been than at that final table. It wasn't the money -- I really wanted the bracelet."
The thrills were compounded for Dekhkarghani because he managed to eliminate another World Champion, Berry Johnston, to get heads-up with Brunson. Drawing all-in to 8-5-4-4-A, Johnston caught another five and another ace, which lost to Q-9-6-5-3.
Johnston, 62, settled for third place -- his 32nd finish in the money, which included the 1986 World Champion's title. By far the most consistent WSOP winner, Johnston has placed in the money every year since 1982 when he first arrived and took third place in the Championship event. With total winnings of $1,714,162, he ranks fourth on the Top Money Winners roster. He was philosophical about being eliminated after enjoying a hefty chip lead as final-table action began: "That's the way Razz is; you don't have much defense."
The most excitement in the final hours was provided by Canadian-born Andre Boyer, 55, a retired manufacturing company owner who has been a regular on the poker tournament circuit for the past five years. Starting with the shortest stack, he almost immediately, and barely, survived an all-in effort with 6-5-4-2-1 against 6-5-4-3-1 held by Harry Thomas. Boyer produced similar heroics until he was forced all-in and caught a full house against Brunson. For the affable Canadian this was the fifth WSOP finish in the money, bringing his total winnings to $132,160.
Thomas, 53, a real estate developer who has finished in the money 15 times in the 15 years he has played in the World Series, took fifth place. His earnings now total more than $300,000.
Sixth place went to German-born Phil Tanner, 48, an Illinois restaurateur who has played major tournaments for four years. "Any time you can play a final table with Doyle Brunson and Berry Johnston, it's great," he said. "I'm thrilled to death with my finish."
Bill Gempel, 52, a retired real estate investor and longtime poker player, finished seventh, his first in-the-money WSOP finish.
Eighth place went to Randy Holland, 46, a Canadian-born former lawyer who won this event at the WSOP two years ago.
---

We will announce when the play-by-play of the final table is available for this event.