26th Annual
World Series of Poker
Women's Championship
Limit Seven-Card Stud
$1,000 Buy-in
Entries: 88
Total Prize Money: $88,000
---

1994 Winner: Barbara Enright - $38,400
1995 Champion: STARLA BRODIE
---
---
The Winners
1. Starla Brodie $35,200

Verona, New Jersey

2. Karen Wolfson 20,240

Las Vegas, Nevada (Former Woman's Champ)

3. Phyllis Kessler 10,560

Las Vegas, Nevada (Former Woman's Champ)

4. Nikki Papler 6,160

Las Vegas, Nevada

5. Bonnie McHugh 5,280

Las Vegas, Nevada

6. Shirley Beauchamp 4,400

Las Vegas, Nevada

7. Cyndi Violette 3,520

Absecon, New Jersey

8. Barbara Freer 2,640

San Diego, California (Former Woman's Champ)
---
The Showdown
. Binion's Horseshoe, May 14, 1995 -- Starla Brodie, a 40-year-old professional poker player from Verona, New Jersey, defeated 87 opponents to waltz away with top honors in the 23rd event of the 26th annual World Series of Poker. For her victory in the $1,000 buy-in Women's Seven-Card Stud championship competition, Brodie was awarded $35,200 and a 14-karat gold bracelet, custom designed by Neiman-Marcus.

. This is the second World Series title for Brodie, who won the mixed doubles competition with her partner, two-time World Champion of Poker Doyle Brunson, during the 1979 WSP. A professional player for 18 years, Brodie is the only woman who has entered the ladies Stud event every year since it was first added to the tournament schedule in 1979.

. Brodie came to the final table in good chip position, and by the time heads-up play began, she had a 3-to-1 advantage over runner-up Karen Wolfson. After losing a huge pot with aces up when Brodie caught running kings on fifth and sixth streets to make trips, Wolfson was left short-stacked and couldn't recover. The final hand came down when Wolfson went all in on third street with AD JD 3D, and Brodie called with 9-5 in the pocket and an eight in the door. Wolfson failed to make a flush, and Brodie caught both a six and a seven to win the pot and her second WSP title with a nine-high straight.

. "After playing this tournament for 18 years, I'm thrilled to finally win it," Brodie said. "It was a great competition, and the ladies at the final table were some of the toughest players I've ever played against. I wouldn't sit down with them in a live game with my own money."

. Wolfson, a 38-year-old poker player from Las Vegas, received $20,240 for her second-place finish. A former Women's World Poker Champion, Wolfson also holds titles from both the Queens Poker Classic and the Gold Coast Open, and has cashed in several other major competitions. She has been playing poker for 20 years.

. Placing third in the Women's Seven-Card Stud championship event and taking home $10,560 was Phyllis Kessler of Las Vegas, the 1993 Women's World Poker Champion. A 59-year-old grandmother and investor, Kessler has graced the final table all three times she has entered the ladies tournament and also has cashed in the Hall of Fame Poker Classic. She began playing poker shortly after moving to Las Vegas 10 years ago.

. Kessler was eliminated from the ladies tournament when she took 9-9-K up against Wolfson, who started with pocket deuces and an ace up. On fifth street, Wolfson caught a third deuce, and by sixth street, Kessler was all in with two pair. But she failed to fill, and Wolfson took down the pot with trips.

. "This final table was much tougher than any I've played before," Kessler remarked. "In past tournaments, the other ladies gambled some, but there wasn't much gambling this year."
---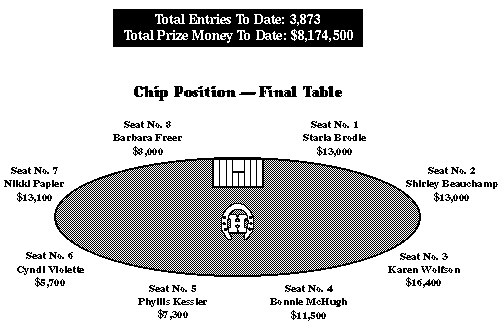 ---
The Final Hand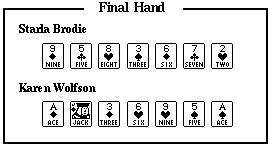 ---

---
ConJelCo is proud to bring coverage of the 1995 World Series of Poker to the Internet community.
---
<!%%Author>World Series of Poker Home Page<!%%EndAuthor> <!%%DateLastModified> Page last modified: 5-16-95<!%%EndDateLastModified>