Stepping Up: The Recreational Player's Guide to Beating Casino and Internet Poker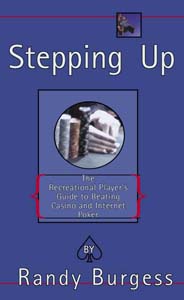 This book is perfect for either the home game player moving up, or the intermediate player who's struggling: it's packed with the stuff beginning poker books don't talk about enough (or at all), and that advanced books discuss only in terms of the higher limits —reading hands and opponents, calculating odds and outs, adjusting to game type, and more. Also covers practicing and playing online. As Roy West says in his introduction, 'This is a "thinking about poker" book you'll hope your opponents won't read.' Whether your game is hold'em or stud this is the book to set you on a winning track.
174 pages. December 2003.
Paper: 978-1886070-18-9, $14.95.
eBook: 978-1886070-18-9, $7.99.