Hold'em Excellence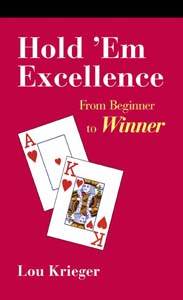 A complete course on learning to play Texas Hold'em poker. Lou writes in a clear and understandable manner and explains everything you need to know to become a successful Hold'em player in a public cardroom. This second edition is revised and expanded including several new chapters.
The paperback edition is out of print, but copies may be available.
176 pages. September 2000.
Paper: 978-1886070-14-1, $19.95.
eBook: 978-1886070-14-1, $9.99.